MHL Report: NHL Draft Recap
Dylan Griffing
2020-10-23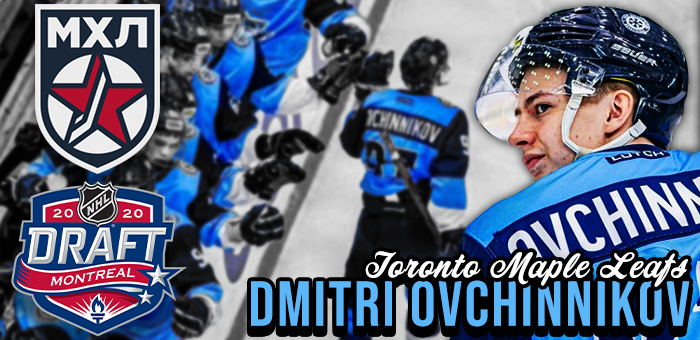 Eighteen players were selected out of Russia in the 2020 NHL Draft, ten of which came straight out of the MHL. Since this has been a strange and confusing start to the season due to COVID forcing games to be canceled, as well as players being moved between the three major Russian leagues more often, let's find out where everyone is and see how they're doing!
Sidenote: I will not be covering Yegor Chinakhov or any of the other players now playing in the KHL, as Aaron Coulter took a deeper look at them in his KHL Report.
Marat Khusnutdinov, C, SKA-1946 St. Petersburg (Drafted 37th by the Minnesota Wild)
Khusnutdinov is off to a very hot start in the MHL this season, and has put up 14 points in 10 games. In the 2019-20 season, he was getting inconsistent ice time, especially on the powerplay. The undersized center came straight into the new season with a head of steam, looking faster, stronger, and more dangerous. For 2020-21, he has been given a much bigger role for 1946, playing first-line minutes and is on the top powerplay unit. He also has a new partner in Matvei Michkov, who have combined to create a deadly pair at both 5v5 and on the powerplay. He was called up to the KHL due to COVID and has played a mere two games for SKA and was an unused substitute for two more games.
Alexander Gordin, W, SKA-1946 St. Petersburg (Drafted 171st by the Montréal Canadiens)
Gordin has been firing in goals for the MHL side, but just is not gaining anything from playing there. He's 19 years old (DY+2), and has only played seven games outside of the junior league. His scoring skill is still been good, though, tallying six goals in six games, including a hattrick on October 16th. He picked up two goals in his six VHL games, as well. However, the competition of the MHL is not going to lead him to success, as a major reason he was not drafted last season was his poor skating. This is still a major issue zone that he needs to work on, and despite many Canadiens fans wanting him to come over ASAP, he is not ready to play on North American ice at all.
Dmitri Ovchinnikov, C/W, Sibirskie Snaipery (Drafted 137th by the Toronto Maple Leafs)
Ovchinnikov was left completely off of NHL Central Scouting's rankings for the 2020 Draft, which was worrying to fans of his, but the Leafs decided to take the jump on him in round five. Safe to say, he has been looking really good since then. Dima is a bright spot on a rather weak Sibirskie Snaipery side and has tallied 12 points in nine games with the club. He added a fair bit of strength in his time training with Sibir in the offseason and has not lost a touch of skating speed. He has also been called up to the KHL, mostly due to injury reasons, and has been given very little ice-time. Positively, he was not getting dominated against the tougher competition.
Bogdan Trineyev, W, Dynamo Moskva (Drafted 117th by the Washington Capitals)
Dmitri Zlodeyev, C, Dynamo Moskva (Drafted 175th by the Vancouver Canucks)
I just can't split these two apart because they have made such a great duo for the past three seasons and have continued it into the VHL, as well. Trineyev uses his power and agility to be a menace along the boards and create space for himself in the offensive zone. His all-around, offensive game has improved since last season as he is much more willing to shoot the puck, which has resulted in him already reaching half the number of goals he had last year in 22 fewer games. Zlodeyev has continued to be a responsible two-way centerman and has looked very comfortable against tougher competition in the VHL. He currently has eight points in ten MHL games and four points (all goals) in VHL action.
Alexander Pashin, W, Ufa (Drafted 199th by the Carolina Hurricanes)
Pashin was out of training for most of the offseason for unknown reasons and missed the start of the MHL season entirely. However, he came back right where he left off, scoring a goal in his first game, and he now sits at six points in six MHL games. His lack of size has been noticeable in his five games between the KHL and VHL, leaving him to be unable to make an impact in the more challenging leagues for now. That size issue alongside his poor play in the defensive zone is seemingly the main factor in his lack of draft stock.
Artur Akhtyamov, G, Kazan (Drafted 106th by the Toronto Maple Leafs)
The fourth-round pick has been splitting time between the MHL, VHL, and KHL this season and has been putting up good numbers in all three leagues. He is currently sitting at a .903 save percentage in the KHL, a .957 in the VHL, and a .926 in the MHL. I asked our goalie expert, Danny Tiffany (@dantiffany30), about the positives and negatives of Akhtyamov's game. On the positive side of things, Danny honed in on his athleticism, "He's not overly large but he's always on time in getting set into positioning. Good footwork, but the thing that makes him compelling to me is his mobility when in the butterfly. He's got strong legs and good flexibility that give him the chance to make saves going side to side."
Negatively, he is a very flashy goaltender, which gets him into trouble at times. Danny stated, "I think sometimes he relies too much on his athleticism and tries to make the fancy save when he could stop, set, and position himself to shooters. Oftentimes I see him commit into a butterfly slide on a player that isn't in tight when he could simply shuffle or t-push over, this results in him leaving room upstairs or giving the shooter a passing option because he's already committed."
Other Drafted Players in the MHL:
Ilya Nikolayev (CGY) has 13 points in 12 games for Loko Yaroslavl.
Kirill Marchenko (CBJ) made two appearances for SKA-1946, amassing three goals and seven assists playing alongside Marat Khusnutdinov and Matvei Michkov. He has returned to the KHL and has been in fantastic form for the main club.
Daniil Chechelev (CGY) is sitting at a .943 save percentage and a 1.89 goals-against average for Russkie Vityazi. He made his VHL debut for HK Ryazan, as well, picking up a shutout vs. HC Yugra.
For more MHL coverage, follow me on Twitter: @Dylan_Griffing!
LATEST RADIO & DRAFTCASTS