USHL Report – October 2020
Clare McManus
2020-10-09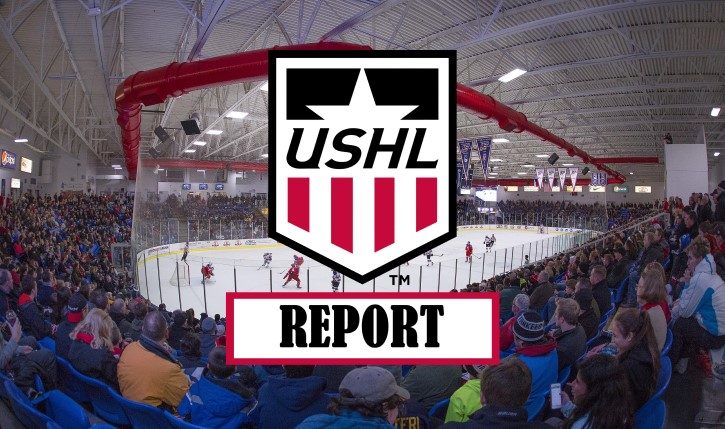 Welcome back to another USHL report. This month I will go over some of the players selected from the league in the 2020 NHL Draft from Tuesday and Wednesday night.
Before I start, there was some big news that happened on September 18th. The USHL came out and announced that the Cedar Rapids RoughRiders and Madison Capitols will not participate in the 2020-21 season. Per news release from the league, the RoughRiders home arena, the ImOn Ice Arena, was severely damaged during a derecho storm that ripped through town. For the Capitols, due to county restrictions from Covid-19 in Madison, they are unable to play and hold spectators.
From this news, there was a Dispersal draft. For the results click here: oursportscentral
The USHL has also released it's 54-game schedule for the 2020-21 season, starting November 5th when the Sioux Falls Stampede play the Des Moines Buccaneers
Notable 2020 NHL Draft Picks
Jake Sanderson, LHD (Ottawa Senators, 5th overall)
Photo Courtesy of USNTDP
If you showed this pick to Senators fans a year ago they would think this was a wild pick. Throughout the year, Sanderson's name drastically grew as his offensive game started to flourish. The USNTDP-U18 defender is known for being solid in the defensive end, knowing when to attack the opposition and break up plays. He is a smooth and mobile skater who is strong on transition play up ice. In the offensive zone, he moves the puck around well and has a decent shot from the point. This is a great pick for the Senators who are in the midst of a rebuild, which is looking quite good so far. Sanderson will be heading to the University of North Dakota and will look to make the NHL roster as soon as possible.
Brendan Brisson, C (Vegas Golden Knights, 29th overall)
The Chicago Steel center had a phenomenal first year in the USHL. He started the season with not too many people hearing his name, but throughout the year, his draft stock rose. For a team looking for a player with a goal-scoring touch, Brisson is the guy to get the job done. His shot is very accurate and he has a prodigious ability to finish. He is also sound in the slot area, especially on the power-play, where he has a bomb of a one-timer. While he may be known for his lethal shot, he has strong vision and playmaking abilities. He needs to work on his skating, but if the Golden Knights develop him right, there is no doubt he makes an impact in the future. Watch out for him as he heads to a loaded University of Michigan team.
Sam Colangelo, RW (Anaheim Ducks, 36th overall)
Photo Courtesy of Boston Herald
This is a great pick for the Ducks. They select a power-forward who has natural goal-scoring instincts. He plays hard along the boards and plays a smart game on defense. Colangelo's skating is a concern to some scouts, but it shouldn't be too much of an issue for the future in my opinion. The Northeastern University commit should fit nicely with the Ducks. Once he makes the team, slot him in with top prospect like Trevor Zegras, an incredible playmaker, and this guy will be scoring lots of goals.
Thomas Bordeleau, C (San Jose Sharks, 38th overall)
Bordeleau at 38th overall is a huge get for the Sharks. He is an undersized skilled forward with great skating abilities and elite vision. He is also known for being an elite and shifty playmaker, who is very good on offensive-zone entries. Bordeleau can read the opposition well and can change the pace of play to get the puck to a teammate. He is more of a playmaker, but he does own a wicked and accurate shot. Defensively, he still needs work, as well as building up more muscle. Bordeleau will take his skills to the University of Michigan this season. Be on the lookout for this guy Sharks fans, he can do some damage.
Tyler Kleven, LHD (Ottawa Senators, 44th overall)
This was an odd pick for the Senators. They traded up a few spots to pick Kleven, who most likely would have been there even if they didn't make a trade. The Senators seem to really like the North Dakota University commits having selected Jacob-Bernard Docker, Shane Pinto in the past, and Jake Sanderson and now Tyler in the 2020 draft. Kleven is a big-bodied heavy-hitting defenseman. He is hard to play against as he gives the opposition no room to make a move. Although he is not a very good puck-mover which can be concerning.
Brock Faber, RHD (Los Angeles Kings, 45th overall)
The Kings continue their draft dominance and draft a skilled transition defenseman. Faber is a player who was under the radar for most of the year, but he is known for his vision and puck-moving ability going up ice. He is very good in the defensive zone and reads the opposition extremely well. Faber will join a loaded Kings prospect pool as one of their top prospects. He will head to the University of Minnesota this season.
Drew Commesso, G(Chicago Blackhawks, 46th overall)
Photo Courtesy of the USNTDP
I really like this pick from Chicago. Behind Yaroslavl Askarov, Commesso was my number two goalie. With Corey Crawford losing his spark and the Blackhawks having no goaltending depth, Commesso should step into the spotlight and make a big impact. He played this past season with the USNTDP-U18 team and posted a 2.05 GAA and a .911 save percentage in 11 games played. Commesso stands tall in net and challenges the shooter. He is usually very calm in the net and has strong post to post movements. He has a great glove and blocker and can make saves high and low. One thing he needs to work on is his rebound control. He will compete at Boston University this season.
Luke Tuch, LW (Montreal Canadiens, 47th Overall)
The younger brother of Golden Knights, Alex Tuch, plays a big two-way game. He is smart offensively on the cycle game and at crashing the net. He can find those holes through the defense to get the puck to an open teammate. His skating is one of his weaknesses, but he has great hands and puck-protection, especially in the corners. Defensively, he works hard along the boards and does a good job of breaking up plays and using his body. Along with teammate Drew Commesso, Tuch will also head to Boston University. An overall solid pick for the Canadiens.
Mason Lohrei, LHD (Boston Bruins, 58th overall)
This was a wacky pick from Boston and probably caught a lot of people off guard. In my opinion, I am not a fan. There were plenty of better options at the time of their pick. But Lohrei is a 19-year old defenseman who played this past season with the Green Bay Gamblers. He is a big 6-foot-4 200-pound defenseman who plays a strong two-way game and possesses a high hockey IQ. He is a decent skater with good puck-moving skills. I don't have too much to say on him because quite frankly, I haven't paid too much attention to him. Obviously, the Bruins liked him for some need, so whatever it is, hopefully he fits their mold.
Ty Smilanic, C (Florida Panthers, 74th overall)
Injuries are one main reason why Smilanic fell far down. Despite a hard year spending lots of the time of ice and recovering, Smilanic can be a very reliable forward. He is a solid skater who is known for playing a strong 200-foot game. He has great hands and vision and uses these skills to create scoring opportunities, as well as chances for his teammates. Defensively, he battles hard along the wall and covers the cycle game. This is a great pick for Florida as Smilanic has lots of value.
Danil Gushchin, LW (San Jose Sharks, 76th overall)
Photo Courtesy of the USHL
The Sharks picked up a fantastic prospect in Gushchin. This year with the Muskegon Lumberjacks of the USHL he put up 47 points in 42 games. Gushchin's game consists of speed and nifty stickhandling abilities. He can open up passing lanes and generate offensive scoring opportunities for his teammates. Down low, as well as in tight areas of the ice, he is effective on both the playmaking and goal-scoring side. This season he will leave the USHL and head to the Niagara IceDogs of the Ontario Hockey League.
Landon Slaggert, C/LW (Chicago Blackhawks, 79th overall)
The Blackhawks selected former Chicago Mission alumni, Landon Slaggert. Slaggert is a versatile forward who played this past season on the USNTDP-U18 team and put up 13 goals and 11 assists for 24 total points in 47 games. Standing at six-foot-one 183-pounds, Slaggert plays a heavy-hitting game. He is very strong along the boards, especially while on the forecheck. His skating skills are decent, but what really stands out is his balance on his feet. On the playmaking side, he reads plays well and usually makes the right decision with the puck. The Notre Dame commit should play an important two-way depth role for the Blackhawks in the future.
Mitchell Miller, RHD (Arizona Coyotes, 111th overall)
The Arizona Coyotes selected a solid defenseman. Miller was one of my favorite USHL defenseman and a player I projected to go into the late first or second round of the draft. In the USHL Draft, he was originally drafted by the Cedar Rapid RoughRiders but was moved to the Tri-City Storm for this year. He managed to post eight goals and 25 assists for 33 points in 44 games. Miller is a dynamic skater with good speed and stickhandling abilities. He is strong on transition play and in getting the puck up ice quick. With his vision and offensive abilities, he is capable of being a quarterback on the power-play. Defensively, he needs to play more physical and get stronger, but he has the IQ and maintains his defensive responsibilities.
Eamon Powell, RHD (Tampa Bay Lightning, 116th overall)
The underrated Eamon Powell waited a long time during the six and a half hour draft day two to hear his name get called. Most people regarded Powell as a projected first or second-round talent. The Boston College commit this past season with the USNTDP-U18 team and posted six goals and eight assists for 14 points in 43 games. Powell is noted for being a confident and smart puck-mover on transition play. Once he makes the first pass up ice he follows up ice and acts as a trailer. Defensively, because of his smarts, he can beat the opposition to pucks quite often. This is a fantastic selection for the Lightning and their franchise, who in my opinion, have a weak prospect pool.
Colby Ambrosio, C/W ( Colorado Avalanche, 118th overall)
Photo Courtesy of the Tri-City Storm
The Avalanche with a steal here. I am very high on Ambrosio's game. He is a great skater with rapid first few-steps and fluid edgework. His hands and puck control are outstanding and he does well going high-speeds. Because he plays the game at a quick pace, being drafted by a fast-playing Avalanche team defensively fits his mold. I would compare his game to Travis Konecny of the Philadelphia Flyers because of his quick offensive game and grittiness on the defensive end.
Sean Farrell, C/W, Montreal Canadiens 124th overall 
I still am in disbelief of how far down Farrell fell in the draft. Absolutely no way should he have been a fourth-round pick. He had an amazing first season in the USHL scoring 15 goals and 41 assists for 56 points in 44 games. He is a great playmaker with strong vision and solid skating abilities. He has a variety of shots that he uses and it can especially be dangerous down low and in close to the net. On the defensive end, he reads plays well, and at five-foot-nine, he is not afraid to play the body. The Harvard University commit will most likely spend two-three years at the collegiate level before transferring to the pro level. This is a big get for the Canadiens.
Other Players Drafted:
| | | |
| --- | --- | --- |
| Ian Moore | RHD | Anaheim Ducks, 67th overall |
| | | |
| --- | --- | --- |
| Jake Boltman | RDH | Calgary Flames, 80th overall |
| Wyatt Kaiser | LHD | Chicago Blackhawks, 81st overall |
| Alex Laferriere | RW | Los Angeles Kings, 83rd overall |
| Dylan Peterson | C | St. Louis Blues, 86th overall |
| Trevor Kuntar | C | Boston Bruins, 89th overall |
| Jackson Hallum | F | New York Rangers, 91st overall |
| Sam Stange | RW | Detroit Red Wings, 97th overall |
| Jack Smith | RW | Montreal Canadiens, 102nd overall |
| Blake Bondi | C | Montreal Canadiens, 109th overall |
| Chase Yoder | C | Pittsburgh Penguins, 132nd overall. |
| Brett Berard | LW | New York Rangers, 134th overall |
| Jakub Dobes | G | Montreal Canadiens, 136th overall |
| Ryder Rolston | RW | Colorado Avalanche, 139th overall |
| Ben Meehan | LHD | Los Angeles Kings, 140th overall |
| Carson Bantle | LW | Arizona Coyotes, 142nd overall |
| Jacob Truscott | LHD | Vancouver Canucks, 144th overall |
| Joe Miller | C | Toronto Maple Leafs, 180th overall |
| Noah Ellis | RHD | Vegas Golden Knights, 184th overall |
| Wyatt Schingoethe | C | Toronto Maple Leafs, 195th overall |
| Gunnarwolfe Fontaine | LW | Nashville Predators, 202nd overall |
| | | |
| --- | --- | --- |
| Chase Bradley | LW | Detroit Red Wings, 203rd overall |
Thank you for reading. Make sure to check my out on twitter @claremcmanuss for more USHL/USNTDP updates. Have a good day!
LATEST RADIO & DRAFTCASTS