Liiga Report – Wrapping Up the U18s (May 2019)
Lassi Alanen
2019-05-02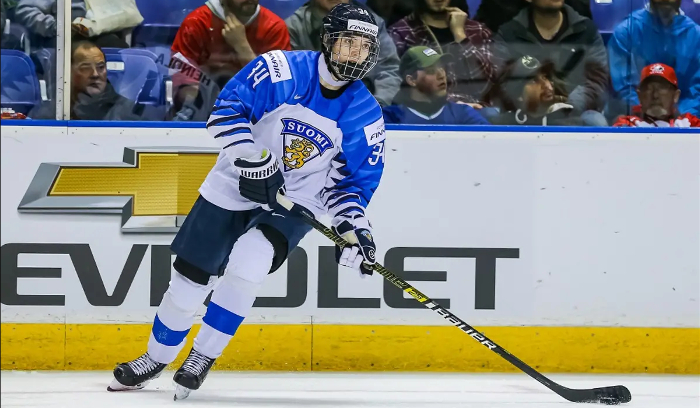 Usually, I would be writing my monthly column about prospects in the Finnish leagues. This time there is not much to write about as almost every league has already finished with only Liiga finals still going on. For that reason, I will be writing an in-depth U18 Worlds recap focusing on Team Finland and the players. I'll be combining traditional eye-test with even-strength data I manually tracked. Without further ado, let's dive in.
Finland went to the tournament as the defending champions and with a strong roster overall. They were missing Kaapo Kakko, arguably the best Finnish prospect since Aleksander Barkov and a clear top 2 pick for the upcoming draft, but still had some potential first rounders and a lot of depth in every position. The tournament ended up being a big disappointment, as the Finns won only one game in the group stage and they were dismantled 6-0 in the quarterfinal match-up against the USA.
There has been a lot of criticism thrown at the coaching staff, as almost every player underperformed and the team play was mediocre at best and terrible at worst. As a scout, you need to be careful not to draw massive conclusions from one tournament and that is the case especially with this team, as most of the players looked better in league play. Still, I think there are some players who looked pretty good all things considered and some whose bad performances you definitely can't disregard completely.
Goalies:
HIFK U20 netminder Roope Taponen was the consensus starter before the tournament and he ended up playing every game except one. Recording a .877 save percentage during the four games he played, Taponen didn't have a particularly good tournament, but at the same time, he wasn't the reason Finland lost the games. He didn't let in many easy goals and made a couple of very good saves during the tournament. NHL Central Scouting has Taponen ranked as the sixth best European goalie for the 2019 draft, so I would think there is a chance he gets drafted in the later rounds, but as a prospect, he isn't on the same level as the previous Finnish U18 goalies like Justus Annunen or Ukko-Pekka Luukkonen.
Kari Piiroinen, who played for the Windsor Spitfires this season, ended up playing only one game against the Czech Republic. He didn't have a very good game either, and likely won't get drafted this year, as he is ranked 17th among North-American goalies.
Defenders:
Ville Heinola was doubted beforehand as the best Finnish player in the tournament, and I would say he indeed was that in most of the games. My 5v5 data shows that he was clearly the best Finnish blueliner at creating scoring chances and at entering the zone with the puck. Heinola stood out with his puck skills and skating. He was calm under pressure, great at exiting the zone with possession and his passes were noticeably accurate compared to his teammates. I still have some questions about his offensive upside, but I came away from the tournament impressed and see him as a very deserving top 15 candidate for the draft.
Mikko Kokkonen was a player I was very interested to see. His production at the Liiga level has never matched my eye-test, and he hadn't displayed much offensive skill in the previous international tournaments either. I had hoped that he would have been dominant at this level and that he would show more than just solid defensive play without the puck. That certainly didn't happen. Kokkonen looked very uncomfortable with the puck and had trouble exiting the zone with passes. The data certainly supports that, as Kokkonen had the lowest controlled exit rate and percentage among all the Finnish defenders. He did shoot the puck a fair bit from the point, but most of them were very low-danger attempts. Kokkonen had also surprising difficulties in his own zone, which is very uncharacteristic for him. After this tournament, I would have him ranked at the latter half of the second round.
Topi Niemelä was one of the biggest positive surprises for me. The youngest defender on the team and not eligible until the 2020 draft, Niemelä played very well with the puck and was the best blueliner at creating controlled zone exits. He has some work to do with his defensive game, but only Heinola matched his poise and effectiveness with the puck.
Santeri Hatakka wasn't overly impressive looking at the data, but I thought he showed some promise and looked better than in the U20 league games I saw. He played a lot at even-strength, most out of any Finnish blueliner according to my data. His skating and puckhandling looked good and I thought that he was one the more reliable defenders in Finland's own zone. Hatakka doesn't have any standout qualities but could be a solid pick in the middle rounds due to his well-rounded skill set.
Iivari Räsänen was captaining the team and played on the third pairing with Niemelä. He racked a lot of points in the U20 league this season, but I don't see him having a lot of offensive success at the next level. Much like Hatakka, he doesn't have any standout abilities, but is pretty well-rounded and could be worth a pick in the later rounds.
Antti Tuomisto played only three and a half games due to a match penalty he got for kneeing a Swiss player in the closing game of the group stage. My opinion on Tuomisto has remained the same for a while now. He has some intriguing abilities in that he is 6-foot-3 (but only 176 pounds, still growing into his frame), moves the puck relatively well and shows good compete level in all three zones. I think his skating is not as bad as some people say it is, but it definitely is not a strength at this point. Tuomisto's puck skills are very average, but when he keeps his game simple, he is effective. Some scouts I've talked to compare him to Esa Lindell, and I would think that is his ceiling, but I'm not sure if he will ever reach it. I could see him going in the second round, but I see more of a third-round talent.
Kalle Loponen was the seventh defenceman for the majority of the tournament, but they still played him regularly in every game and obviously, even more, when Tuomisto wasn't in the lineup. Loponen had a couple of nice shots but didn't do much offensively. He did have the third most controlled exits per 60 after Niemelä and Heinola and looked overall decent in transitions. Looking towards the draft, I have Loponen in the same range as a player like Hatakka – a solid pick in rounds 4-5.
Forwards:
Overall, I thought that Patrik Puistola was Finland's best forward in the tournament. He was one of the best at creating controlled entries both with his passes and his feet and also had the second most individual scoring chances. The reason that he didn't record a ton of shots or shot assists was that he chose to cycle the puck or deke in the corners instead of shooting at low-danger angles, which is understandable. He gave away the puck many times, but also created a lot with his individual skill. Puistola is one of the most skilled players in the draft class and has excellent, arguably even high-end hands. His shot and vision are both very good, and even though he isn't the fastest skater, his mechanics and edgework are both good. I have Puistola as a late-first or early second round pick.
Anton Lundell didn't have the most productive tournament, but the 2020 top prospect showcased some interesting improvements in his game. His skating had clearly taken big steps forward during this season when he relied on his smarts in last year's tournament. Lundell's two-way game and hockey sense are both high-end for a player his age, and he looked very capable in the physical game as well. The top of the 2020 draft is very stacked, but you could make a case for Lundell as a top-five pick.
Antti Saarela started the tournament as the first line center but got moved the wing after a few games. I personally see Saarela as a winger at the next level and he looked much more comfortable there in this tournament. Saarela's tournament can be summed up as average. He was mediocre at creating offence and zone entries, and flashes of great play were overshadowed with stupid penalties. He has above-average speed, good hands and hockey sense, but I'm skeptical if he has the potential to be a game-breaker at the NHL level. I have him as a third-round pick at the moment.
I thought that both Aatu and Aku Räty had very good tournaments compared to expectations. The older brother, Aku was the best Finnish forward at creating controlled zone entries and he had a great mix of individual shot attempts and shot assists, and Aatu was very good in all three zones considering he was one of the youngest players in the tournament and not eligible until 2021 draft. The third line featuring both Räty brothers and Mikko Petman was actually Finland's best line at constantly creating pressure at even-strength. I'm not sure if I see Petman as a legit NHL prospect, but I've liked Aku Räty's play at the U20 level this season and have him as a potential middle six player at the NHL level. He has very good speed, good skills and compete level.
Tuukka Tieksola is another name who I've really liked this season, and I would say he had a good tournament all things considered. He was good at entering the zone and the best forward on the team at creating scoring chances for his teammates. Tieksola's smarts are the reason I like him as a prospect. He rarely makes glaring misplays with the puck and makes the players around him better. I have Tieksola currently as an early third-round, but he could be even higher when the draft comes around.
Leevi Aaltonen had a solid showing overall. He was clearly the most frequent shooter in the team, but the vast majority of those shots came from low-percentage spots like from the point. Aaltonen is likely a top 10, even a top-five skater in this draft. His speed, edgework and acceleration are all high-end, bordering on elite. I've seen him execute skilled plays at the U20 level, but in this tournament, he kept his game quite simple. His shot is quite good and powerful for a player his size, but not so good that he should be shooting from every possible situation as he did in this tournament. Aaltonen is a high-energy player and a go-to option on the penalty kill. I see him as a likely third-round pick.
Aside from Lundell, this team included three other 2020 eligible forwards in Kasper Simontaival, Veeti Miettinen and Roni Hirvonen. Hirvonen did receive ice time in only one game, so he is not included in the graphs. Simontaival's ice time fluctuated a lot during the tournament for some reason, even though he clearly was one of their most effective players in the offensive zone. Simontaival has a really good release combined good vision and puck skills. His skating will not blow you away, but he gets where he needs to. Miettinen, who was only a couple of days away from being eligible in this year's draft, has a good skill level and shot as well, but didn't have the best tournament overall.
Juuso Pärssinen started as the fourth line center but was moved to a bigger role as the tournament progressed. Pärssinen is a solid two-way center who plays a responsible 200-foot game. He is strong on the puck, has decent hands and vision, but I'm not sold on him as an NHL prospect mainly due to his skating. I could see him going surprisingly high on draft day due to the fact that he has a relatively high floor as a player. His teammate from TPS, Aarne Intonen, was on the fourth line for the whole tournament and didn't do anything noticeable. According to my tracking data, he was the worst Finnish forward at creating controlled entries. There is a chance he gets picked in the last two rounds.
Lassi Alanen (@lassialanen)
LATEST RADIO & DRAFTCASTS