Prospect Ramblings – 6 roster spots ready for rookies
Hayden Soboleski
2018-07-22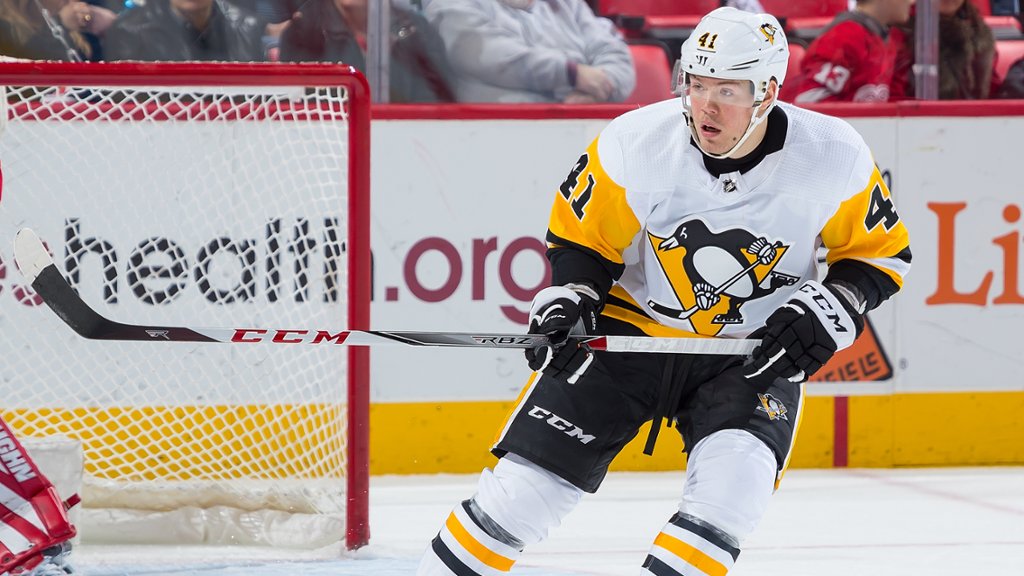 ***
With most of the free agency shuffle complete for the summer, we can finally do what I do every summer prior to fantasy drafts – figure out where the spots actually are for rookies to make an impact. For this article, I'm going to stick to forwards. Kids in the AHL can always play well enough there to push the issue and earn a tryout when injuries happen, but the most valuable prospects to own (in the short-term) are the ones who have a top-nine spot ready for the taking.
There are two camps here: Newcomers so good that the team will make room for them (ie. Svechnikov, Zadina, Petterson), and then players who have been developing a little longer, so the team knows exactly where they want them, and then that spot becomes available. That's the situation I'm looking for matches for. Before anyone gets upset – I am not including players who are technically still rookies but got decent time last year. New faces only.
Team: Pittsburgh Penguins
Position: Top-six RW
Prospect ready: Daniel Sprong
We know the Pens prefer Kessel on the 3rd line, and Rust swings up and down the lineup. If Hornqvist takes one tops-six RW slot full-time, the other should belong to the talented 21-year-old Sprong. This kid scored 30 goals as an AHL rookie, and totaled a point-per-game average. DO NOT SLEEP on the chance to pick up a goal-scorer who might play with Crosby!
Team: Carolina Hurricanes
Position: Top-nine C
Prospect ready: Martin Necas
2018 2nd-overall pick Svechnikov might get most of the rookie spotlight in Carolina next year, but 2017 12th-overall pick Necas will likely end up with a significant role. He showed us at the WJC that he's talented enough to not just hold his own against the best of the best, but thrive. He could play anything from 1C to 3C, but he looks like the Canes' best PP1 center option (Staal and Rask aren't shooting the lights out), or at least a good bet to make that unit in another capacity.
Team: Anaheim Ducks
Position: Top-nine C/RW
Prospect ready: Troy Terry
With Perry in a steep decline, Kesler potentially sitting out the season, Eaves injured forever, and several 4th-line types incapable of climbing the depth chart, there is a clear opportunity for Terry to jump straight from NCAA to the NHL. Despite it not being top competition, a point-per-game rate at the Olympics is a pretty good line on the resume, and he's shown us he's a big-game-player in the WJCs. He could be a top powerplay option as well as a sitting in the middle of the even-strength depth chart.
Team: New York Rangers
Position: Top-six C, top-nine C
Prospect ready: Lias Andersson, Filip Chytil
Zibanejad is obviously a lock up the middle, Namestnikov could get another look at C but has more winger experience, and Zucarello should be at RW and not C. This means there is at least one spot open and waiting for Andersson or Chytil to take. Despite being in a "rebuild on the fly" type situation, the Rags still have above average scoring depth on the top-line wings in Zuccarello, Krieder, Namestnikov, and possibly Buchnevich, so whoever lands the 2C position will have the chance to put up serious points. Keep an eye on in camp and pre-season to see who gains the edge of the two.
Team: Montreal Canadiens
Position: 1C-4C
Prospect ready: Matthew Peca
This might not be the name you expected me to write. I'm sure Habs fans (and management) are praying for Kotkaniemi to be a savior at center ice, but Peca is more realistically ready to make an impact right now. He was totally buried in Tampa Bay, but has been quietly and consistently scoring in the AHL and doing just fine when called-up as an injury replacement. His role will depend heavily on whether players like Shaw and Drouin play C or W, but this kid should be a pure centerman and have enough scoring upside to pleasantly surprise fans if given the top-nine role he deserves.
Team: Toronto Maple Leafs
Position: 4C
Prospect