Arizona Coyotes 2018 – Development Camp, Prospect & Draft Updates
Keith Duggan
2018-07-02
Arizona Coyotes July 31-in-31 
****
 I must admit, going into the 2018 Draft I was very confident the Coyotes were going to draft Brady Tkachuk fifth overall. I told anyone that would listen to me and honestly, I don't think they even listened to me, but I was sure this was happening. On draft night everything was playing out as I thought and then bam, Ottawa goes out and drafts Tkachuk fourth overall. Oh well, Arizona will now draft Filip Zadina I thought, how could they pass on him or at worst they take one of the many mobile defensemen. Then they go out and shock pretty much everyone, drafting center Barrett Hayton. That officially killed (I'm guessing) everyone's mock drafts. Then, after the first round it came out that general manager John Chayka had his mind pretty much set on Hayton and even if Tkachuk was still there at fifth the Coyotes probably wouldn't have drafted him anyway, so yeah, just shows what I know, and that the Arizona GM is an unpredictable guy. My twitter feed on draft night was filled with people ripping this pick and I must agree, passing on Zadina might be regrettable in a few years. But hey, let's give it some time, remember in 2016 when Chayka drafted Clayton Keller seventh overall and shocked everyone and that looks like it's working out just fine now.
First-round: Fifth overall, Barrett Hayton/Center
 Shortly after the pick, columnist/Coyotes writer for Arizona Sports and NHL.com, Craig Morgan said to Chayka: "Another curveball." The Coyotes General Manager quipped back: "It won't be in a few years." Hayton played for one of the best and deepest teams in juniors last season, the Sault Ste. Marie Greyhounds, so he was a little buried and played some sheltered minutes. That explains why his stats weren't overwhelming, 21 goals and 60 points in 63 games. Coyotes director of amateur scouting Tim Bernhardt also feels the stats don't tell the whole story with Hayton. "I've watched Barrett for the last two years," Bernhardt said. "He kept passing the test of time, getting better and better. He's not overly flashy but when you watch the subtleties in his game, the details in his game and how competitive he is, that was something that really drew us to him. That 200-foot game is the name of his game; a Jonathan Toews type of game." Like Bernhardt, Chyka watched Hayton a lot. He said he watched 10 games live and "started getting obsessed with him around Christmas time," eventually watching all his games on tape as the draft drew closer. The Coyotes had about a zillion quote's on how great this pick was after the draft and even skeptics of the selection like me started coming around. Hayton is expected to play at least one more season of junior and have a more expanded role with the Greyhounds this coming campaign, along with having very good chance to play for Canada at the 2019 World Juniors.  Fantasy wise it's hard to say what kind of impact Hayton will have at the NHL level. Will he be the next Patrice Bergeron or Jonathan Toews? My guess is he won't be on their level, but Hayton won't be a fourth line plug either. Probably maxing out at a second line center who averages around 50 points or so a season, but it will be interesting to see what he does offensively in the OHL with an expanded role.
Second-round: 55th overall, Kevin Bahl / Defense
 At 6-6 and 216 lbs, Bahl is a large man. He's also expected to grow another inch or so along with continuing to put muscle and weight on his growing body. Despite his size, Bahl is anything but a plodding, big lug on the ice. "He's well-coordinated for a kid that big and he's got a mean streak to him," said Bernhardt. "For a big guy, he moves pretty well, and his mobility is only going to get better…He's a real hard-to-play against player and you need those types. We have some smaller defensemen coming and he just brings us some real good balance." Bahl has worked with current Coyotes skating coach Dawn Braid in the past when he was in bantam and admits she had a huge influence on him. Bahl played on Ottawa's top defense pair and was a leader on a young team. In his second OHL season for the Ottawa 67's he had 18 points (one goal and 17 assists) in 58 games. His ticket to the NHL won't be points though, it will be keeping pucks out of his own net so fantasy wise Bahl won't offer much other than in deep leagues.
Third-round: 65th overall, Jan Jenik/ Center
The youngest player in the draft, Jenik was born Sept. 15, 2000. If he had been born one day later Jenik would have had to go into next year's draft. A speedy and crafty player, he was considered one of the best Czech prospects for the 2018 draft behind Filip Zadina and Martin Kaut. Much like Kaut, he's a secure two-way player who works hard and has a good amount of skill but his skating and edge work needs improving. Jenik has an edge to him though and likes to play a physical game and go into the dirty areas for the puck. Playing in three different Czech leagues last season, he finished with a combined 100 penalty minutes in 43 games. To continue playing this style he'll need to fill out more on his 6-1 frame, Jenik currently comes in at just 165 lbs. He had a monster Hlinka Memorial Tournament last year, scoring six goals and seven points in five games. Jenik was drafted sixth overall in the CHL import draft last week by Flint and as of July 1st hasn't decided if he'll play in the OHL for 2018-19. Keep an eye on Jenik though he could potentially be a sleeper.
Third-round: 73rd overall, Ty Emberson/ Defense
 Emberson had four goals and 27 points in 61 games with the US National U18 Team (USDP) last season. He'll attend the University of Wisconsin this coming fall. Even though he put up decent point totals last year, there is nothing flashy about Emberson's game. A right-handed shot, he has a good first pass, solid skater who takes care of business in his own end first. He does enjoy stepping up and throwing a big hit from time to time though. If Emberson makes the NHL it will be a while and probably won't offer much fantasy wise.
The Coyotes traded their 74th pick to Chicago for the 87th and a fifth-round pick, 142nd. Chayka then flipped the 87th pick to San Jose for a fourth-round pick (114) and another fifth-round pick (145). This is the second draft in a row Chayka has done this, seems like a quantity over quality thing going on with him.
Fourth-round: 114th overall, Ivan Prosvetov/ Goalie
 The 6-5, 175-pound netminder posted a 19-9-1 record with a .913 save percentage and 2.90 goals against average in 36 games last season for Youngstown (USHL). This is his second go around at the draft, obviously going undrafted last year. The Russian native helped Youngstown reach the Clark Cup Finals, going 7-3 with a .921 SV% and 2.58 GAA average in 11 playoff games. The Coyotes consider him a very "raw" prospect and aren't sure where he will play this coming season. Prosvetov wants to play in North America, not Russia, and was drafted by Saginaw of the OHL in last week's CHL import draft. It's too early to target Prosvetov in fantasy drafts.
Fifth-round: 142nd overall, Michael Callahan/ Defense
 Callahan split last season between Central Illinois and Youngstown of the USHL racking up three goals and 18 points. Another mobile, decent size (6-2,192 lbs), two-way defenseman who doesn't wow you but plays a solid overall game. Callahan was named to the All-USHL Rookie Team for 2017-18 and will suit up for Providence College this coming season.
Fifth-round: 145th overall, Dennis Busby/ Defense
 Another pick that potentially could be a sleeper, Busby missed almost all last season, suiting up for just two games. He fractured his collarbone and was out an extended period, came back and played a game and half before re-fracturing it. Busby was highly hyped coming out of midget and then the d-man had a strong season as a 16-year old in the OHL for Flint putting up 16 points. He had a fantastic camp for the Hlinka Memorial Tournament and nearly made Team Canada. At this time last year, he was expected to possibly be a first-round pick. Busby is another smaller (5-11, 187lbs), mobile, premier skating, right shot defenseman that the 2018 draft was loaded with. Missing pretty much an entire year is obviously not going to be good for development but this could be a quality pick down the road and worth a gamble in the fifth-round.
Sixth-round: 158th overall, David Tendeck/ Goalie
 The Coyotes grabbed their second goalie of the day, drafting Tendeck who put together a solid season for Vancouver of the WHL. He posted a 25-16-2 record with three shutouts and a 3.02 GAA in 48 games. His .912 SV% ranked seventh among goalies in the WHL. NHL scouts tend to like their goalies nice and big nowadays and Tendeck while not small isn't huge, 6-1 and 172lbs. He plays a scrambly style at times and needs to work on his overall consistency but was a starter as a 17/18-year-old in the WHL last season. This one seems like a long shot to make the NHL, but you probably already knew this I mean were in the sixth round here now.  
Seventh round: 189th overall, Liam Kirk/ Left Wing
 This possibly made up for taking Hayton fifth overall as the Coyotes drafted the most interesting player in the 2018 draft. You've probably have heard of him by now and if you haven't seriously just google his name there was literally like a million stories about Kirk going into, during and after the draft. Real quick though, Kirk is the first born and trained player from England to be selected in the NHL draft. He played last season in the Elite Ice Hockey League in Britain for the Sheffield Steelers, racking up nine goals and 16 points in 52 games. Those don't look like great stats, but Kirk spent much of the season on the fourth line, had to basically learn how to play defensively and was playing against men, many with AHL/ECHL experience. Some fun stats for you here, as a 16-year-old, Kirk had 98 points in 17 games with Sheffield's under-18 team. That's not a mistake, 98 points in 17 games. The next season he had 44 points in 10 games with the under-20 squad. The Coyotes put it best after the draft saying Kirk possessed a lot of "natural skill". A fantastic skater it will be interesting to see him play against elite players his own age this coming season. Kirk was drafted ninth overall by Peterborough of the OHL in last week's CHL import draft and is expected to play there in 2018-19. Going into the draft many compared him to Nikolaj Ehlers and at this point I think it's worth grabbing Kirk as a late round pick in dynasty fantasy drafts.
Whew, congratulations you made it, man that was a lot of picks. Overall the Coyotes had nine selections in the 2018 NHL draft, drafting three forwards, four defenseman and two goalies. They potentially grabbed some sleepers, especially Kirk. As I said earlier they might live to regret not taking Zadina though. Their first two picks of Hayton and Bahl look like they will probably turn out to be better players in real life than in fantasy.
****
The Coyotes held their development camp from June 25th to the 29th. Nothing earth shattering really happened, it was interesting to see former NHLer Petr Klima's twin sons, Kelly and Kevin there, also Arizona State University junior defenseman Brinson Pasichnuk as invites. PO Joseph play stood out but still looks like he's not physically ready yet. Despite the 2017 first-rounder trying very hard to gain weight on his slight frame, he only gained about two pounds from last year's camp, basically looking like he'll play another year in junior. Other standouts were Hayton, Bahl, Cam Dineen and Jordan Gross. Keep an eye on Gross, I expect him to make a serious run at a roster spot with the Coyotes this fall. Here's a pic of the roster for their camp: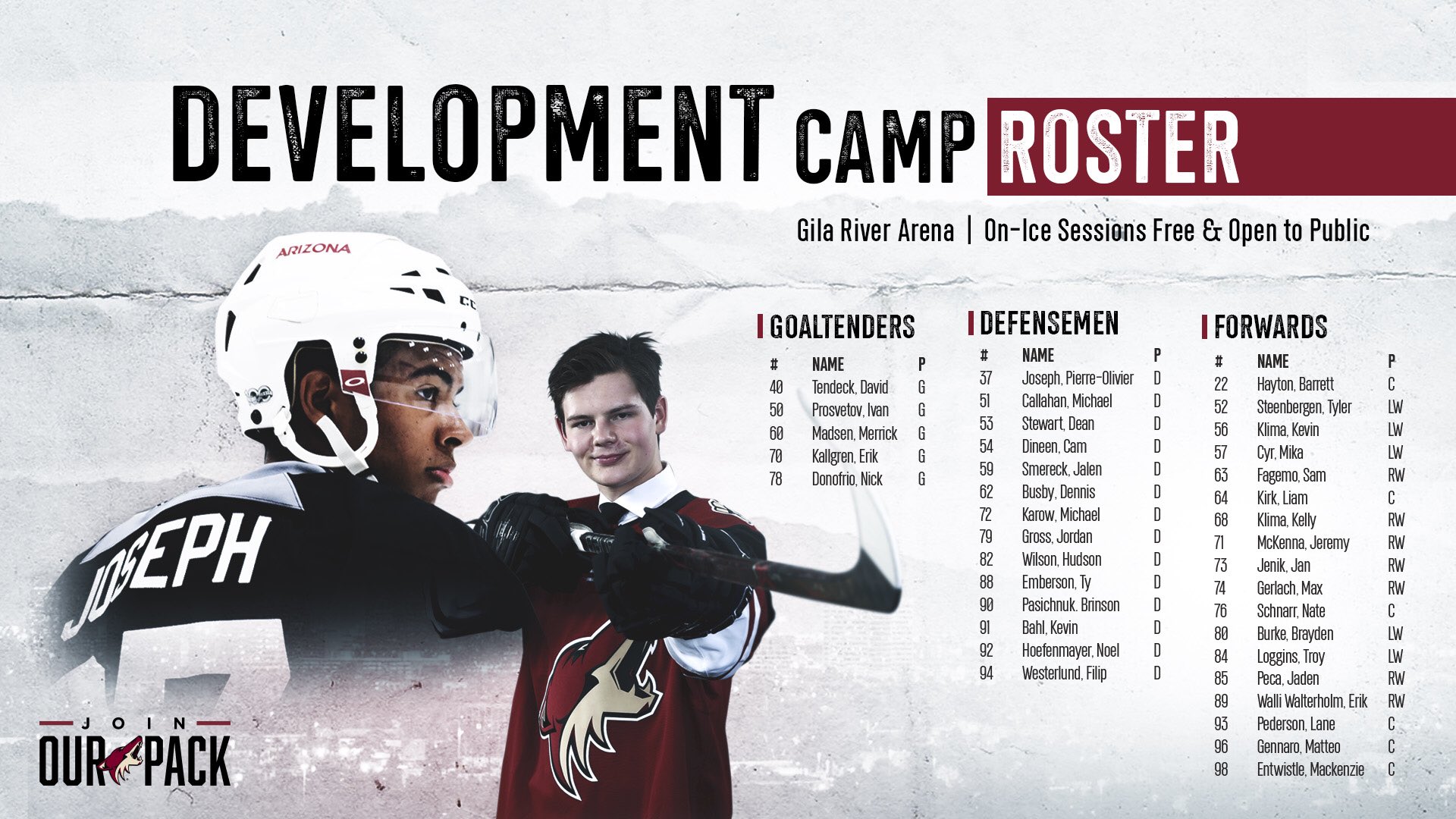 ****
 The Coyotes aren't expected to make any waves in free agency but surprising they did sign Michael Grabner. Chayka has expressed interest in possibly adding more depth on the wings and defense. They acquired Robbie Russo a few days before the draft and he's been good in the Detroit system. The Coyotes expect him to make a run at a roster spot come this fall but if he does it will be more of a seventh d-man/depth guy.
****
Thanks for reading and enjoy the summer!
Keith Duggan
@KDuggan92
LATEST RADIO & DRAFTCASTS