August 31-in-31: Ottawa Senators
Brad Phillips
2017-08-20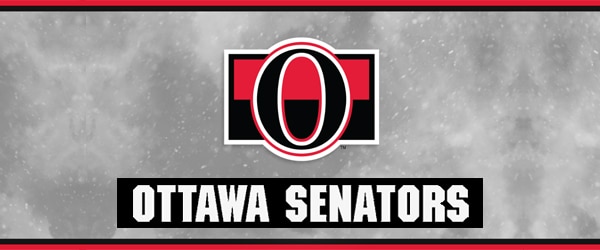 Coming within one goal of reaching the Stanley Cup Final can sometimes cause a GM to go out in free agency and make a big splash to grab that one last piece that will put them over the top. On the other hand there's the polar opposite; just make a couple depth additions and hope for a repeat performance. Pierre Dorion chose to take the latter route. Gone are forwards Tommy Wingels, Viktor Stalberg, Chris Kelly, lifelong Sens Chris Neil and Marc Methot. In their place are swiss army knife and faceoff man extraordinaire Nate Thompson and veteran defenseman Johnny Oduya. Oduya will likely be asked to fill the Methot role, play a sound defensive game freeing Erik Karlsson up to do his thing.
As a result of these signings, there isn't too much in the way of opportunity for prospects. However up front the door is open for Colin White as Derick Brassard will start the season on the sidelines thanks to shoulder surgery. On the blueline it's a pretty safe bet that some combination of Thomas Chabot, Ben Hapur and Fredrik Claesson will see extended time in the Nation's capital. But outside of those four the rest of the team's prospects will continue to develop at the lower levels.
Risers
No player in the organization had a bigger change of fortune this past year. After a much maligned 2015-16 that had management questioning his commitment, Chlapik put a bigger focus on conditioning and it showed on the ice big time. He was one of the best players in the QMJHL from the first puck drop and led the team in goals (34), assists (57), points (91) and PIMs (98) and finished fourth in the league scoring race. A skilled distributor of the puck with above-average vision the Czech could still use a bit of work in the skating department which will increase his chances to succeed at the NHL level. He'll provide a much needed injection of offence in Belleville for a team that was challenged in the goal scoring department this past season.
Ottawa hasn't exactly been known for churning out NHL calibre goalies, but they may have struck gold with the big Swede. Hogberg backstopped Linkoping to the tune of a 19-14 record while posting a stellar 1.89 GAA and 0.931 SVS. He was signed to an NHL contract when his season came to an end of saw time in three AHL games, giving up 13 goals in the process. Hogberg is head and shoulders above any other backstopper prospect in the system, backed up by evidence of his showing at the development camp last month. He'll spend the year in Belleville battling Chris Dreidger for playing time before making a case for NHL duty in 2018-19.
It's hard to believe that a player already considered to be the team's best can be thought of as rising, but that tells you just how good Chabot's fourth and final junior season was. He led the Saint John Sea Dogs defensemen in scoring with 45 points despite playing just half of the team's game. To took things up a notch in the playoffs where he registered 23 points, the third highest mark on the team, and a team high plus-29 in just 18 games en route to the QMJHL title, earning playing MVP honours along the way. To cap things off Chabot was named MVP of the World Junior Hockey Championship, the first back-ender to win the award. All signs point to Chabot likely breaking camp with the team this fall, but with the signing of Oduya there's a decent chance he starts his pro career in the AHL to get accustomed to the pro game.
Fallers
While he still remains a high end prospect, it's fair to say that 2016-17 was a massive disappointment for the 2016 first rounder. Battling injuries, Brown managed to play just 35 games and while his 40 points are nothing to sneeze at, it's not at the level one would be hoping to see out of a highly touted player in his third junior season. He had a strong showing in the Memorial Cup with five points in four tournament games for the champion Spitfires and was exceptional on a line with Casey Mittlestadt and Kailer Yamamoto in the World Junior Summer Showcase. Hopefully these are signs of things to come for Brown as he enters his fourth OHL campaign.
Just two years after being drafted, Gagne's future as a viable fantasy asset is already in doubt. After sniping 35 goals in his draft year, he's seen his goal totals drop hard; to 17 in his final junior season (albeit in only 42 games), and managed to find the back of the net just eight times in his first pro season split between the AHL, two goals in 41 games, and the ECHL, 6 goals in 19 games. The one saving grace for Gagne is that there is not much in the way of competition on the right side so he should be given ample opportunity to show his stuff in a full AHL campaign.
Admittedly this one's a bit of a nit-pick given that he didn't play a game in 2016-17, but that's part of the issue. Already starting a bit behind the eight ball drafted as a double overager, Burgess faced a setback undergoing wrist surgery, missing the entire NCAA season and a crucial year of development. Coming in as a 21 year-old freshman the 2016 fourth rounder better dominate.
Depth Chart
LW
Nick Paul
Francis Perron
Alex Formenton
Filip Ahl
Max McCormick
Vincent Dunn
C
Colin White
Logan Brown
Filip Chalpik
Shane Bowers
Drake Batherson
Shane Eiserman
RW
Gabriel Gagne
Marcus Nurmi
Todd Burgess
D
Thomas Chabot
Frederik Claesson
Ben Harpur
Christian Wolanin
Christian Jaros
Miles Gendron
Andreas Englund
Max Lajoie
Kelly Summers
Macoy Erkamps
Patrick Sieloff
Cody Donaghey
G
Marcus Hogberg
Chris Dreidger
Jordan Hollett
Joel Daccord
PROFILES ON THE ABOVE PLAYERS CAN BE FOUND HERE:
http://www.dobberprospects.com/Table/ottawa-senators-top-prospects/
Other news and notes
Filip Ahl has decided to forego his final year of junior eligibility and will instead head to the SHL where he'll suit up for Örebro HK. This will be his second go-round at Sweden's highest level. He previously played 17 games for HV 71 but failed to make an appearance on the scoresheet. There's both positives and negatives to this move. On one hand Ahl will be playing against grown men in one of the best leagues in the world. However he'll giving up a shot at a Memorial Cup as Regina is the host for this year's tournament and would have been in line for a bigger role with both Adam Brooks and most likely Sam Steel moving to pro hockey. Örebro HK figures to be a basement dwelling team and Ahl probably won't be seeing top-six scoring minutes like he would have in the WHL.
2012 fifth round pick Robbie Baillargeron was not signed to a contract and chose to latch on with the South Carolina Stingrays of the ECHL to start his pro career. At one point Baillargeron looked like he might be a great value pick after posting 27 points in his freshman year at Boston University. But that was as good as it would get. He saw his role diminished and eventually transferred to Arizona State for his Senior year, tying for the team lead in scoring with 21 points.

***
Top 10 Fantasy Prospects
1. Thomas Chabot
2. Colin White
3. Logan Brown
4. Filip Chlapik
5. Marcus Hogberg
6. Nick Paul
7. Shane Bowers
8. Francis Perron
9. Filip Ahl
10. Alex Formenton
***
Brad Phillips
LATEST RADIO & DRAFTCASTS