Tarasenko and Schwartz: Connected at the Hip
Cam Robinson
2015-08-24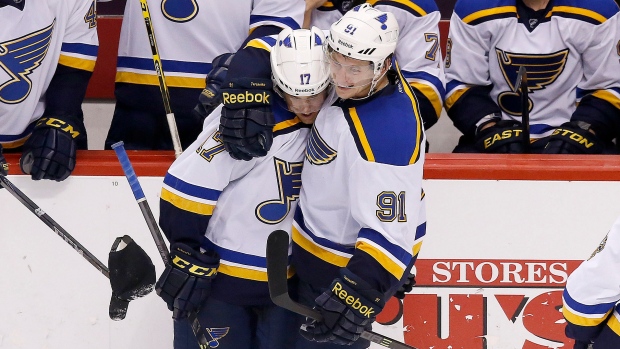 By: Cameron Robinson
During these long summer months, its almost as much fun to look back as it is to look ahead. The summer of 2013 saw a Cage Match that pitted both Jaden Schwartz and Vladimir Tarasenko. At the time, both showed great promise but in the end, Tarasenko was the one who would take the match based on long term potential and elite upside. Well here we are, two seasons and many accolades later, and Tarasenko is the poster boy for the next generation of elite scoring wingers. Is it Schwartz's turn to grab ahold of the NHL's attention and enter into the elite of fantasy producers? Lets take a look back at the history of these two young teammates, how they produced together last season and what we might be able to expect in the future.
Building a Foundation..
June 25, 2010 was a sunny, and not surprisingly, smoggy day in Los Angeles, California. After trading defensemen David Rundblad to the Ottawa Senators, St. Louis held picks 14 and 16. With those selections, the Blue Notes did what so many teams hope for when they show up at the draft podium: come away with two high-impact players.
Vladimir Tarasenko and Jaden Schwartz took vastly different paths in their quest to reach the NHL. One came from the beating heart of Mother Russia and spent his teenage years playing against men in the KHL – first suiting up as a pro as a fresh faced 16 year old. The other was a high-flying Canadian who took to the books and spent two years studying and honing his craft at Colorado College of the NCAA. Their routes were world's apart, but the two Blues' stars have been forever linked since that fateful day in smoggy California.
Schwartz went #14 and two selections later, the Blues grabbed Tarasenko. Since then, they have done nothing but endear themselves to fans. It is Tarasenko who has garnered much of the fan fare outside of Missouri and for just cause. He kicked the door down last season as he entered into the ever elusive 'elite' category. His 37 goals and 73 points in just 77 games ranked him 10th in league scoring. And its not just how many points, its the manner in which he scores them. Tarasenko can take your breath away with his speed and creativity; he rips the biscuit as well as any player not named Ovechkin or Stamkos and his mix of physicality and slick hands are reminiscent of a young Peter Forsberg. He is already a top fantasy player and his stock will continue to rise.
Meanwhile, Jaden Schwartz has quietly been carving out a place for himself in the hearts of his teammates and coaching staff. As a prospect, no one questioned Schwartz's offensive capabilities. He produced at a torrid pace during his days in the USHL and NCAA, as well as scoring 63 points in 75 games as a third year NHL'er. However its been his tenacious play away from the puck that has made him so invaluable to this Blues' squad. Lining up alongside Tarasenko and Jori Lehtera this past season, Schwartz was a play driving force. His career even-strength Corsi percentage sits at 53.5%, meaning he takes his turn driving the bus and not simply thumbin' a free ride. He does this all the while staying disciplined and accountable with and without the puck.
Last Season…
There is an age old question in fantasy hockey: When given the opportunity, do you load up on line mates for your squad or try and balance your team with players from varying teams and conferences? By hoarding line mates you can enjoy the sweet taste of victory-fruit when a line goes on a heater, but you can also watch a match go down in flames when they get shutout by the Leafs and Hurricanes during a weekend set. It's a tricky line to walk, and its something to consider if you're targeting both these young stars.
With the departure of TJ Oshie, coach Ken Hitchock will likely be tempt