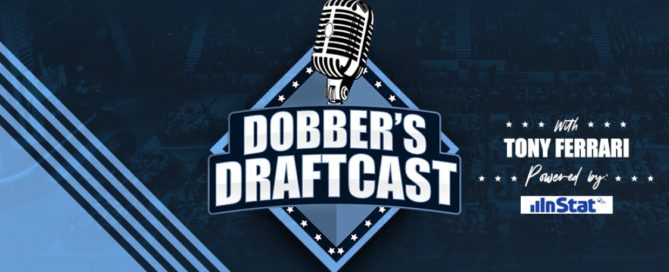 Summary
On this week's DraftCast, Tony is joined by WHL aficion …
Spotify
YouTube
iTunes
Follow
Guests on this podcast: Joel Henderson @dathockeydoe
Dobber's DraftCast is Powered by InStat Hockey @InStatHockey
Also Available On
Contents
On this week's DraftCast, Tony is joined by WHL aficionado Joel Henderson to take a tour around the WHL and western Canada in general. They discuss Joel's newest venture as he joined Puck Preps recently, focusing in on the WHL Draft and bantam age players more! Tony and Joel discuss some of the best 2004 and 2005-born players such as Connor Geekie, Denton Connor Bedard, and Brayden Yager among others. The future looks bright out west!
Diving into the 2021 NHL Draft, Tony and Joel discuss most of the best prospects coming from the WHL as well as Corson Ceulemans from the AJHL. The WHL was covered from top to bottom with in-depth breakdowns on Dylan Guenther (W, Edmonton), Ryder Korczak (C, Moose Jaw), Logan Stankoven (C/W, Kamloops), Carson Lambos (LD, Winnipeg), Vincent Iorio (RD, Brandon), Nolan Allan (LD, Prince Albert), Cole Jordan (RD, Moose Jaw), Kyle Masters (RD, Red Deer) among others! 
Thank you for listening! If you enjoyed the podcast, a 5-star rating and review would be greatly appreciated! 
Follow us on Twitter: @DobberDraftCast, @theTonyFerrari, @dathockeydoe
Dobber's DraftCast is brought to you by DobberProspects and InStat Hockey