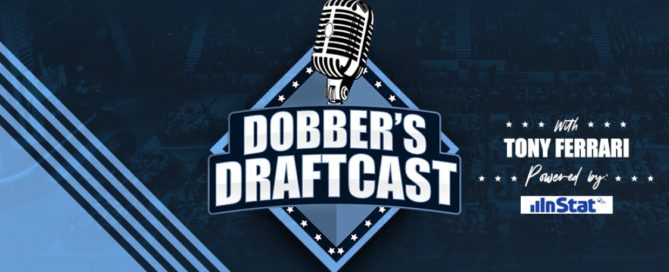 Summary
In the episode of the DraftCast, Tony is joined by almo …
Spotify
YouTube
iTunes
Follow
Dobber's DraftCast is Powered by InStat Hockey @InStatHockey
Also Available On
Contents
In the episode of the DraftCast, Tony is joined by almost all of DobberProspects Scouting team as they conduct their midseason 2021 NHL Draft Rankings meeting! They discuss the top-70 players on their board before rounding out the top-100 off the pod. This marathon episode shows most of the behind-the-scenes conversation that went into the team's Midseason 2021 NHL Draft Rankings on DobberProspects.com.
From Fabian Lysell, Matthew Beniers and William Eklund up top to Owen Power and Simon Edvinsson rounding out the top-10 and figuring out the mess beyond the mid-first round, this is a LOADED episode! Be sure to follow the scouting team on Twitter:
Dylan Griffing @GriffingDylan
Samuel Tirpak @SammyT_51
Eetu Siltanen @siltaneneetu
Alexa Potack @alexa_potack
Mikael Holm @carlmikaelholm
Caitlin Berry @caitlinsports
Brayden Olafson @olaf1393
Clare McManus @claremcmanuss
Nick Richard @_NickRichard
Jacob Barker @JacobMbarker12
AJ Gidaro @AlfredoGidaro
Jameson Ewasiuk @JamesonEwasiuk
Danny Tiffany @dantiffany30
Tony Ferrari @theTonyFerrari
We have been lucky enough to partner with InStat Hockey to help scout and evaluate players from all over the world in a year where getting into the rink isn't possible in many cases. InStat Hockey offers a wealth of team and player data and an incredible database of video. They are the elite of the elite when it comes to aiding in player development, scouting, and analysis. For any team or organization looking for a way to get an edge, InStat should be part of your plan.