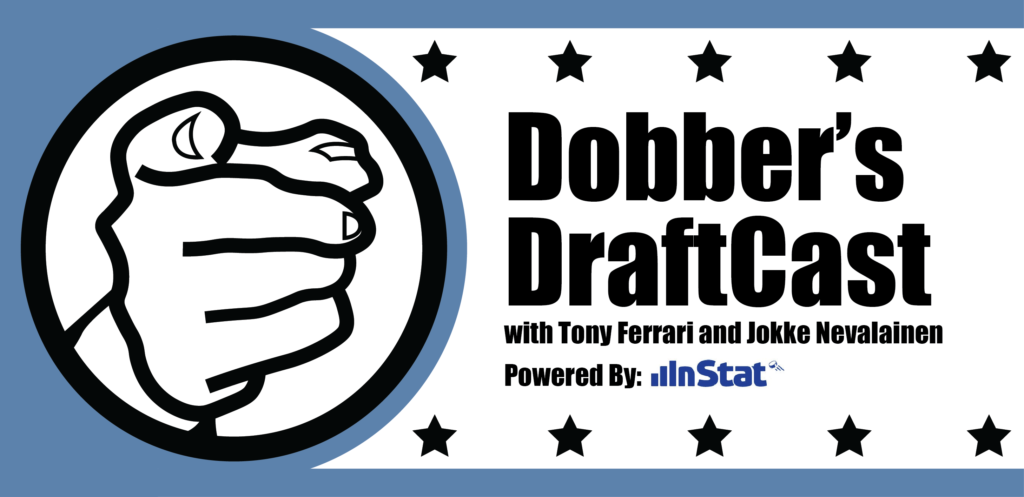 Summary
In this episode of the DraftCast, Tony is joined by Dob …
YouTube
https://www.youtube.com/watch?v=R_5mNMePKk4
iTunes
Follow
Dobber's DraftCast is Powered by InStat Hockey @InStatHockey
Also Available On
Contents
In this episode of the DraftCast, Tony is joined by DobberProspects QMJHL Scout Brayden Olaf as the co-host of the week! They start with Jokke Nevalainen joining the Caroline Hurricanes scouting staff, the reason he won't be on the DraftCast moving forward. They also cover the news and notes from around the prospect world.
The guys dove into the QMJHL pause in play and they talk about some of the players that have caught their eye so far in the QMJHL! From Justin Robidas to Cole Huckins, they cover a solid group of QMJHLers who are eligible for the 2021 NHL Draft!
Be sure to check out the new Game Tape with Tony Ferrari series where Tony watches some tape and breaks the player's game down with the player themselves! The first edition is live now with none other than top 2021 NHL Draft prospect Carson Lambos! 
Follow us on Twitter: @DobberDraftCast, @theTonyFerrari, @Olaf1393
Time Stamps:
0:15 Introducing Brayden and Talking about Jokke Leaving!
2:30 Canadian World Junior Camp and Their Quarantine
5:15 Liiga paused until December 19th
5:30 QMJHL Shut Down and League Overview
10:40 QMJHL Bubble
16:00 Justin Robidas
22:30 Robert Orr
28:20 Peter Reynolds
32:45 Zachary Dean
40:30 Evan Nause
48:40 Cole Huckins
56:05 Oscar Plandowski
58:00 Carson Lambos Interview
1:06:00 Wrapping things up!
1:07:45 We mess things up sometimes? Never!
1:08:30 DobberProspects Fantasy Prospect Report
1:09:45 Bye!
Dobber's DraftCast is brought to you by DobberProspects and InStat Hockey!
Check out the DobberProspects Fantasy Prospect Report! It has everything you need from fantasy hockey advice to full breakdowns of every NHL team's prospect pool, including the players that were just drafted!