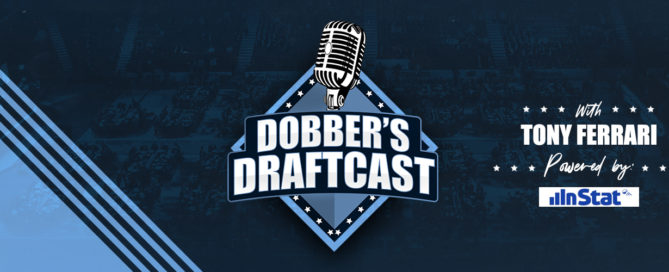 Summary
On this episode of the DraftCast, Tony is joined once a …
Spotify
YouTube
iTunes
Follow
Guests on this podcast: Brayden Olafson @olaf1393
Dobber's DraftCast is Powered by InStat Hockey @InStatHockey
Also Available On
Contents
On this episode of the DraftCast, Tony is joined once again by Brayden Olafson, DobberProspects QMJHL Scout, and the pair breaks down the pre-season favourites for the NHL's Rookie of the Year and then we make our picks for the Calder as well as a lightning round through the other NHL awards!
We couldn't leave you with no NHL Draft content ton the DraftCast so we also have an interview with Scott Morrow, a right-handed defender who plays for Shattuck St. Mary's. He may be under the radar a bit right now as a prep player but the 2021 NHL Draft prospect could be a big riser as the year goes on with his elite-level skating and attack mindset. Be sure to check out the Game Tape segment with him on Youtube as we break down some of his plays and he expands on his game and the philosophy behind the way he plays. It was a blast talking to the Shattuck St. Mary's product!
Follow us on Twitter: @DobberDraftCast, @theTonyFerrari, @Olaf1393
Support for the DraftCast is brought to you by ​MANSCAPED™! Use promo code "DRAFTCAST" for 20% off AND free shipping at MANSCAPED.com!
Dobber's DraftCast is brought to you by DobberProspects and InStat Hockey
Game Tape with Tony: RHD Scott Morrow from Shattuck St. Mary's
Timestamps: 
0:15 Welcome!
1:20 Quick Look at the Calder Outlook
4:00 LW Kirill Kaprizov (MIN)
7:35 LW Alexis Lafreniere (NYR)
12:00 G Igor Shestyorkin (NYR)  and G Ilya Sorokin (NYI)
16:00 LW Tim Stützle (OTT)
19:20 C Quinton Byfield (LAK)
23:45 C/W Trevor Zegras (ANA)
27:00 C/W Dylan Cozens (BUF)
31:10 D Alexander Romanov (MTL)
34:30 D Ian Mitchell (CHI)
38:00 W Nils Höglander (VAN)
40:45 C Gabe Vilardi (LAK)
43:45 C/W Jack Studnicka (BOS)
47:30 MANSCAPED! Use promo code DRAFTCAST for 20% and free shipping at MANSCAPED.com! 
48:55 Picks (three finalists and the winner)
51:30 Marco Rossi
52:40 NHL Awards Lightning Round
55:05 Scott Morrow Interview
1:07:30 QMJHL Comeback!
1:10:30 See ya later! Thanks for listening!