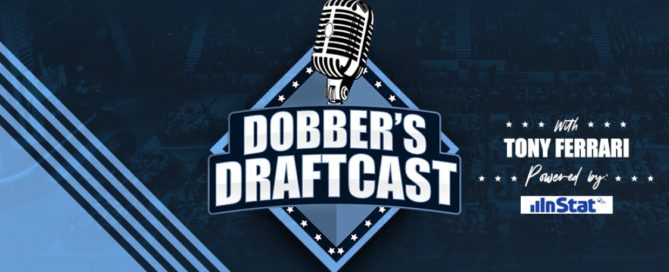 Summary
On this episode of the DraftCast, Tony is joined by Wil …
Spotify
YouTube
https://youtu.be/NK43sW4sZWw
iTunes
Follow
Guests on this podcast: Will Scouch @Scouching
Dobber's DraftCast is Powered by InStat Hockey @InStatHockey
Also Available On
Contents
On this episode of the DraftCast, Tony is joined by Will from Scouching.ca to go through a thought experiment. With the NHL looking to possibly move the NHL Draft due to the feeling that they won't get a good read based on the lack of consistent play across all leagues and level in the sport, how could they innovate?
Tony and Will propose a tournament with four teams assembled from the NHL Central Scouting lists, with a focus on the players who haven't played. They discuss the in's and out's of what could be a moneymaker for the NHL. From how the teams get assembled to why the event could become an annual thing, they break it down from a number of angles.
They also touch on the topic of the NHL's strategy to grow the game, develop new ideas, and why sometimes they remain stubborn despite constant innovation from leagues such as the NFL and NBA. Join us for this wide-ranging, open-ended discussion!
Follow us on Twitter: @DobberDraftCast, @theTonyFerrari, @Scouching
Scouching Youtube                              Scouching Patreon
Dobber's DraftCast is brought to you by DobberProspects and InStat Hockey
Game Tape with Tony: Matthew Coronato