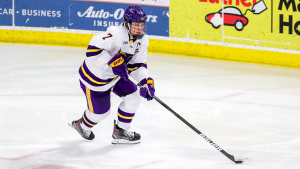 Image courtesy of MSUMavericks.com
Fantasy Summary
Senior NCAA defensive defenceman with bottom-pairing upside
Observations
Click to Expand

November 2022 – Aamodt suffered an upper-body injury in Eagles training camp and has been limited to just three games so far in 2022-23. He has been pointless in those games, just like the 12 games on PTO at the end of the previous campaign. The defenseman remains non-fantasy-relevant by any stretch. Hayden Soboleski

April 2022 – The Avalanche has signed Aamodt to a one-year ELC for the 2022-23 campaign. He will join the AHL Eagles on a PTO for the remained of 2021-22. Hayden Soboleski

Aamodt served as captain of Minnesota State University for the 2021-22 season where he put up six goals and 12 points in 41 games played. This goal total was slightly inflated thanks to the first hat-trick by a MSU d-man in 20 years; fantasy owners should only be interested in the blueliner for his multi-category potential. He puts up over 1 SOG and 1 block per game and an above-average number of PIMs. At 24-years-old he doesn't have much development runway left by traditional curves but this one-year tryout will be a good indicator of where the organization expects him long-term.