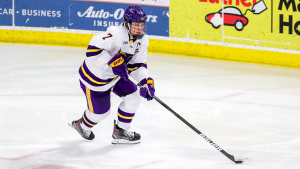 Image courtesy of MSUMavericks.com
Fantasy Summary
Defensive defenceman with bottom-pairing upside
Observations
Click to Expand

October 2023 – Aamodt finished the 2022-23 campaign with 52 games played, and emerged as a mainstay in the top-four for the Eagles in a shutdown capacity. His 18 points was more than expected, but this was boosted through receiving more ice time than he ever would in the NHL so this is not translatable to potential fantasy offense. He lasted until the penultimate cuts from Avs 2023 training camp and may be in the mix for the odd call-up if a small role PKer (i.e. Jack Johnson) gets injured, and could provide hits and blocks as a stream but that will be the maximum fantasy relevance here. Hayden Soboleski

November 2022 – Aamodt suffered an upper-body injury in Eagles training camp and has been limited to just three games so far in 2022-23. He has been pointless in those games, just like the 12 games on PTO at the end of the previous campaign. The defenseman remains non-fantasy-relevant by any stretch. Hayden Soboleski

April 2022 – The Avalanche has signed Aamodt to a one-year ELC for the 2022-23 campaign. He will join the AHL Eagles on a PTO for the remained of 2021-22. Hayden Soboleski

Aamodt served as captain of Minnesota State University for the 2021-22 season where he put up six goals and 12 points in 41 games played. This goal total was slightly inflated thanks to the first hat-trick by a MSU d-man in 20 years; fantasy owners should only be interested in the blueliner for his multi-category potential. He puts up over 1 SOG and 1 block per game and an above-average number of PIMs. At 24-years-old he doesn't have much development runway left by traditional curves but this one-year tryout will be a good indicator of where the organization expects him long-term.
Highlights