Team: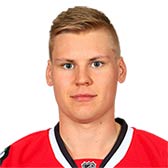 Photo courtesy of NHL.com
Fantasy Summary
Proving to be nothing more than AHL depth.
Observations
Click to Expand

March 2019 – Pokka has played this season with Avangard Omsk of the KHL. Should he ever come back to North America, he projects to make little impact beyond AHL depth. Jordan Deshane

February 2018 – Just a few days after trading away Dion Phaneuf, the Ottawa Senators have acquired Ville Pokka from the Chicago Blackhawks for Chris DiDomenico. In 46 games in the AHL with the Rockford Icehogs, Pokka has four goals and 18 assists for 22 points. Pokka has since been assigned to the Sens AHL affiliate the Belleville Senators. The Sens recalled defenseman Ben Harpur to replace Phaneuf on the roster and it appears that Pokka will replace Harpur in Belleville. Peter Harling

December 2017- Pokka has been recalled from Rockford of the AHL because of an injury to Cody Franson. This could be the NHL debut for the 2012 second rounder but he will have to get the nod ahead of Jordan Oesterle, who has looked great since getting back in the lineup, and Michal Kempny, who hasn't seen action since November 12th. Smart money says Pokka will get into the lineup during his call up. Tony Carr

November 2017- Pokka is off to a good start in a pivotal year for the Finnish defender. Points are still coming at a decent pace but where his offseason work is really shining through is on the defensive side of the puck. Currently sitting as a positive player in the plus/minus rankings, this is a giant step forward for a player who finished minus-25 last season. Tony Carr

June 2017- Pokka signed a one-year deal with the Blackhawks that takes the defenceman through the 2017-2018 season. Pokka finished last season leading all Rockford defencemen in scoring, the second season in a row he has accomplished this feat. This will be a pivotal season for Pokka, with at least one open spot on the Blackhawks blue line up for grabs. Tony Carr

January 2017- while Pokka can still put points on the board (averaging just shy of a half point per game this season) he will have to tighten up on the defensive side of the puck if he wants to get the call from the big club. The normally reliable defenceman is having an uncharacteristically bad defensive season, currently sitting at an ugly minus-20, although the Icehogs are having struggles throughout the whole lineup this season. Consider this a glitch, as a player with this much talent will rebound.~ Tony Carr

March 2016 – Through 58 games of his sophomore campaign, Pokka has tallied six goals and 27 assists, leading all IceHog defenceman in scoring.  The Finnish d-man has already surpassed his point total of a year ago, scoring at a consistent pace throughout the season, as opposed to hitting the rookie wall we saw last year. With the first place IceHogs looking to make a run for the Calder Cup, Pokka will likely remain in the AHL and gain the valuable playoff experience. As it stands now, the Blackhawks will have a couple of openings on the blue line in 2016-17 and we expect Pokka to be one of the prime candidates to fill these vacancies. Matt Donohue

November 2015 – Pokka has picked up right where he left off last season for the Rockford IceHogs. Through 18 games, he has two goals and nine assists to lead all defensemen on the team in scoring. This puts him on a 46 point pace this season after a 30 point season 2014-15. It has been an impressive transition to the North American game for Pokka, who is very strong in his own end. With the struggles of David Rundblad with the big club, there may be a chance for Pokka to make his mark with the Blackhawks in 2016. Matt Donohue

March 2015 – In his first season in North America, Pokka has put up seven goals and 20 assists in 57 games. Following the February departure of TJ Brennan, Pokka now leads the Ice Hogs in D-man scoring. It has been an impressive rookie season for the former second rounder, who has made the seamless transition from the Finnish Elite League. While much is being made of Nick Leddy trade and subsequent extension in New York, Pokka may prove to be a big get for the Blackhawks. As a 19-year-old last season in Finland, Pokka played for the league champion Kärpät, andled the entire league in +/- with a plus-32 rating. Pokka has emerged as one of the top D prospects for the Blackhawks, especially with the recent departures of Brennan, Tim Erixon, and Klas Dahlbeck. It will be interesting to see if he is the guy that gets the call for the Blackhawks should something happen to one of their regulars down the stretch. Matt Donohue

October 2014 – Pokka is out of the Islanders organization before he was able to make his mark. The former second round pick will now join the Chicago Blackhawks as he gets set to start his career in North America. Included in a trade that also sent goaltender Anders Nilsson and fellow defenseman TJ Brennan to the Hawks, Pokka will likely play a large role in the AHL this season. Brad Wilson

May 2014 – The New York Islanders signed defenseman Ville Pokka to a three-year entry level contract on May 28th, 2014. Pokka was the Islanders second round selection, 34th overall, of the 2012 NHL Entry Draft. Brendan Ross

May 2014 – Pokka had a career year notching 27 points in 57 games. If the Islanders are able to sign the youngster I expect he would play a key role in Bridgeport in 2014-15. Brad Wilson

January 2014 – Pokka notched one goal and three assists for team Finland as they rumbled their way to gold in the 2014 WJC. Finland was stellar in the tourney dropping both the Canadians in the semifinals as well as the host Swedes in the gold medal game. – Brad Wilson

December 2013 – As expected Pokka will join team Finland in Sweden for the World Junior Hockey Championships. – Brad Wilson

December 2013 – Pokka has already matched his point total from a year ago and has done it in nearly half the time. He continues to develope as expected. Watch for him to once again dress for Finland in the WJC this Christmas. – Brad Wilson

September 2013 – Pokka will spend another season developing while playing for Karpat in the SM-liiga. He has shown steady improvement but he still has some improvements to make to be considered NHL ready. Pokka will also have to deal with an adjustment to North American ice size when he finally makes the jump to pro. Look for him to challenge for a spot on the Sound Tigers next season. Brad Wilson

December 2012 – Pokka is playing his second pro season with Kärpät in the SM-liiga. He has established his role in the second pairing and has averaged over 18 minutes per game. He has managed to put together eight points in 24 games so far. Pokka will play big minutes for Finland in the upcoming World Juniors. Miika Arponen

June, 2012 – Ville Pokka is a two-way defenceman with good positioning and decent offensive skills. In 2012/13 he played his first pro season with Kärpät in SM-liiga. He didn't contribute much offensively but he saw almost zero minutes of power play time. His production will likely go up next season with more experience and responsibilities in the offensive end too. Pokka is at least two or three years away from being NHL ready but he has the potential to become a solid NHL defenseman.
Highlights