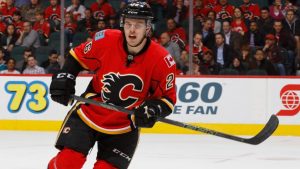 Fantasy Summary
Two-way defenseman who can play NHL games with limited fantasy upside.
Observations
Click to Expand

July 2019 – Wotherspoon has signed a two-year, two-way contract with the Flyers.  Jokke Nevalainen

July 2018 – The St. Louis Blues have signed Wotherspoon to a one-year, two-way contract.  Jokke Nevalainen

Dec 2017 – Wotherspoon is currently having his best fantasy season in the AHL (3g, 13a, in 24 games). Flames have decided to roll with Kulak, Andersson, and that would mean that Kylington might be next in line for a call-up if there was an injury. Wotherspoon has steadily improved his play for the last few years but the percentage is extremely low that he ever becomes a fantasy relevant NHL player. – Joel Henderson

July 2017 – Good news for Tyler. Calgary gave the RFA a qualifying offer. He will continue to be a depth option who provides stability in Stockton and can be brought up to the NHL for a handful of games when called upon. – Joel Henderson

Mar 2017 – At the trade deadline, Flames opted to bring in two players which cemented Wotherspoon in the minors for the rest of the year. The writing is on the wall for Wotherspoon officially it seems. He needs to hit two strides higher if he wishes to be an every day NHL player for the Flames organization. He will become an RFA after this season, but with the arrival of others, Wotherspoon may have to find a new home. While Tyler has continued to improve his skating and aggressive play, he has never been one to put up large fantasy numbers. – Joel Henderson

Oct 2016 – After a long training camp, once again Wotherspoon has been passed by other depth Dmen, but not because he did not have a good showing. He does not play a style which is very fantasy relevant. Wotherspoon passed through waivers but would most likely be the first call up. He can be a solid depth NHL defender who plays a quiet game. – Joel Henderson

Mar 2016 – Wotherspoon was on emergency call up once again and is being sent back down to Stockton. This has to be discouraging for a player who played his game well, but nevertheless he should hold his head high. His confidence seems the key to his performance. – Joel Henderson

Feb 2016: Look at that. Guess who got to be the next call up? Wotherspoon played just shy of sixteen minutes in his season debut. Hartley is forced to play both Nakladal and Wotherspoon a decent amount without others in the lineup. Rumors of trades might give a prolonged opportunity to someone like Tyler, but more than likely he will be the first sent back down. Tyler looked poised and confident; exactly what Calgary looks for from him. With bottom minutes, he still is fantasy irrelevant. – Joel Henderson

Feb 2016 – Without Nakladal, Wotherspoon becomes even more important to Stockton. He's been having great games recently by moving the puck effectively, looking composed, jumping up into transition, etc. His point totals are non existant but his development could hinder someone else who might be. Flames have wanted Tyler to crack the Top 6 as a steady defender but he looked nervous and wasn't able to move the puck effectively. He is improving. He should be the next call up. – Joel Henderson

Sept 2015 – Tyler was on the cusp of breaking the lineup last season. With that being said, he received some challenging words near the end of pre-season from Calgary coaches, letting him know they believe a few prospects have passed him. Being a solid two-way defenceman, Tyler will just have to wait for the next opportunity to impress. He has been sent to Stockton. – Joel Henderson 

June 2015 – Wotherspoon has been public about giving serious work in the summer in order to try and steal an NHL job for 2015/16. He had shoulder surgery last spring which limited his off season efforts last year. He suited up for one regular season games and a few in the playoffs due to injury. Coaches and teammates still speak highly of him as he continues to work on jumping into the play and being smart with the puck in his own end. Joel Henderson

May 2014 – Wotherspoon spent a grand total of 48 games in the AHL before joining the Flames and finishing the year in the NHL. Scoring nine points and turning in a plus-13 for the Heat was a very respectable start to his professional career. Once joining the Flames he chipped in with four assists and was a minus-3 in the 14 games he dressed. Very reliable for his age, Wotherspoon is likely in the NHL to stay. Brad Wilson

April 2013 – Tyler Wotherspoon has signed a three-year entry-level contract with the Calgary Flames. Brendan Ross

December, 2012 – Somewhat of a surprise, Wotherspoon was named to the final roster that will represent Canada in the 2013 WJC. He will be counted on to be a steady defensive presence for the Canadians. Rich Dillon

December 2012 – Tyler Wotherspoon was one of 12 defensemen invited to take part in Canada's National Junior Selection camp for the 2013 World Junior Championships in Ufa, Russia. He remains a long shot to make the final roster but the experience of competing will be a positive one. Brendan Ross

April 2012 – Wotherspoon is a solid and mobile defensive defenseman. He is a main piece on the Portland Winterhawks backend, and is relied upon to shut down the opposition's top lines. In 67 games this year he recorded seven goals and 21 assists for 28 points. Although he isn't a dominant player at either end of the rink, he is versatile and can fit into any type of system. Should spend another year in the WHL before making the jump to the AHL.
Highlights