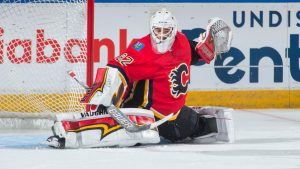 nhl.com
Fantasy Summary
Athletic goaltender with Elite Starter Upside
Observations
Click to Expand

May 2022 – Once touted as the future number one goalie with the Calgary Flames, his development has taken a nose dive due to his injury problems. Drafted in the second round back in 2016, he has had a difficult time staying healthy. In the last three years, he has played a total of 26 games (25 of those in the East Coast Hockey League). As he is going to turn 25 later this year in September, I think it's safe to say that at best, he is a farm goalie with very limited upside. It is too bad injuries have effected his chances of becoming a bigger prospect. Chris Fekete

Mar 2019 – Parsons still has yet to see any game action since mid February. That's over a month where he's been sidelined. Injuries are starting to really be an issue for this flexible prospect. He should get a start soon though. – Joel Henderson

Nov 2018 – Parsons continues to be out week-to-week with an upper body injury. Stockton has a below average defensive core this year and it's showing in the numbers for all goaltenders. In these key development years, it should be a main goal for Tyler to get healthy and remain healthy for the rest of the year. There is opportunity to grab but he does not need another season of nagging injury like 2017-18. – Joel Henderson

April 2018 – Parsons tweaked something going into Development camp and was kept off the ice because of it. In his first pro season, it was evident that little injuries can certainly hinder a prospect goalie from getting in positive rhythms. Since Calgary did not sign a backup goaltender, it seems Parsons will look to split time with whoever begins the year in Stockton with him.  – Joel Henderson

Mar 2018 – What a year for Parsons. He's seen everything up and down in a rookie pro season. Due to goalies ahead of him getting calls up to the Flames, he's seen a large quantity of starts in the ECHL and some in the AHL. The numbers aren't pretty. Parsons has always been able to use his side-to-side push and his flexibility to cover the bottom portion of the net which results in some highlight saves and steady play. Pro teams have found success shooting high and specifically to Tyler's glove side. It's also of note that the defence in front of the goalies has not changed. His struggles seem to be entirely pro related. Don't worry. Don't panic. He has to learn how to play bigger and not go down to the butterfly so early always. Still an elite goalie prospect. – Joel Henderson

Oct 2017 – Parsons was sent down to the ECHL to begin the season. This is not an indication of his play. Stockton is going with Gillies and Rittich, allowing Parsons to most likely get the bulk of the starts. He needs to play regardless of where he is. Don't be afraid, he looked terrific in training camp. – Joel Henderson

Apr 2017 – Tyler Parsons has been added to Stockton's roster on an ATO for the playoffs. They have been carrying a few goalies for a bit and it could mean any number of things. Either way, he will get some pro experience and time in the locker room. Parsons pro career is beginning. – Joel Henderson

Jan 2017 – If you were worried about Tyler Parsons' injuries from this season, you can put that behind you. After Team USA gave alternating starts to their goalies, they went to Parsons for the playoffs and never looked back. He battled, using his compete and athleticism to win WJC gold and he's developing a reputation for being a big game player. His glove reads and lateral movements were on display and gave up few to no juicy rebounds. After struggling in shootouts prior to the WJC, it was his efforts which sealed the victory. He's never been an under the radar prospect and this didn't help matters. Grab him if you can in long-term keeper leagues – Joel Henderson

Nov 2016 – Despite being listed as day-to-day, Parsons hasn't played a game since  Oct 15th. He went 2-1-1 with a 3.44 GAA and a .871 SAV% before being injured. – Joel Henderson

Oct 2016 – Parsons has been impressive since the Memorial Cup ended. He impressed at the WJC summer camp as well as his time with the Flames. He will now return to a London Knights squad who is still uncertain how many of their stars will make their NHL teams. This gives Parsons the chance to shake any who still doubt that he wasn't a large part of their success. – Joel Henderson

July 2016 – Parsons had very strong finish to the season winning the OHL and Memorial Cup Championships while only losing two games the entire post season run. After being passed over in two OHL drafts, Parsons has established himself as a late bloomer. His development over the season was driven by his athleticism and lightning quick feet. Considered to be a "small" goalie by todays NHL standards, he is the same height as Jonathan Quick and plays a similar style. The Flames have a future potential franchise goalie in Parsons. Peter Harling

May 2016 – Tyler Parsons was named the CHL goaltender of the week heading into the OHL finals and has been solid helping the Knights sweep back-to-back series. The London Knights are a team loaded with star power and Parsons has quietly been improving all season. Parsons has average size and relies on his reflexes to make saves rather than rely on size and positioning to block shots. Parsons has very quick feet which he kicks out to make saves, and a quick glove hand. His rebound control has improved significantly in his draft year as has his confidence as he is aggressive in challenging shooters.
Highlights