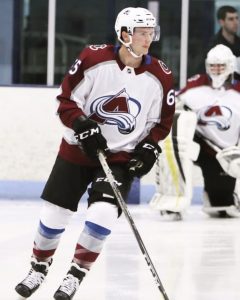 image courtesy of Westman Journal
Fantasy Summary
Shifty forward with speed, grit, and finish…in the ECHL and junior
Observations
Click to Expand

February 2022 – Lewis has retired from professional hockey to become an instructor at the Western Canada Hockey Academy. Hayden Soboleski

May 2021 – It's been another disappointing season for Lewis who saw just 5 games of AHL action. He puts up consistent SOG and PIM peripheral stats but the points are only coming in the ECHL and were skewed more assist-heavy in 2020-21 (hopefully not a long-term trend). At 23-years-old his time certainly isn't up yet but the AHL is getting crowded with fresher prospects and that coveted spot may be harder to come by next year. Hayden Soboleski

February 2021 – Lewis has begun the 2020-21 campaign with the AHL Eagles, starting on the 2nd line. He needs to hold onto a roster spot all year long to remain fantasy relevant, but he remains a dark horse candidate for a bottom-six NHL job in the future with the toolbox he has if he can start providing offense in a realistic role (unlike his experience in the WHL and ECHL). Hayden Soboleski

April 2020 – The good news is that Lewis is once again scoring above a point-per-game pace. The bad news is that it was once again in the ECHL. In 12 games as a bottom-six AHLer he didn't produce enough to maintain a spot on the Eagles, but led the Grizzlies in goals with 25 in 44 games. He still has value as a do-it-all winger who is equally capable as the first man in as he is as a trailer/shooter, but he has yet to prove he can do it at the AHL level. Hayden Soboleski

September 2019 – As expected, Lewis was assigned to the AHL not long into Avs training camp. If he can stick around with the Eagles in a full-time capacity, he should see his currently small fantasy stock rise. He remains a very useful jack-of-all-trades. Hayden Soboleski

March 2018 – His rookie pro season hasn't been electric, but Lewis is adjusting reasonably well. His 19 points in 51 games isn't outstanding, but he has actually performed at fantasy-relevant rates for large portions of the season, followed by long pointless slumps. These slumps are the reason he saw ECHL time (5 points in 3 contests), but his ability to forecheck and high speed make him a valuable asset even when he's slumping. If he finds consistency in the pros, he will be come a legit bottom-six option for the Avs. Hayden Soboleski

September 2018 – Lewis had another strong training camp with the Avs, showing his relentless forechecking and great speed. He's starting the season in the AHL with the Eagles, but it would not be surprising to see him receive call-up action if injuries hit. This guy has worked his ass off and become a legit fantasy asset in multi-cat dynasty leagues. Hayden Soboleski

May 2018 – 100 points in 70 games for Ty Lewis in his final WHL campaign. The speedy winger who can pass and shoot has really come into his own over the last two seasons and has suddenly become an important piece of the Avs prospects depth chart. He will most likely be leaned on for offense in the AHL in 2018-19, but given his incredible push in 2017 training camp I wouldn't be surprised if he saw glimpses of NHL bottom-six responsibilities. Hayden Soboleski

February 2018 – Lewis' omission from the Team Canada WJC squad was a little surprising given his breakout WHL season, but any disappointment hasn't affected his play. He still sits top-10 in league scoring with 28G and 47A in 51 games played. Add in his 42 PIM and 169 SOG, and Lewis is looking like a serious fantasy asset to keep an eye on as he likely moves to pro hockey next year. Hayden Soboleski October 2017 – Lewis is having himself quite the month. After breaking out in training camp and earning an ELC, he has put up 29 points in 12 WHL games (currently 2nd in the league in scoring) and now been named to Team WHL in the upcoming CIBC Canada Russia Series. Let's see how far this kid can go this year. Hayden Soboleski October 2017 – Colorado has signed Ty Lewis to an entry-level contract. Lewis was invited to Avs training camp as a tryout, but made a huge impact and survived much longer than anticipated. The WHL winger showed a knack for using his speed to get around defenders and to dangerous areas with and without the puck, and was one of the most game-ready prospects with minimal rust in the first days of camp. He has been returned to his hometown Wheat Kings for another year, where he has already put up 10 points in 4 games. In 2016-17 be broke out offensively, nearly hitting a point-per-game pace despite star forward Nolan Patrick being injured. He has certainly shown us he has the potential to be leaned-upon as an offensive difference-maker, but he still has to turn pro and prove he can play against bigger and better opponents.
Highlights