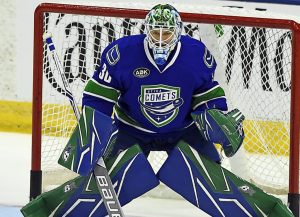 Photo courtesy of TheAthletic.com
Fantasy Summary
High-end goaltending prospect who is pushing for more NHL ice.
Observations
Click to Expand

September 2020 – Time for graduation. The 24-year-old departed the world of prospects with a BANG. His playoff performance against the Golden Knights was one for the ages. After not starting a game for six months, he goes out to play three elimination games in four nights. The result: two wins, a shutout, just two goals on 127 shots, but sadly, a Game 7 defeat. We'll need to see what the club does with UFA Jacob Markstrom, but it's clear that the former Boston College standout is ready to be given the reins. Cam Robinson

February 2020 – Demko's first full season in the NHL has been good, but not great. His starts have been few and far between while starter, Jacob Markstrom has played at a Vezina/Hart-level for much of the campaign. Now, with Markstrom appearing to be out for some time, the 24-year-old Demko will get a chance to run with the ball. How he plays will likely impact the club's decision on Markstrom's expiring contract and the upcoming Seattle expansion draft. Demko remains a high-end goaltending prospect, and may just elevate himself to likely starter soon. Cam Robinson

October 2019 – Demko was more than game in his brief spin as the Canucks starter. With Jacob Markstrom away from the team for personal matters, Demko handled the action for three straight contests. He came away with two wins, a 0.943 save percentage and 1.64 goals-against. The 23-year-old will look to prove able whenever his name is called to convince management that he can replace Markstrom who is in the final year of his deal. With Vancouver appearing to be a team on the rise, if Demko does end up with the ball next year, the pay-off could be substantial.