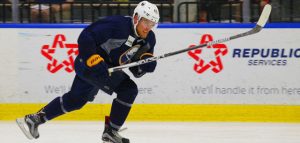 Jourdon LaBarber
Fantasy Summary
Sean Malone will work hard to play for his childhood favourite, Buffalo Sabres, but likely isn't going to be a huge threat to put up big offensive numbers.
Observations
Click to Expand

May 2023 – At 28 years of age, Malone has now played six seasons in the AHL. He is two years removed from his last NHL appearance, a one-game stint for the Nashville Predators. With the Rochester Americans this past season, he scored 14 goals and 31 points in 53 games, ranking 10th in team scoring. Malone provides scoring depth and leadership at the AHL level, a role he has settled into. He signed his two most recent contracts with the Buffalo Sabres, both of which were one-year deals. His current contract is set to expire in July. Kevin Wong

July 2021 – Malone signed a one-year two-way contract back with the Buffalo Sabres. Pat Quinn

July 2020 – After a year of playing on an AHL deal in Rochester, Malone was signed to a one-year two-way contract with the Nashville Predators. He should have an opportunity to see some NHL ice on this contract, albeit, in very limited capacity. Brayden Olafson

June 2019 – Malone did not get a qualifying offer from the Sabres which means he becomes an unrestricted free agent.  Jokke Nevalainen

April 2018 – A year after his impressive NCAA breakout season, Sean Malone settled in with his first pro season in the AHL with Rochester notching 22 points including 12 goals in his 73 games played. The former sixth round pick in 2013 has developed very well throughout his last few years and seems to be really embracing the challenge of making the NHL with his hometown team. He's been able to add a steady goal scoring pace to his game and has found his knack in the AHL in his first season which is a very good sign. Marcus Griep

April 2017 – West Senaca, NY native Sean Malone ended his college career with a career year. His 42 points this year more than doubled his previous high set as a freshman. Malone helped lead Harvard to the Frozen Four but fell short by losing to Minnesota-Duluth. Malone also signed his first NHL contract with the Sabres and made an impressive NHL debut. Max Marko

December 2016 – Sean Malone is enjoying a fantastic start to the year with Harvard in the ECAC. In 10 games, Sean Malone has racked up seven goals and five assists, which shows just how much of a contributor on offense he is. He has an outstanding shot that he seems to be putting to use more this year. Malone has the can-do attitude that all college players need to have due to the high intensity, but he plays with speed and quickness that he could most likely adapt to the faster pace of the professional level. Max Marko

December 2015 – Sean Malone is currently playing his third year of hockey at Harvard University, he's played eight of Harvard's ten games and has no goals and five assists. Harvard is currently on winter break and will start playing in the new year. – Paul Zwambag

Malone could develop into a good two way pivot at the NHL level. He doesn't have a pro level scoring touch, but works hard in all aspects of the game. Sean gets his points working hard and driving to the net. He will turn pro in two years and head to Rochester to develop his game at a professional level. He will be three or four years away from fighting for an NHL roster spot. The Sabres have time to develop centre men since they have elite prospects on their depth chart already.
Highlights