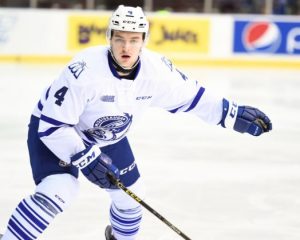 Aaron Bell
Fantasy Summary
Big, smooth-skating mobile defenceman with a hard shot.
Observations
Click to Expand

July 2020 – Sean Day has been granted a second-chance in the North American professional circuit by the Tampa Bay Lightning organization. His one-year contract with the Lightning will allow him a second proverbial kick at the can after showing a glimmer of hope with the Rangers second-tier farm club. Brayden Olafson

 

May 2020 – With one year remaining on his entry-level contract, Sean Day has been placed on unconditional waivers by the New York Rangers for the purpose of a mutual contract termination. His brief career with the Rangers was uneventful and unfulfilling considering the pedigree he had once held as an Exceptional Status player, and third-round NHL draft pick. He will likely seek an opportunity to revitalize his hockey career outside of North America,  but the embers of his potential as a fantasy asset in the NHL have likely burned out. Brayden Olafson

 

August 2019 – At 21-years-old, Day continues to struggle to justify his 2016 third-round draft pick. After splitting his rookie professional campaign between the Rangers AHL and ECHL affiliates in Hartford, Connecticut, and Portland, Maine respectively, the defenseman has yet to show much indication that he is anywhere near ready for taking the next step. Long-term, his projections as even a depth option at the NHL level are dwindling. A full campaign with the new and improved Hartford Wolfpack will go a long way towards either confirming or reversing that sentiment. Brayden Olafson

 

June 2018 – Former Exceptional Player, Day wrapped up his CHL career with his third team in the OHL, the Kingston Frontenacs, short of a Memorial Cup. The Rangers' third-round draft-pick from 2016 took a significant step offensively in his final junior campaign, tallying near point-per-game efforts throughout the course of the season and playoffs. A stint with the AHL's Hartford Wolfpack will certainly be necessary on route to his NHL career which is now finally beginning to look more certain than it has since been his selection by the Mississauga Steelheads. With the Jeff Gorton's public address that the Rangers will be moving to a system that looks to infuse more youth and skill into their lineup going forward, Day could become a fundamental piece for the team in the long term. Don't count on him for any sort of NHL production for at least one year, and probably two, but with the Rangers willingness to accept change he could quickly rise in the team's depth chart. Brayden Olafson

 

February 2018 — Day started the 2017-18 season in Windsor after being released back to junior by the Hartford Wolfpack where he would have been AHL eligible as a 19 year old.  After skating 27 games in Windsor (4 goals, 17 assists) the veteran rear guard was dealt to the Kingston Frontenacs as one of several additions made at the trade deadline in anticipation of a Memorial Cup run.  While missing some time due to an injury Day has been producing at slightly over a point per game since joining the Frontenacs.  Expect Day to join the Hartford Wolfpack once his junior season finishes.  Geoff Kent

March 2017 — After joining Windsor just five games into this season Day has posted solid numbers as a Spitfire.  The smooth skating Day has posted 30 PTS (12G, 18A) in 55 games – good for second in defenseman scoring after the offensively gifted Mikhail Sergachev.  What's even more impressive is that Day has recorded a plus-12 rating during this stretch, his first time being a plus player in his 4th OHL season.  Day was rewarded with a 3-year entry level agreement with the Rangers in early March.   Geoffrey Kent

October 2016 – Sean Day was off to a hot start this OHL season with five points in five games when he was traded from Mississauga to Windsor on October 18th. Windsor, who hosts the Memorial Cup this year, has an experienced and established defense corps. Day will likely push Tyler Nother out of Windsor's top four and could be paired with Austin McEneny. His ice time could decrease if Mikhail Sergachev is returned by the Montreal Canadians but he will still get to show his talent on the biggest stage in junior hockey. Dylan Finan

June 2016 – Amid concern about his commitment and work ethic, the massive blueliner kept falling, all the way to 81st overall in the third round when the Rangers decided to give him a chance. He projects as a bust or a beast without much middle ground. Mark Allan

March 2016 – After receiving exceptional status to enter the OHL as a 16 year old, expectations for Day have been understandably very high. Comparing Day to previous exceptional OHL players in John Tavares, Steven Stamkos, Aaron Ekblad and Connor McDavid is understandable. All those players were selected first overall in their NHL draft and have gone on to have mega success in the NHL. Will Day be the first overall pick in the 2016 NHL draft? Not a chance. Will he be a first round selection? Possibly, but it is more likely he slots in as a second round pick. Day has exceptional skating and has a pro ready frame. He has better than average offensive instincts for a defenceman as well. The problem is his commitment, consistency and decision making. Day will return for at least one more OHL season next year after being drafted this summer and his size, skating and smarts will transition just fine into the NHL eventually making him a solid top four minute munching defender like Jay Bouwmeester. It is important to not underrate Day because he will never achieve the success of fellow exceptional status recipients, keeping in mind his game translates well into fantasy hockey as an offensive generating defenceman who has size, skating and transition; valuable commodities sure to see him through to the NHL.
| Attributes | |
| --- | --- |
| Fantasy Upside | 4.0 |
| NHL Certainty | 0.5 |
| Country | CAN |
| Position | D |
| Roster Type | Free Agent |
| Shoot/Glove | Left |
| Date of Birth | January 9, 1998 |
| Height | 6'3" |
| Weight | 231 lbs |
| Drafted | 2016 Round 3; Overall: 81 |
| | |
Highlights