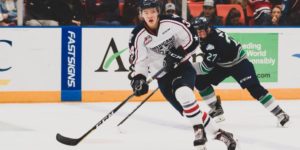 image courtesy of Twitter
Fantasy Summary
A shifty, high-volume shooter who can score in all situations.
Observations
Click to Expand

February 2022 – After signing an AHL pro deal to return to the Colorado Eagles, Mutala was instead reassigned to the WHL as an over-ager for a fifth season with Tri City. His 21 points in 27 games isn't as high as one would hope for a 20-year-old, however his team very weak and produces the second-to-least offense in the league so some blame can be assigned to his supporting cast. Still, being assigned to junior rather than pro is not the development step fantasy trackers want to see. He is not fantasy relevant. Hayden Soboleski

July 2021 – Mutala has had to settle for an AHL contract with Colorado for the 2021-22 campaign. This is reasonable given that his production last year was unspectacular in all four leagues he played in, but the big 20-year-old with point-per-game WHL history is certainly worth keeping around on this type of deal and trying to develop into a pro. Do not draft unless he translates production into pro and signs an NHL contract. Hayden Soboleski

March 2021 – After a brief amateur tryout period in the AHL, Mutala is returning to the WHL as the league gets back up and running. In 4 contests with the AHL Eagles, the winger played near-exclusively in the bottom-six but still managed 2 SOG/game which was promising. His single assist didn't raise any eyebrows and he did not particularly stand out, but being able to generate shots in limited ice time was a good sign of life. The Avs lose his signing rights in July 2021 and it wouldn't be surprising to see him get an AHL deal with the club (or elsewhere if Colorado moves on). He isn't an essential prospect for the team and shouldn't be on any fantasy radars yet but he deserves a pro shot. Hayden Soboleski

March 2020 – In his third WHL campaign, Mutala has once again raised his goal- and point-scoring rate which is always a good sign of development. Turning 19 before the season's end, he has surpassed the point-per-game mark with 67 points in 62 matches while also reaching a career-high PIM rate with 58. One reason for his production surge is his regular use on the powerplay which was a rarity in 2018-19. He's acclimated well, leading his team in PP goals and points. Given his exceptional shot volume (nearly 4/game), his production is coming sustainably, which is another great sign. The Avalanche banked on a year of growth after family health scares limited him during his draft year, and they are being rewarded for the gamble. That being said, the shifty weapon on the wing does not have an ELC in place and will likely return to the WHL for one more run in 2020-21. Keep him on your radars, but he isn't worth a pickup quite yet.

June 2019 – The Avalanche have selected Mutala in the 5th round of the NHL Entry Draft.
| Attributes | |
| --- | --- |
| Fantasy Upside | 5.5 |
| NHL Certainty | 3.0 |
| Country | CAN |
| Position | RW |
| Roster Type | Free Agent |
| Shoot/Glove | Right |
| Date of Birth | May 6, 2001 |
| Height | 6'0" |
| Weight | 190 lbs |
| Drafted | 2019 Round 5; Overall: 190 |
| | |
Highlights