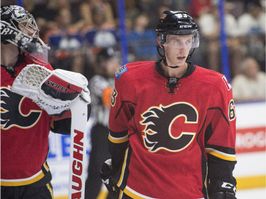 Fantasy Summary
Two-way defenseman who is having a tough time moving up the pro ranks.
Observations
Click to Expand

July 2018 – Culkin signed a one-year, AHL-ECHL deal with Laval Rocket. He spent the entire season in the ECHL as he regained a bit of his offensive presence. – Joel Henderson

July 2017 – Culkin split his time between the AHL and ECHL. His successes in the ECHL did not translate to the AHL this year as he was in fact passed by other blueliners. Culkin did not receive a qualifying offer from Calgary. – Joel Henderson

Oct 2016: Culkin has been slowly improving, but it will take some incredible jumps for him to move past other defenders on the depth chart for Stockton. He should be consistently in Stockton's lineup, but will be saddled behind higher defensive draft picks. – Joel Henderson

Feb 2016 – Culkin gets the call and played his first game in the AHL this season against Bakersfield. He used his speed effectively to hinder potential break outs but made some mistakes positioning wise that led to chances. He will have to get used to the AHL again. – Joel Henderson

Nov 2015 – He has finally returned from his shoulder injury from the rookie tournament this summer. The priority for Culkin needs to be to find ways to remain healthy. He's currently with the ECHL Thunder. – Joel Henderson

Sept 2015 – After having a disappointing end to last season with a wrist injury, this news comes as another morale busting blow to a promising young player. He will be out 6-8 weeks with a shoulder injury. Joel Henderson

February 2015 – Culkin has settled in nicely with the Adirondack Flames. He currently sits tied for the team points lead among defensemen while carrying a respectable plus-7. With 18 points in 37 games the youngster is also seventh in rookie scoring by AHL defensemen. Brad Wilson

March, 2013 – Culkin's numbers in junior have popped big time, but much of that is the result of teammate Mikhail Grigorenko's crazy first half. Grigs is up with the Sabres now, so Culkin's numbers have corrected. – Dobber

November, 2012 – Ryan Culkin is a two-way defenseman who is a good skater. He has improved every year since entering the QMJHL and has taken a giant leap forward this year with 16 points in 16 games to go along with a plus-10 rating. What the future holds for Culkin remains to be seen, but his responsible defensive play along with the newly-found scoring touch makes him an intriguing prospect in the years to come. There will certainly be opportunities to move up the depth chart in Calgary.
| Attributes | |
| --- | --- |
| Fantasy Upside | 2.5 |
| NHL Certainty | 0.5 |
| Country | CAN |
| Position | D |
| Roster Type | Free Agent |
| Shoot/Glove | Left |
| Date of Birth | December 25, 1993 |
| Height | 6'2" |
| Weight | 200 lbs |
| Drafted | 2012 Round 5; Overall: 124 |
| | |
Highlights