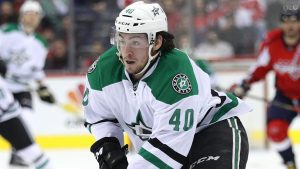 Photo courtesy of NHL.com
Fantasy Summary
A grinder of average speed who offers puck support on the forecheck. Plays a depth role.
Observations
Click to Expand

May 2023 – Elie currently plays in the SHL and has a contract until the 2024-2025 season. Pat Quinn

April 2020 – Elie, now 25 years of age, has been offered several opportunities in the past to play in the NHL. He provides replacement-level forechecking at that level, but offers little else to distinguish himself from other options. His speed is average, and he is not a particularly agile skater. The AHL's Rochester Americans have recently used Elie in a depth checking role alongside winger Brett Murray. His stock has fallen considerably since 2017-2018. This season, he did not play any games with the Buffalo Sabres. He becomes an RFA at the end of the current campaign. Kevin Wong

February 2020 – At this point, it seems that Remi Elie will be a career AHLer. He does not offer much fantasy upside. In 27 games played with the Americans this season, he has six goals and five assists. As of late, he has spent time playing with Casey Mittelstadt and CJ Smith. You would think that having a playmaker like Mittelstadt by his side that he would produce a bit more, but is not the case. Josh Tessler

August 2019 – Remi Elie signs a one-year deal with the Buffalo Sabres. The AAV is $700,000.  Elie has proven that he can produce in the offensive zone and that he can be an instigator. Also, he is not shy about dropping the gloves. Last season, the 24-year-old split his time between the Buffalo Sabres and the Rochester Americans. In 16 games played in Buffalo, he had 1 assist. His ATOI was extremely low as he had logged an average of 10 minutes a night, but it would have been nice to see Elie be a bit more productive when he was on the ice. During his stint in the AHL, he played in 25 games and posted 14 points (8 goals, 6 assists). Based on his performance last season, the Sabres might be more inclined to call on CJ Smith than Elie if there is an injury. If Elie does get an opportunity or two next season in the NHL, he needs to produce. Otherwise, Elie will be considered a career minor-leaguer at this point. Josh Tessler

October 2018 – The Buffalo Sabres have claimed Elie off waivers. Elie spent most of last season with the Dallas Stars but they had no room for him this season.  Jokke Nevalainen

October 2017 – Elie had somewhat of a contract dispute or he would have made the Stars roster immediately. He's been playing with Martin Hanzal and Devin Shore on the Stars second line. He plays hard, and fast, which has really worked nicely for the Stars. His size and speed fit exactly with how Hitchcock likes to play. As of now, he's just a hard-working winger, the points haven't been there, but he may have cemented himself into a top-nine role. If the points start to come, you'll want to add him quickly to your fantasy roster. Matt Kowalski

January 2017 – In 34 games so far this AHL season, Elie has already surpassed his point total from last year. He has tallied six goals, and 12 assists, which is more than he produced in 64 games in 2015-16. Elie is finding his game at the AHL level. He will be 22 in a few months, and he's reaching maturity. It won't be too many more years before Dallas brings him up. Matt Kowalski

March 2016 – The points haven't come nearly as easily for Elie as they did in the OHL during his first professional season with Texas. To date he has six goals and 10 assists in 52 games. He's experience the typical ups and downs that come with a rookie finding his way in the professional ranks. After getting of to a pretty strong start production wise, he's hit some rough patches including a stretch of just seven points in his last 28 games. It's important to keep in mind that Elie is one of the youngest players on the team being one of three 20 year olds to regularly suit up for Texas (Jason Dickinson and Julius Honka being the other two). Brad Phillips

July 2015 – Another year another mid-season trade for Elie. This time Elie went from Belleville to Erie to ride shotgun with McDavid and help with the Otters stretch run. Between the two team Elie amassed 30 goals and 46 assists in 63 regular season games. During the Otters run to the OHL Final he ranked second on the team in scoring (behind you know who) with 23 points. Elie had a strong showing at the development camp and was one of the better forwards during the scrimmages. It will be interesting to see how he fares at training camp. Most likely ticketed for a couple years of seasoning in Cedar Park but he's certainly worth monitoring to see how he adapts to the pro game. Brad Phillips

December 2014 – Remi Elie has been invited to Canada's World Juniors Selection Camp. So far Elie has played 27 games for the OHL's Belleville Bulls amassing 29 points, 11 goals and 18 assists. Those 29 points lead the Bulls and place Remi among the top 20 scorers in the OHL. Rex Doty

October 2014 – Belleville forward Remi Elie has been named to the OHL's roster for the upcoming Subway® Super Series and will compete in the November 17th game in Kingston. Elie has really flourished in his second year with the Bulls and his eight goals and 16 points leads Belleville in scoring (10 games). Brendan Ross

September 2014 – The Dallas Stars have signed Elie to a three-year entry-level contract. Rex Doty

September 2014 – Elie has returned to the OHL's Belleville Bulls following his first invite to the Stars NHL training camp. Last season was a breakout for Elie after an early season trade from London to Belleville. Elie played 61 games for the Bulls tallying 65 points (29 goals, 39 assists) over that span. Rex Doty

January 2014 – Elie tallied his 9th multiple point game of the season by recording three points (one goal, two assists) in Belleville's 3-1 victory over Windsor (OHL) on Jan 4. The hot streak continues for the 18-year old as he's notched 16 points (7 goals, 9 assists) in his last seven games, leading the Bulls in scoring with 39 points (17 goals, 22 assists) through 32 games this season. Clayton Bailey

December 2013 – Elie tallied three points (one goal, two assists) in two recent games for Belleville (OHL). The 40th overall selection in the 2013 NHL Entry Draft ranks tied for second on the Bulls with 26 points (11 goals, 15 assists) in 26 games this season after being traded by London for overage defenseman Brady Austin. The deal has moved Ellie to a team with less offensive depth, thereby allowing him to better develop with more ice time. Clayton Bailey and Dobber

November 2013 – Elie ranks third among the Belleville Bulls (OHL) in goals (9) and points scored (18) through 21 games this season. He rode a five game goal streak from Nov. 2 through Nov. 13 and has recorded seven points (six goals, one assist) in the last six games played. Clayton Bailey

July 2013 – Remi Elie is a big-bodied left winger that was drafted by the Dallas Stars, 40th overall, in the 2013 NHL Entry Draft. His point totals with the London Knights were underwhelming as he was stuck behind the depth chart (fourth line) on a stacked Knights team. However, he proved to be an important part of the Knights' playoff success, scoring a few clutch goals. Elie is a solid player who is able to play in all situations and can chip in offensively. He plays a simple north-south game and uses his strength and hockey sense to an advantage. He is a very raw project right now and expect him to take aon a much bigger role with the London Knights next season.
| Attributes | |
| --- | --- |
| Fantasy Upside | 4.5 |
| NHL Certainty | 2.0 |
| Country | CAN |
| Position | LW |
| Roster Type | Free Agent |
| Shoot/Glove | Left |
| Date of Birth | April 16, 1995 |
| Height | 6'1" |
| Weight | 215 lbs |
| Drafted | 2013 Round 2; Overall: 40 |
| | |
Highlights