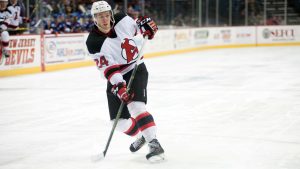 Albany Devils
Fantasy Summary
Not overly strong at any one thing. Could become a third pairing defenseman at the NHL level.
Observations
Click to Expand

July 2017 – Following his move to the Panthers organization, Scarlett skated in just one contest – with Florida's AHL affiliate in Springfield, but has re-upped with a one-year minor league contract. In spite of a decent run as a physical and effective blueliner below the NHL level, he has yet to reach the show and likely will serve as organizational depth. Kevin Wickersham 

March 2017 – Scarlett has been traded to Florida for 28 year-old, long-time AHL forward Shane Harper who made his NHL debut with the Panthers this season (2 G, 1 A, 14 games). Scarlett, who will report to the Panthers' AHL affiliate in Springfield, spent the entire 2016-17 campaign with Albany and departs leading the A-Devil defense in scoring (4 G, 17 A, 50 games) and second among team defensemen to Andrew MacWillam in penalty minutes with 53. Harper has been assigned to Albany. Kevin Wickersham

November 2016 – Scarlett continues to be a strong presence on the Albany squad, leading all defensemen in scoring through 18 games (two goals and six assists) and contributing with quick and fluid puck movement, slick skating skills and a solid offensive game on the power play. While he is not the most physical or defensively-inclined blueliner, his offensive talent is unmistakable as he displayed throughout 2015-16, totaling four goals and 22 assists in 60 games. Scarlett signed a one-year, two-way contact with New Jersey this July, but may be losing ground on the organizational depth chart with Steve Santini joining New Jersey's growing stable of promising defensive prospects. – Kevin Wickersham

January 2016 – Reece Scarlett has been a steady two-way force for the Albany Devils. Playing in his 3rd  AHL season Scarlett has scored a goal and 11 points in 26 games. Despite being a reliable presence on the Albany blue line it is unclear whether or not he will ever break into the NHL, with players like Marc-Andre Gragnani and Seth Helgeson called up before him. Justin Nobre

August 2014- Reece Scarlett made his professional debut suiting up for 48 games with the Albany Devils in 2013-2014.  He put together a solid season with six goals and 20 points while posting a plus-18 rating.  While Reece showed some decent offensive instincts, his biggest obstacle is still his small frame, hovering around 170lbs.  Michael Riggi

July 2013- Reece will be taking the next step in his career and turning pro. He signed his entry level contract and is headed to Albany for the upcoming season. In four full years with Swift Current, Scarlett has shown steady improvement from year to year. While his 49 point total from the 2012-13 season mirrored his output from the previous season, he did so in four fewer games(67), but also improved from a minus-14 to a plus-14 rating over that same span. Rex Doty 

February 2013 – In his fourth full WHL season Scarlett has not disappointed. As a late round pick of the Devils expectations are not that high but he is still showing promise as a solid defensive prospect. Scarlett has 38 points in 53 games. There is a chance he returns to the WHL next year, but since he is signed by the club, expect him to move up to the pros next year. Zenon Herasymiuk

November 2012 – Returned to Swift Current of the WHL after signing his entry level contract. Currently has produced 10 points in 20 games this season, leading the Broncos' defense.  Jason Banks

April 2012 – It was another tough year for Reece Scarlett and the Swift Current Broncos. Despite the team's lack of success, Scarlett is starting to shine through as a very promising young prospect. He is solid both ways and logs a ton of minutes including playing both the power play and the penalty kill. Scarlett played in 71 games and notched 49 points, which was over double what he produced last year. His biggest issue is fending off bigger opponents, and he will have to build strength if he wants to make the jump to pro.
Highlights