Quinn Hughes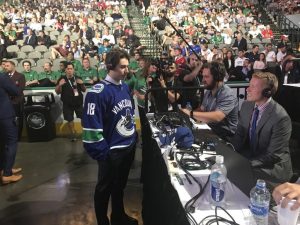 Cam Robinson - DobberProspects
Fantasy Summary
An exceptional skater who creates offensive out of nowhere. Star Status: Attained.
| Attributes | |
| --- | --- |
| Fantasy Upside | 10.0 |
| NHL Certainty | 10.0 |
| Country | USA |
| Position | D |
| Roster Type | System |
| Shoot/Glove | Left |
| Date of Birth | October 14, 1999 |
| Height | 5'10" |
| Weight | 174 lbs |
| Drafted | 2018 Round 1; Overall: 7 |
| | |
Observations
March 2020 – This kid is too cool for school. Give him the Calder this year. Watch him push for the Norris on a regular basis. The Canucks grabbed a superstar. Cam Robinson
December 2019 – Hughes is making his bid for the Calder Memorial Trophy as the league's top rookie. His 24 points in 31 contests trail only Cale Makar for first-year players. His 14 points on the man-advantage sit tied for third amongst all defenders. He's been the straw that's stirred the drink for the league's second-most deadly power-play unit. He's already a star and we're just scratching the surface. I sure hope you own him in your keeper leagues. Cam Robinson
October 2019 – Hughes has stepped into the NHL as a full-time member of the Canucks to begin the 2019-20 campaign and has been showcasing his explosive skill set. Through the first two contests, the 19-year-old has seen over 22 minutes of ice per night – with nearly four minutes of that coming on the power play. The issue has been, it's been coming from the second unit rather than the first. Hughes' ability to generate time and space for his mates, and creat high-danger scoring chances scream top power-play deployment. Something we are hoping to see sooner rather than later. Vancouver going 0-10 to begin the season should hopefully expedite the process.  Cam Robinson
April 2019 – For the second straight spring, Hughes will represent his country at the World Championships. Last year, Hughes began as the team's seventh defender and worked his way into the top-four by the end of the event. It is expected that he'll immediately see offensive minutes and be a lightning rod on the American roster. Cam Robinson
March 2019 – Quinn Hughes made his NHL debut and it. was. spectacular. The 2018 seventh-overall selection showcased his tremendous skating ability through 15:36 of ice. He recorded his first NHL point by setting Brock Boeser up with an easy finish. Hughes' ability to hold onto the puck, create time and space for his teammates, and free-wheel in the extra frame was nothing short of jaw-dropping. He has come as advertised – a game-changing asset on the back-end. That's a piece that has alluded the Canucks since their inception in 1970. Cam Robinson
March 2019 – Hughes has remained in the press box for the Canucks as he nurses a deep bone bruise from a blocked shot in his second-to-last NCAA contest. The 19-year-old will be re-evaluated in the next few days with the hope that he'll be able to see action down the stretch. When he does enter the lineup and sees time on the top power-play unit, he should breathe all sorts of fresh air into a stagnant group. His potential is through the roof. Cam Robinson
March 2019 – Quinn Hughes has played his final NCAA contest. The sophomore defender saw his season draw to a close after losing to Minnesota in the quarterfinals at the B1G Ten Conference tournament. He concluded his year with 33 points in 32 contests and 62 points in 69 career NCAA games. He also took home a silver medal at the WJC. 
The anticipation for the arrival of the 2018 seventh-overall selection has been palpable in Vancouver. With a 29th ranked power play, the squad desperately needs an infusion of talent – something Hughes boasts in spades. With 13 games remaining on the NHL calendar for the Canucks, they'll need to massage Hughes into the lineup if they wish to keep him at a 10-game maximum – the most he can play before requiring protection in the forthcoming Seattle expansion draft. Cam Robinson
December 2018 – Hughes has continued his dominance early on in the NCAA season. The fleet-footed defender added three assists in his most recent contest to extend his point streak to eight games and 12 points. The 19-year-old is up to 18 points in 14 games on the season. That total puts him in a tie for second most by a blueliner in the nation. He's the only teenager in the top-20. Hughes' ability to carry the puck and make defenders miss is unmatched at the college level. If he were to step onto the Canucks' blueline today, he'd immediately be their best skater. And it's not even really close. Michigan fans better enjoy this player while they can, because he'll be wearing Canucks colours very soon. Cam Robinson
November 2018 – Hughes returned to College for his sophomore campaign and is off to a strong start. Despite playing through a nagging groin injury early on, the dynamic defender is clipping away at a point-per-game through nine contests. His skating has somehow reached another level and it affords him and his teammates' countless chances each game. This is a player who could've been playing a sizable role in the NHL this year but chose to build his strength and all-around game in college for one more season. He and the Canucks will likely be all the better for it. Hughes will shine at the upcoming World Junior tournament that just happens to be hosted by Vancouver and Victoria. Expect a hero's welcome from the fans. All of a sudden Vancouver is a fun team to watch; one that can apparently rack up some big goal totals. The glaring weakness is a puck-moving, power play quarterback. Hughes is coming and will take that role in short order. His upside remains sky-high. Cam Robinson
June 2018 – The Canucks nearly sprinted to the stage to select the dynamic defender seventh overall on the opening day of the NHL Entry Draft. Hughes immediately steps in as the team's top defensive prospect and projects as the team's future quarterback on the top powerplay unit that will feature Brock Boeser, Elias Pettersson, and Bo Horvat. Hughes owns incredible speed to go along with quick, sharp edges that allow him to exit the defensive zone, create separation through the neutral and gain entry into the fun end of the rink with consistency. He will never be a heavy player but his speed and smarts allow him to avoid contact from incoming forecheckers and gain good body position on attacking forwards. His fantasy potential is extremely high. Cam Robinson
April 2018 – After an initial feeling out phase as the NCAA's youngest player, Hughes has been entering dominant mode. The Michigan state defender has turned things on at the right time for the Wolverines, recording 15 points in his last 14 games to help thrust his squad to the Frozen FourSemi-Final that takes place Thursday, April 5th. Hughes now sits with five goals and 29 points in 36 freshman games and is being considered by many as the second-best defensive prospect in this upcoming draft. For comparison sake, the 5'10 rearguard outproduced fellow 2018 draft pick and forward, Brady Tkachuk and has more points than 2017 fourth overall pick, Cale Makar as a first-year NCAA player. Hughes blends exquisite edgework with blistering acceleration and a mind for creating offense. He's a one-man breakout machine and could challenge Filip Zadina for third overall when names are being called in Dallas this June. Cam Robinson
December 2017 – Quinn Hughes is a freak. His skating is at a level we seldom see in a draft-eligible player. Hell, we seldom see it from experienced NHLers. He can shake and bake pressure down low and immediately start the rush himself. Sure, he's a bit undersized and his shot leaves something to be desired, but the upside here is tremendous. I see some gaudy point totals following him around during his career. Cam Robinson
July 2017 – The 2018 NHL Draft class is chalked full of offensive and undersized defensemen and Hughes may be the best of the bunch after Dahlin. The small defenseman can play in today's NHL as long as they are an exceptional skater, and can create transition offense. Hughes checks both those boxes with conviction. Hughes has excellent skating, his quick acceleration gets him to top speed in two or three quick strides, his edgework and mobility allow him to angle off defenders as he carries the puck through the neutral zone and gain the offensive zone possession. Once set up his vision and puck skills allow him to distribute the puck quickly, decisively and effectively. Hughes has a very high hockey IQ and offensive vision, but at the same time has strong defensive instincts and reads plays well defensively. He uses his skating and mobility well to anticipate and intercept plays and passes and take away passing lanes.
As an NCAA freshman at the University of Michigan, Hughes is posting very impressive offensive numbers. His deployment with USA at the World Junior was more limited but he still posted solid numbers with three points in seven games. Playing in College will allow Hughes to spend a lot of time in the weight room adding the required strength he will need to continue to be successful when he moves into the pro ranks.
Despite having a late birthday and missing the 2017 Draft by just a month, Hughes likely needs more development time before he is a fantasy must own playing in the NHL. Depending on which NHL team drafts him, he could spend one or two more years in the NCAA and or AHL before he is in the show. Peter Harling
Stats
Highlights
https://www.youtube.com/watch?v=kS6MN7Zmop4