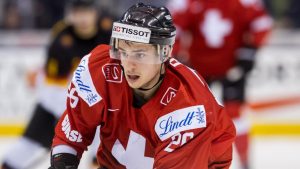 Photo courtesy of NHL.com
Fantasy Summary
Physical player, strong on the fore-check. Could become a useful bottom six player.
Observations
Click to Expand

July 2018 – The Sharks have placed Rod on unconditional waivers for the purpose of contract termination. Rod wants to return to Switzerland, and his career in North America may be over – although he's still just 22 years old and could return in a few years but that's unlikely.  Jokke Nevalainen

November 2017 – Noah Rod has only played five games this season with Genève-Servette HC in the NLA. In those five contests he has zero points. He is currently on the shelf with an ankle injury with no clear timetable to return. Zachary DeVine

May 2017 – Rod has drawn into the San Jose Barracuda lineup to help fill fourth-line vacancies that opened due to injuries. Rod shows flashes of offensive ability, primarily because of the creativity of his linemates but it is encouraging to see that he can play alongside them. Rod has been utilized in the lineup for his physical play, which has been mildly effective. He has been unable to lock down a roster spot with the Barracuda, so the chances of sticking with the Sharks next year are nearly zero. Look for Rod to return to the National League A in Switzerland for the 2017-18 campaign. Zachary DeVine

March 2017 – Rod signed his entry-level contract with the Sharks. The gritty winger struggled through an injury-plagued campaign but should reinforce the San Jose Barracuda for their AHL playoff run. Rod is not expected to be a huge factor offensively, but he plays a heavy game that is well-suited for the North American ice. His contract includes a European Assignment Clause, which means he'll likely return to Genève Servette if he cannot lock down a roster spot with the Sharks. That does not bode well for development and adjustment to the Sharks' system of play. It will be interesting to see how quickly Rod acclimates to the AHL. Zachary Devine

October 2016 – Rod attended the Sharks Rookie Camp before heading back to Switzerland to start the year in the NLA. Rod struggled through a rough 2015-16 season with Genève-Servette that was a step back for his development after a strong showing at the WJC. He's had some problems staying healthy since being drafted by the Sharks, but his blend of shot, size, and grit could help San Jose in the future. Rod signed a long extension with Genève-Servette on Oct. 4 that will keep him with Genève-Servette through the 2022 season. Reports are he does have an NHL out clause, but in talking with Rod at Development Camp, even he admitted he wasn't sure what the parameters of the out clause were. Zachary DeVine

July 2016 – Rod had a difficult year dealing with a variety of injuries and not playing his usual physical style of hockey. Rod signed a four-year contract with Geneve-Servette of the Swiss NLA in August 2014. Now that the 2015-16 season has concluded, Rod has an NHL-out clause but it is unclear if it is only for an NHL job, which he is not ready for, or AHL assignment to acclimate to the North American game. If Rod can sign his entry-level contract and report to the AHL, it will take a bounceback year for the 2014 second-round pick to get his game back on track. He remains a long-term prospect in the Sharks' system and the extra development time in the NLA is saving the Sharks a contract. Zach DeVine

January 2016 – For the second year in a row, Rod was named one of his country's three best players at the WJC. Rod showcased his tenacious style of play as well as filling the scoresheet. The 19-year-old winger scored four goals and added two assists in six games for the Swiss squad and further reinforced the decision by the Sharks to take him in the second round of the 2014 NHL entry draft. Cam Robinson

December 2015 – Rod will once again represent the Swiss at the World Junior tournament this holiday break. The Sharks' second round selection is one of five returning players from last year's disappointing ninth place finish. Rod has 11 points in 28 games for Genève-Servette HC in Switzerland's highest professional league this season. His brand of aggressive and speedy play will be crucial for the Swiss to compete with more competitive nations. Cam Robinson

August 2015 – Noah Rod is an aggressive fore-checker and can drive his opponent nuts with his incessant hard-nosed play and chatter. Think: Brendan Gallagher. The San Jose Sharks thought so highly of the young Swiss forward that they drafted him in the second round of the 2014 Entry Draft, despite Rod having a contract for four more years in the Swiss National League (NLA). His fantastic WJC-U20 tournament left a strong impression with Sharks brass. Noah recorded six points in six games in a secondary scoring role for Switzerland. Cam Robinson

August, 2014 – Rod has become one of the top prospects in the Sharks organization, which has really focused in the past two years on rebuilding their organizational depth.  Rod brings grit and tenacity to the table as he drives the net and excels in battles along the boards.  He may not have the most dynamic offensive skill-set, but he can be creative with the puck and puts up points due to the fact that he drives the net and sacrifices himself for the plays that result in scoring chances.
| Attributes | |
| --- | --- |
| Fantasy Upside | 4.5 |
| NHL Certainty | 2.5 |
| Country | SUI |
| Position | RW |
| Roster Type | Free Agent |
| Shoot/Glove | Left |
| Date of Birth | June 7, 1996 |
| Height | 6'0" |
| Weight | 192 lbs |
| Drafted | 2014 Round 2; Overall: 53 |
| | |
Highlights