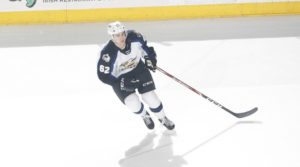 image courtesy of Eagles Twitter
Fantasy Summary
Winger with a record of clutch performance
Observations
Click to Expand

February 2022 – On pace to play a career-high number of AHL games in a season, Henry is on one of his worst point paces as a pro. His three points in 23 contests should scare away fantasy owners even at face value, and even more so considering he has spent time on the powerplay. He is a perfectly fine bottom-six AHLer who can keep up with play in both ends and has a quick shot, but he is not strong enough in any zone to warrant NHL consideration. Hayden Soboleski

February 2021 – Henry has begun the 2020-21 campaign on the AHL Eagles 4th-line. This is disappointing considering that he is one of only a few "prospects" on the career-AHLer squad, but this organization strongly believes in working your way up the lineup with results so he will have to keep grinding away. How far up the lineup he can get this year will be a strong indicator of how much trust the coaching staff have in the sophomore pro. Hayden Soboleski

January 2020 – There's no sugar-coating it, Henry has been slow to transition to the pro game. His 7 points in 30 games is lacklustre for such a prolific Junior scorer, and he has been playing promarily on the 4th line that sees minimal ice time. With the puck, he shows flashes of speed and puck-handling abilities that make him a legitimate threat in the offensive zone, but it is often along the perimeter and he has been unable to find consistent scoring chances (less than 1 SOG/game on average). Expect this to be a long-term fantasy investment, but still with serious upside. Hayden Soboleski

September 2019 – After a decent look in training camp and pre-season, Henry has been officially assigned to the AHL Eagles for the 2019-20 campaign. He went pointless during a three-game tryout in the spring and was left off the playoff roster, but after his dynamite WHL final season he will be leaned on for offense right away on his new team. His playmaking upside is among the highest on the squad, and he will raise everyone's outlooks if he transition his talents to the pros. Hayden Soboleski

March 2019 – Henry has signed an ELC with the Avalanche. With 87 points in 67 games so far, he sits 7th in league scoring and has set a personal best in multiple categories. He has become more assist-heavy since being traded to a contender, which is a good sign to see that he can hang around with other top talents.  He looks ready for AHL duty in the fall. Hayden Soboleski

November 2018 – Henry continues to grow in the WHL and is on pace for his best season yet with 40 points in 25 games played, leading the Pats. His 15 goals are surprisingly sustainable given his significant increase in SOG compared to previous years, and his team-leading powerplay totals make it clear that he has the offensive weapons to be a real scorer. Expect an ELC before the 2019-20 season. Hayden Soboleski

September 2018 – Henry has been cut from training camp and reassigned to the WHL. This was the expected outcome, but it still would have been nice to see more from him in camp. He failed to stand out from the crowd during rookie tournament and training camp. Still a long-term project.  Hayden Soboleski

May 2018 – After being eliminated in the first round of the WHL playoffs (he had 4 points in 7 contests), Henry will participate in the Memorial Cup as a member of the host team. His regular season saw a significant step down in production as the overall team quality dropped, but finished with a respectable 29 points in 53 games. He is expected to remain in the WHL for 2018-19, where he can continue to grow his offensive game. Hayden Soboleski

December 2017 – Henry had major shoulder surgery in the off-season and missed the start of the 2017-18 campaign. He returned in November and has seven points in nine games so far (which is actually a decrease in production from last season). If his over 3 SOG per game is any indication, his shoulder seems to be back to normal. He needs to work his way into more PP time, but he'll get there after putting up more than a point-per-game as a WHL rookie. Be patient, he has good upside. Hayden Soboleski

June 2017 – The Avalanche selected Nick Henry with the 94th pick of the 2017 NHL Entry Draft. Henry had a very impressive rookie WHL season in 2016-17, scoring 35 goals and 46 assists in 72 games. The knock on these numbers was the fact that he played on a stacked Regina Pats team and therefore saw easier competition than most scoring forwards, but being a point-per-game player is impressive nonetheless. Demonstrates good hockey awareness and seems compatible with any line he joins. His speed needs work, but the youngster has already decided to focus his offseason training on power skating 5 days a week.