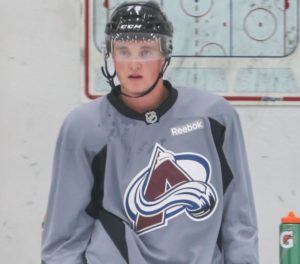 Photo courtesy of NHL.com
Fantasy Summary
Defensive defenseman; wont put up points but can prevent them
Observations
Click to Expand

November 2021 –  Clurman has begun the 2021-22 campaign in the ECHL. His nine-game AHL audition last season was fruitless offensively and his defensive game was not strong enough to warrant a one-dimensional roster spot. He will be able to play bigger minutes in the third-tier league and hopefully work his way back to an AHL position. Hayden Soboleski

April 2021 – The Avalanche have signed Nate Clurman to a 2-year ELC following his Junior campaign with Notre Dame of the NCAA, where he served as captain. The 22-year-old  has brought his career full-circle after playing minor hockey in Colorado growing up. The hometown boy will report directly to the AHL Eagles and begin his pro career shortly. Hayden Soboleski

Clurman was selected in the 6th round of the 2016 NHL Entry Draft and has never stood out as a fantasy-worthy player from a production standpoint. He is, however, a big body who has learned to play reliably and with an edge in his own end of the rink. He brings intangibles to the table and will enter a crowded AHL blueline.