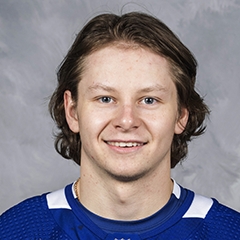 theahl.com
Fantasy Summary
Creative playmaker who continues to diversify his offensive game. Will need to add strength while improving his off-puck game but has middle-six NHL potential.
Observations
Click to Expand

May 2022 – Abramov was thrust into a difficult situation during his first pro season and was tasked with a much larger role than the organization had originally planned for him after the club lost depth center options like Adam Brooks, Mike Amadio, and Kirill Semyonov early in the season. He struggled to adjust to the pace early on and his defensive game is certainly still a work in progress but for the most part, he acquitted himself well under tough circumstances. Abramov finished his rookie season in the AHL with seven goals and 21 assists in 66 games and showed progress throughout the season. The Marlies will look to him as a key member of their offensive attack in 2022-23 and the experience he gained this season should make him better prepared to handle those responsibilities. Nick Richard

June 2021 – Abramov has captained Victoriaville to a QJMHL championship. His 24 points in 19 games put him second in playoff scoring, which included three game-winning goals in the postseason and a clutch penalty shot goal in the final contest. Now 20 years old, we will presumably learn soon what his next step will be as he graduates from junior. Already on an ELC, there is a chance we see him on the Marlies for 2021-22. Hayden Soboleski

January 2021 – After starting the tournament as the extra forward and even being removed from the lineup for a round robin match, Abramov still found his times to shine in the 2021 WJC and finished the tournament in the top-nine and on the 2nd powerplay unit. He took some poor penalties and showed a general lack of discipline at times, but his ability to create offense stood out on a team that struggled to score and was often the most noticeable player on the ice. There will always be room for improvement but the signs of future fantasy value are clear in the creative forward. He will be expected to be among the top scorers in the QMJHL when he returns after quarantine. Hayden Soboleski

December 2020 – Abramov has made Team Russia for the WJCs, but in an unfortunate turn of preferential treatment to Russians playing in Russia, he is entering the tournament at the bottom of the roster. Given his proven firepower, one would hope this is short-lived and we see him in the top-six after a few games but if that's not the case, he won't receive the same fantasy stock boost most prospects get from appearing in the tournament. Hayden Soboleski

December 2020 – Abramov is behind some of his peers in games played thanks to the pandemic altering his team's schedule, but he is among the QMJHL leaders in points-per-game with 4G and 10A in 9 games played. He has maintained the scoring and shooting paces (4 SOG per game) that he jumped to in his breakout 2019-20 season despite the league's choppy start. In addition, he's now officially listed as 6-0 and 185lbs, 1 inch taller and 15 pounds heavier than last year. He has unsurprisingly been named to Team Russia's preliminary WJC roster where we will hopefully see him in a prominent role this winter. Hayden Soboleski

October 2020 – Abramov has been named Captain of the Tigres entering his third year with the club. As someone who carried the team on his back offensively last season, rest assured he will be at least partially leading by being an on-ice example for his teammates. We know that Abramov can produce on the ice, but character notes likes these are good to keep in mind as prospects rise through organizations. Hayden Soboleski

March 2020 – As his outstanding QMJHL breakout season continues, Abramov has earned an ELC from the Toronto Maple Leafs. He currently sits 15th in the league with 76 points in 63 matches (25 coming with the man-advantage), but his main claim to fame has been his ability to continue to carry his team on his back offensively. He sits 23 points ahead of his nearest teammate, 35 points if you don't count the mid-season acquisition brought in specifically to fix the problem. He is a crafty and fast offense machine at only 18-years-old, but still requires a significant amount of physical growth before he will fight for an NHL spot. Fantasy stock rising, but bank on another year in the minors. Hayden Soboleski

December 2019 – Abramov is sitting just over the point-per-game mark for Victoriaville of the QMJHL, but his 40 points in 35 games is even more impressive considering that his closest teammate has only 23 points. He is managing top-20 scoring on a bottom-five team which is not ideal but is an strong sign that he is capable of quarterbacking offense. He was likely deserving of an invite to Team Russia for the WJC, but was unfortunately snubbed of a chance to showcase himself on a strong squad. Hayden Soboleski

September 2019 – After a brief training camp, Abramov has been assigned back to the QMJHL for another season. Expect a long wait period on this talent. That being said, if his rookie campaign was any indication, we should expect him to be an offensive force in Junior for the next two-three years. Hayden Soboleski

June 2019 – The Maple Leafs have selected Abramov in the 4th Round of the 2019 NHL Entry Draft. At 115th-overall, this was considered a good value pick by most draft guides. Hayden Soboleski

A talented pass-first playmaker, Abramov managed 54 points in 62 games as a QMJHL rookie – his first season since crossing the pond from Russia. He has a long ways to go to fill out his frame and round out his game before we can expect to see him beyond training camp, and it remains to be seen if he will be better suited for center ice of the winger as he gets closer to turning pro. Not the best at anything, but very high ceiling here that will become fantasy worthy once he does more in Junior.