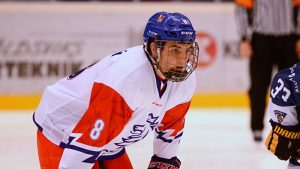 Photo courtesy of hokej.cz
Fantasy Summary
Big goal-scoring winger with top-six upside. Has a great shot and good vision. Needs to work on his consistency, defensive game and skating.
Observations
Click to Expand

July 2022 – Teplý played 18 games in the AHL with the Rockford Icehogs during the 2020-2021 season and recorded only five assists. He had a slow start to the 2021-2022 season where he was an on and off healthy scratch for the first two months and went pointless during that span. The Icehogs coaching staff decided to place him further up in the lineup with Reichel where he was able to get more playing time. Over the last 45 games playing with Reichel, Teplý posted 13 goals and 18 assists totaling 31 points. He has the offensive flair, creativity and does not shy away from the hustle. Look to see him back in the AHL to further develop his playmaking and defensive skills this coming season. Seeing that the Blackhawks are pushing for a younger roster in this rebuild and depending on the changes they make, do not be surprised if you see him make a debut on the Blackhawks lineup sooner than expected. Puneet Sharma

December 2020- Teply has looked like a leader thus far at the 2021 WJHC for the Czechs. While the offense hasn't been coming easy, it's his play away from the puck that has impressed the most. This added dimension to his game should be very encouraging for Hawks fans. Tony Carr

December 2020- Teply looks to be a leader on the Czech Republic team this year at the 2021 WJHC. After a point-per-game performance at last year's tournament, Teply will look to add to his totals in a big way. Tony Carr

April 2020 – After posting a fantastic first season in the WHL for the Winnipeg Ice, Teply has signed an entry-level deal with the Chicago Blackhawks. The 2019 fourth-round pick stayed hot from a positive showing at prospects camp through the start of the WHL season and never slowed down. A big-bodied, highly skilled forward, Teply fills the net regularly using a deceptively hard shot that he can release anywhere between the two face-off dots. Some seasoning is required but his ceiling is quite high. Tony Carr

June 2019 – Teplý has been drafted 105th overall by the Blackhawks.  Jokke Nevalainen

June 2019 – Teplý was officially measured at 6-foot-3 and 187 pounds at the NHL Draft Combine.  Jokke Nevalainen

February 2019 – Teplý could be described as poor man's Patrik Laine – he's a big goal-scoring winger with a right-handed shot, has a great selection of shots, has an amazing release, is capable of making plays, his skating looks a bit clumsy, he isn't consistent from game to game, and his defensive game isn't very good – but Teplý's tools aren't quite as high-end as Laine's, so I'm not putting him in the same tier. But there are definitely similarities between the two, and those are hard to ignore. Teplý has spent this entire season at the pro level in his home country Czech Republic. He's split the season between the top level and the second-highest level. His results there have been good but not great. Teplý has also represented the Czechs at different age levels internationally, and he's expected to be their top player at the upcoming U18 Worlds. Teplý is likely a second-round pick at this point but a strong finish to his season could potentially push him towards a late first round selection.  Jokke Nevalainen
Stats
Nothing Found. Error.
Highlights