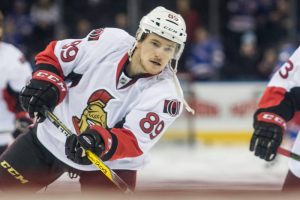 www.fanragsports.com
Fantasy Summary
Depth forward who provides penalty minutes but not much else.
Observations
Click to Expand

May 2021 – McCormick did not stay long in the Colorado organization, signing with Carolina as a UFA. He has been a taxi squad mainstay with occasional appearances in an emergency loan capacity. PIM streaming potential. Hayden Soboleski

February 2019 – After 12 points in 20 games with the Belleville Senators (after passing through waivers from training camp and spending a very brief time in the IR), McCormick has been traded to the Colorado Avalanche. He already has more PIMs in 7 games on the Eagles than he did in 20 games with the Sens, but he remains an AHL-only option, filling a roster spot while injuries have forced the recall of several AHL regulars. No fantasy value here, unless you need very brief PIM streaming in the unlikely case of another injury call-up. Hayden Soboleski

June 2018 – 2017-18 saw McCormick earn an extended taste of big league action playing in 30 games. But the results were anything but outstanding with the fourth year pro putting together just five points. One aspect in which he did shine is when it comes to the bangers and mash stats. He doled out 56 hits, working out to one of the better marks on the team on a per game basis and finished fourth on the team with 37 penalty minutes. At 26 and on a one-way deal come the fall, McCormick should be in his prime and can provide some value for poolies. Just don't go looking for it in the goal or assists column. Brad Phillips

June 2017 – McCormick has managed to walk the line between tough and talented through his three pro seasons. He's managed to increase his goal total from 10 in 2014-15 to 15 in 2015-16 to 21 in 2016-17 (tying for the team lead) while amassing PIM totals of 133, 143, and 105 over the same three campaigns. This mix of play has earned McCormick action in 27 NHL games where he's chipped in a pair of goals and assists with 37 PIMs. There's an intriguing mix of goal scoring and penalty minutes potential in McCormick but isn't close enough to full-time NHL duty to warrant serious consideration. Brad Phillips

2015 – Max McCormick played with fellow prospect Ryan Dzingel at Ohio State University. He and Dzingel both were signed to three year contracts by the Senators in May 2014. Max McCormick provided a lot of grit for the B-Sens picking up 133 PIMs along with 10 goals and 10 assists. McCormick is a strong two way player that has mucked things up at every level he's played at; offensively he's more of a playmaker than a goal scorer. Similar to fan favorite Mark Boroweicki McCormick typically fights above his weight class which could give him a chance to replace a player like Chris Neil down the line.
Highlights