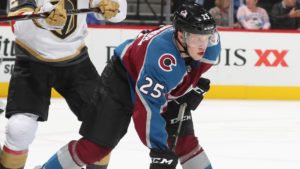 image courtesy of NHL.com
Fantasy Summary
Hard-working bottom-six forward who hits
Observations
Click to Expand

February 2022 – O'Connor is playing 15 minutes per game, manning the top penalty killing unit, and setting career-highs in games played, points, SOG, PIMs, and blocks, while maintaining high hit numbers. He has officially graduated from prospect status and is a fantasy-relevant depth player in multi-cat leagues. Hayden Soboleski

September 2021 – The Avalanche have signed O'Connor to a three-year contract extension. This locks him into the NHL 4th-line RW spot where he should put up more consistent peripheral stats than previously. His offensive upside is still limited but there are certainly worse streaming options when you're in need of a few bonus stats at the end of a fantasy week. His status as a "prospect" is coming to a close. Hayden Soboleski

January 2021 – O'Connor didn't regain his 4th-line role from the previous playoffs right away to start 2020-21, but he certainly made debut known. In his first game back in the NHL he tallied one goal and 2 SOG in just over 10 minutes TOI. It's a small sample size, but he still looks strong in a bottom-six role, bringing visible energy and a good corsi % when digging deeper than the eye test. He will stick around on the taxi squad at the very least and get some more NHL looks this season, and be a good multi-category streaming option when he's in the lineup. Hayden Soboleski

September 2020 – O'Connor has signed a two-year extension with the Avalanche. This is a good sign of faith from the organization, and another indicator that he will have a shot at a 4th-line role in 2020-21. If he isn't a full-timer right away, he remains waiver-exempt for either 1 more year or 44 more NHL games which makes him a strong candidate for dual AHL/NHL fill-in duties especially with the franchises in such close proximity. Hayden Soboleski

September 2020 – The best thing a prospect can do to boost their outlook is to take advantage of unexpected opportunity. Of the many depth forward candidates available, O'Connor was the one who got the call when injuries struck the Avs in the playoffs and he's making a case to keep a 4th-line role next season. His minutes are still limited but his ability to keep up with the play and be physical on opponents is obvious. He has put up 10 hits in 3 games so far with under 10 minutes aTOI, making him somewhat fantasy relevant for at least one category. He remains a bubble player but this positive playoff experience has made him one of the most likely Eagles to earn a full-time bottom-six role come 2020-21. Hayden Soboleski

May 2020 – O'Connor hits the NHL stoppage with 16 games in an Avalanche uniform, although his aTOI of 8:26 indicates that he isn't quite trusted yet even as a 4th-liner. Still, he's putting up roughly 1 SOG and 1 hit per game, which makes him a borderline candidate in deep leagues when he is on the roster. Should he earn himself a more consistent depth role, expect these peripheral stats to increase. As a pending RFA, he will most likely be settling for a two-way deal this summer and more AHL time awaiting injury call-up duties. Hayden Soboleski

November 2019 – O'Connor is keeping pace with last season's impressive rookie campaign thanks to a respectable 8 points in 14 AHL games played. He's earned himself a call-up to the Avs as injuries plagued the NHL squad for the short-term, scoring his first NHL goal. He's seeing under eight minutes per game, and isn't contributing enough points or any peripheral stats to be worth a fantasy pickup. Wait another season to see if he can earn a depth NHL role in the future, because it's unlikely to happen given his play so far in 2019-20. Hayden Soboleski

April 2019 – The Eagles' season has ended in the first round of the playoffs, but it can only be called a success for O'Connor. The rookie hit 19 goals and 42 points, fair exceeding the totals we was seeing in college. Unfortunately, his 0 points in 4 playoff contests showed us how tough the league can be. He will most likely return to the Eagles for another year, but will at least have the chance to audition for a 4th-line role in training camp. Hayden Soboleski

December 2018 – O'Connor has been called up to the big club and will make his NHL debut as the Avs search for better performances outside the top-line. Expect some SOG, hits, and blocks, but more than the occasional point would be asking for something he has never shown. Hayden Soboleski

O'Connor signed a two-year ELC with Colorado after being offered a training camp tryout this summer. He comes from the University of Denver, where the team got to see the captain often. He is a true "intangibles" player that coaches and management love thanks to his work ethic and locker room interactions. He has never been a top scorer at any level (his last season even close to a point-per-game was in minor midget), but he sticks in the lineup and that's often the hardest thing to do when breaking into new leagues.