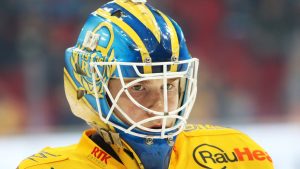 Photo courtesy of Yle.fi
Fantasy Summary
Average-sized goalie with great track record at every level he's played at. Quick glove hand, capable of stealing games and making big saves.
Observations
Click to Expand

October 2020 – Lehtinen passed through the 2020 NHL Draft without a selection, making him a free agent.  Jokke Nevalainen

June 2019 – Lehtinen did not get drafted in the 2019 NHL Entry Draft. He is now eligible for the 2020 NHL Entry Draft.  Jokke Nevalainen

December 2018 – Lehtinen has gone through the draft without a selection twice now. His size has likely been a big factor in that, the same way it was with Veini Vehviläinen before he finally got drafted last summer. Lehtinen is two years younger than Vehviläinen. Lehtinen has great results at every level of hockey he's ever played at. As a 17-year-old, he was a great goalie at the U20 junior level. As an 18-year-old, he was very good at second-tier pro league Mestis. And now, as a 19-year-old, Lehtinen has been a full-time player at the top level in the Liiga, and although his numbers don't look overly impressive, he's been getting better as the season has progressed, and he could steal the starting job on his team.