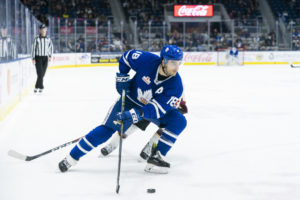 image courtesy of MapleLeafsHotstove
Fantasy Summary
A well developed AHL producer, who can points in the NHL as well.
Observations
Click to Expand

April 2020 – Agostino led the Marlies in goal and points with 27 and 49, respectively, in 52 games played. He was recalled on paper but did not see any NHL action despite being the AHL affiliate's best forward, winning the new coach's seal of approval for his work ethic in games where teammates just gave up. He was the team's AHL Man of the Year nomination for his off-ice charity work, and by all means appears to be a great veteran fit on a young club. He has one more year on his contract with the organization, and will once again fight for a depth role either with the Leafs or someone willing to claim him off waivers. Hayden Soboleski

October 2019 – Agostino was among the depth forwards vying for a spot on the Leafs roster in training camp, but he has not made the final rotation of players currently rotating in and out of the press box. He remains a call-up option which would give him small bursts of fantasy-relevance, but he doesn't appear to be high on the list so waiting for these chances may not pan out. There's a very good chance that is is no longer an NHL prospect, just an AHL scorer. Hayden Soboleski

July 2019 – Agostino has signed a two-year contract with the Maple Leafs.  Jokke Nevalainen

April 2019 — Agostino presents an interesting but good dilemma for New Jersey. He can score and there's no question about it. What is a question will be where does he fit when New Jersey is done adding and subtracting? He seems destined for a bottom-six role in New Jersey. Chris Wassel 

March 2019 – The New Jersey native wound up getting claimed by the Devils on February 11th. He reported to Binghamton but was called up days later to Newark. Agostino has stuck with the lineup ever since. He contributed two goals and four assists in 15 games. The forward has made an impression with New Jersey and its coaching staff. He may never be a true top-six left winger. On the other hand, a middle-six left winger remains a possibility. New Jersey is the first stop that he has played substantial minutes (14+ a night). He shows an ability to hit people often and his speed is very much NHL caliber. Will he have time to develop in New Jersey? That answer seems to be possible. Agostino has three goals as a Devil which eclipses his goal tally with the Montreal Canadiens. Chris Wassel

July 2018 – The Montreal Canadiens have signed Agostino to a one-year, two-way contract.  Jokke Nevalainen

September 2017 – Recent pick-up, Ken Agostino was all over the scoresheet for the Bruins in game three of preseason action. Agostino was in on both goals including a clutch game-winner in OT.  Agostino finished the night a plus-2 with a team-leading four shots on goal in just over ten minutes of ice-time. This is what Agostino needs to do to stand out and this was a great showing. Mike Drover 

July 2017 – All he does is get points. At every level he's played at, Agostino has lit up the scoreboard night in and night out. Except in the NHL. After he led the AHL in scoring last season by a landslide, it appears the Bruins' brass is going to give Agostino a legitimate shot at a roster spot this fall. If Agostino can get playing time in an offensive role he has the ability to really break out. Coming into the season, Agostino is one of the more intriguing prospects in the Bruins' organization. While he's got the ability to score in bunches, he's also been given opportunity with previous teams and not been able to capitalize. Agostino is a high-risk, high-reward pick this season if he can crack the Bruins' lineup. Mike Drover

July 2017 – UFA Agostino, the AHL MVP, signed a one-year deal with Boston. Mark Allan

February 2017 – If anyone's deserving of an NHL recall it's Agostino and he hasn't disappointed. The 24-year-old has suited up for the past two games with the Blues scoring a goal, adding an assist and firing an eye-popping nine shots on goal. This is exactly what the Blues were looking for when they called him up. He's been at, or near, the top of the AHL scoring race all season long. As the time of his recall, Agostino was the lead dog in the minors with 18 goals and 42 assists in 28 games. With Robby Fabbri out for the year, there's a real opportunity for Agostino to earn an extended stay in the NHL and prove he can hold his own. Brad Phillips

June 2016 – Agostino has not been qualified by the Calgary Flames. Whatever team decides to give him a contract, fans will right away notice he gathered 100 points in 132 games in the AHL. He has developed nicely as a pro but did not have the impact qualities to seriously break into the NHL for Calgary.  – Joel Henderson

March 2016 – Ken has been called up to the Calgary Flames and played over fourteen minutes in his season debut including almost two minutes of powerplay time. The call was deserved but make no mistake about it, this is a tryout of sorts. If he was simply filling minutes, he would not have received so many. Agostino could potentially fill an offensive role that was left by the demoted Mason Raymond. He is an RFA at the end of the year. – Joel Henderson

March 2016 – Agostino has been consistent. Regardless of the type of game played, Agostino has been the one consistently getting on the score sheet. His minutes have taken a little bit of a hit due to the acquisition of Shinkaruk, but he still managed to put up 14 points in 10 games in the month of February. – Joel Henderson

December 2015 – Coming off a surprisingly strong first pro season, Kenny has been able to build off that this season. After putting up four points over the two-weekend games, he moved into second place in points for Stockton. He is receiving PP minutes while also building his chemistry with blossoming F. Hamilton. He is a solid pro who will most likely finish top three in scoring for Stockton once again and can dominate a game when he wants to. – Joel Henderson

July 2015 – Kenny has accepted a qualifying offer from the Calgary Flames Joel Henderson

June 2015 – In his first full pro season, Kenny led Adirondack in scoring with 43 points in 67 games. He began the year playing mostly bottom-six minutes and had to adjust to the shutdown roles being asked of him. When injuries and call ups to the big club began, arguably nobody benefitted more than Agostino as he was given power play time and increased five-on-five minutes. After a deadline trade, he played significant minutes with linemates, Bill Arnold and Emile Poirier. He is officially an RFA and will likely receive a two-way contract. Joel Henderson

September 2014 – Agostino has been assigned to the Adirondack Flames of the AHL. He signed a two-year two-way entry-level contract in March and played eight games in a Flames jersey. He posted a goal and an assist. Brad Wilson

March 2013 – Agostino is a versatile forward playing for Yale University in the ECAC. In his High School career, Agostino broke the school's point record and won the league's MVP award. The next year he broke onto the scene at Yale, scoring 25 points in 31 games. Each season, Agostino makes big strides in evening his game out and improving his defensive game.

Agostino has been traded, along with Ben Hanowski and a 1st Round pick, to the Calgary Flames in exchange for Jarome Iginla. He joins an incredibly deep LW prospect group in Calgary. Expect him to return for his senior season at Yale before he signs an Entry Level Contract with the Flames. Potential third liner. Could develop into more, but would need to adapt to the pro game quickly.
Highlights