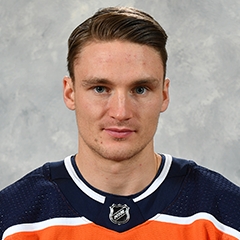 Photo courtesy of TheAHL.com
Fantasy Summary
Limited offensive upside; will provide leadership at the AHL level and could receive intermittent callups.
Observations
Click to Expand

October 2020 – Lowe's contract expired at the end of the last season. If Edmonton opts to resigns the 27-year-old it will be purely as depth and leadership for the Bakersfield Condors. Jameson Ewasiuk

March 2020 – With Lowe you know what to expect. The 26-year-old plays a steady and reliable defensive game with minimal offense. In his third season on the Bakersfield Condors, and second as team Captain, Lowe plays to four minutes and is often paired with a younger and more offensively gifted partner. In 53 games this season, he has recorded one goal and seven points. Offense has never been His bread and butter but his seven points are actually his worst points per game in his seven years in the AHL. Lowe will turn 27 before the end of March and his contract will expire after this season. An NHL career is unlikely at this point but there is always a chance Edmonton resigns him as an AHL depth option for his leadership. Jameson Ewasiuk

March 2019 – Nearing the end of his first year of the two-year contract that he signed with the Oilers, Lowe has continued to bring his steady presence to the Bakersfield Condors' blue line. His 17 points in 55 games in the AHL aren't great but offensive production has never been a trait of his and his numbers this season are actually the best he's produced at the pro level. He will turn 26 before the end of this month and has gone from NHL hopeful to organizational depth player. He has been passed on the depth chart by younger defenders and isn't likely to ever to be an NHL regular. Jameson Ewasiuk

June 2018 – On June 3rd the Oilers opted to resign Lowe to a two year contract. The deal comes after Lowe's first season as part of the Oilers' organization. Last season with the Bakersfield Condors, Lowe recorded two goals and 14 points in 52 games. He also played in two games for the Oilers' which were the third and fourth NHL games of his career. He likely won't find himself consistently in an NHL lineup but he does have the potential to provide a steady presence in a limited role if injuries occur. Jameson Ewasiuk

July 2017 – Lowe signed a one-year minor league deal with Edmonton and, having skated in just two NHL contests during his four year professional career, will likely serve as organizational blue line depth with the Oilers' AHL affiliate in Bakersfield. Kevin Wickersham

February 2017 – A week before the trade deadline, Carolina dealt Lowe to Montreal for fellow blueliner and second-generation player Philip Samuelsson. Lowe is the son of former Edmonton defenseman Kevin Lowe while Samuelsson is the son of former NHL bad boy blueliner Ulf Sameulsson, who will coach his boy with the AHL's Charlotte Checkers. Both offspring will be RFAs after this season and are about equally fantasy-relevant, which is not much. Mark Allan

February 2017 – At this point in his career, Lowe is in his fourth year with the Charlotte Checkers and has been passed on the depth chart by younger, more all-around defensemen at the NHL. However, that doesn't mean that he has not improved. He is providing a leadership presence in the AHL, and is on pace to finish with a career high in points (currently 14) with three goals and eight assists in 44 games. His penalty minutes have dropped the last few seasons, as the AHL has reined in fighting.  Kevin LeBlanc

June 2015 – Lowe completed his second full year in the American Hockey League with the Charlotte Checkers in 2014-2015, and played well enough to earn himself a late season call-up to the NHL. Lowe's tough, physical style projects to a stay at home blueliner in the future for the Hurricanes.  At the AHL level, the former Edmonton Oil King tallied 11 points in 58 games, and was third on the team with 106 penalty minutes.

In his NHL debut, Lowe endeared himself to Hurricanes fans quickly dropping the gloves not once, but twice with Philadelphia Flyers forward Vincent Lecavalier.  He was given the teams fireman's helmet for his efforts, voted on by his teammates as player of the game.  By all accounts, Lowe has great leadership attributes and acclimates well to the locker room.  He should be a player who battles for his spot on the NHL club over the next couple seasons, but lacks fantasy upside unless your league is heavy on peripheral stats such as hits, blocks and penalty minutes.  Kevin LeBlanc

March 2013- Keegan Lowe has agreed to terms on a three year entry level contract with the Carolina Hurricanes. Lowe will continue to play for the Oil Kings for the remainder of the season and should see his way to Charlotte by next year. Lowe is a physical and tough stay at home defense, but with that stay at home style of play he doesn't end up in the goal column very often. Lowe does have some offensive upside however, and is a great passer helping him pad his assists. He is leader on the ice and in the locker room, and his size is a definite advantage although he could bulk up a bit, but his game will translate nicely to the NHL level. Lowe may be a year or two away from playing with the Hurricanes, but he will definitely lend some relief to work horse goalie Cam Ward. Andrew Ward

February 2013 – Lowe is continuing to develop as a reliable, defensive defenseman within the Carolina Hurricanes organization. In 51 games this year he is plus-33 and has 27 points. He is also putting up a high number of penalty minutes with 126 so far this season. His offensive upside is limited at the next level but he definitely is showing flashes of what could make him a mid-pairing defenseman. Zenon Herasymiuk

April 2012 – Keegan Lowe is a tough defender and a key piece on one of the WHL's best teams, the Edmonton Oil Kings. He is not a huge point's getter but is very durable, and has only missed three games in his three seasons in the league. Lowe makes a good first pass and is simple and rugged in his own zone. Look for him to spend another year in the WHL improving his overall game and becoming more of an impact player as a 19 year-old.