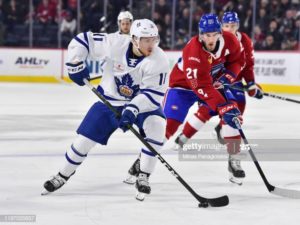 GettyImages
Fantasy Summary
Talented but oft-injured AHL scorer
Observations
Click to Expand

June 2021 – Kossila has signed a two-year contract in the KHL. The veteran was productive top-six AHL forward with the talent to occasionally break open close games. If he can stay healthy and productive while in Russia he will deserve some looks as a depth NHL forward when contract-hunting. Hayden Soboleski

February 2021 – Kossila was loaned to Europe when Covid hit but has now returned to the AHL for the 2020-21 Marlies campaign. His age, the growing depth in front of him, and his injury history has made him an extremely unlikely bet to be more than an AHL top-six player at this point and he is not worth owning in any fantasy formats.

.March 2020 – That didn't last long. After returning to the lineup for a stint of 6 points in 12 games with the Marlies, Kossila has once again hit the injury list indefinitely. He holds little fantasy value considering the odds of an injury call-up while he isn't injured himself are slim. That being said, he's proven he can score when healthy, and at a better rate than many of his teammates. Hayden Soboleski

December 2019 – Kossila sustained an undisclosed injury in training camp that began as "precautionary" but resulted in the Marlie missing almost half the season. He has finally returned to the AHL roster, and is as-advertised so far with two points in four contests. His spot on the call-up list has dropped due to his absence and the strong play of his peers, so his fantasy value for the remainder of this campaign is limited unless injuries force movement. Hayden Soboleski

July 2019 – The Maple Leafs have signed UFA Kossila to a two-year deal. After losing lots of AHL depth over the summer, Kossila provides some pro experience with the ability to push for a fourth-line role if those ahead of him on the depth chart disappoint in camp. An NHL injury fill-in for a couple seasons, he has been unable to lock down a spot despite putting up fantasy-relevant AHL point totals. Hayden Soboleski

November 2018 – After an impressive two game return in the AHL, Kossila has been called up to the big club. He will most likely center an energy line but with his creativity and hands he could see some PP2 time as Anaheim doesn't have a ton of offensive forwards at the moment.  Lucas Main

October 2018 – Kossila, originally thought to be out until at least the end of November, has been activated from IR and sent to San Diego. In his debut, he started in the middle of Troy Terry and Chase De Leo on the top line and didn't skip a beat. He scored the game-tying goal late in the third period to cap a four goal comeback by the Gulls. With all the injuries the Ducks have, he could earn a call up, but he won't get many offensive minutes unless Getzlaf or Steel are out of the lineup. Lucas Main

June 2018 – Another Ducks prospect who got a handful of games because of all the injuries this season. Kossila spent late October and all of November with the squad and had a goal and an assist in 10 games. After that, he played in 55 total games for the Gulls, scoring 21 goals and 54 points. He has had two good years in the A so look for him to come out buzzing in camp this summer and battle for a spot on the roster. He is a guy who can play up and down the lineup, but when everyone is healthy, look for him on a scoring third line. Lucas Main

September 2017 – During his end of the year interviews, Murray said he wants to infuse more youth into his line-up, and Kossila could be a beneficiary of this. He has a high hockey IQ and is solid in his own end. He played one game in the show last season and finished with 48 points in 65 games during his first professional season in the AHL. Give him another year in the minors and then I see him being groomed as a third line, two-way center. Lucas Main

June 2016 – After four productive NCAA years at St. Cloud State, Kalle Kossila signed a two-year entry-level deal with the Anaheim Ducks.  Kossila put together an impressive NCAA resume with 48 goals and 105 assists in 157 career games with the Huskies, good for second all-time in assists and sixth in points.  Kossila was a 2015-16 NCHC Second Team All-Conference Selection en route to an NCHC championship. Zachary DeVine

The talented pivot stepped in with the San Diego Gulls late in the season and recorded two goals and two assists before scoring two goals in seven postseason games.  Kossila showed at the AHL level responsible play as a center and was noticeably good in the face off dot.  He has patience with the puck and has good on-ice vision but can be out-muscled by larger opponents and his hits in the corners were mostly ineffective, but his skills with the puck made his wingers better.  His play with Ondrej Kase immediately clicked and should form a solid duo next year for the Gulls.
| Attributes | |
| --- | --- |
| Fantasy Upside | 5.0 |
| NHL Certainty | 2.0 |
| Country | FIN |
| Position | C |
| Roster Type | Free Agent |
| Shoot/Glove | Left |
| Date of Birth | April 14, 1993 |
| Height | 5'10" |
| Weight | 185 lbs |
| Drafted | No |
| | |