Team: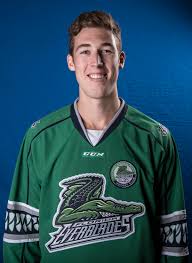 Photo courtesy of Florida Everblades
Fantasy Summary
Likely a bottom of the roster depth player with limited fantasy upside.
Observations
Click to Expand

April 2018 – In July 2017, Justin Kea was not resigned by the Sabres organization and was left for free agency. The Hurricanes later in the month picked up Kea where he moved to their ECHL squad, the Florida Everblades. The 6'5 center has played a hard nosed game in the ECHL, notching 18 goals and 23 assists, good for 41 points this year. Kea seems to have embraced his second chance and seems to have a hard working drive in him to improve. Next year should be a big year for Kea, he should be a full time AHLer and needs to prove that he belongs in the NHL at some point in the future. Marcus Griep

December 2016 – Justin Kea remains to be a AHL-ECHL inbetweener who can score at the ECHL level, but is counted on as being a more gritty, in-your-face type of player at the AHL level. Kea, who is currently with the Elmira Jackals, has two goals in six games. Max Marko

December 2015 – Justin Kea has been sent down to the Elmira Jackals of the ECHL. Kea was being scratched from the lineup on most nights, he only dressed in six games for the Rochester Americans. He had his normal amount of penalty minutes per game with 15 on the year. Rochester sent him down to the Elmira Jackals to get some ice time. He played his first Jackals game against Kalamazoo Wings and helped setup the game winning goal and also got into a fight. Kea is likely to continue his career in the ECHL and be a call up when the Americans are wanting to add more grit to their roster. – Paul Zwambag

August 2015 – Kea split his 2014-15 season between The Rochester Americans (AHL) and the Elmira Jackals (ECHL). With Buffalo's added centremen depth at the NHL level this offseason, it is likely Kea could end up full time in ECHL. He will be competing for a bottom-six roster spot to begin the season in Rochester. In the Prospects Camp in July, Kea showed that he will stand up for his teammate. Kea fought camp invitee Josh Chapman after Chapman laid a late hit on one of Kea's teammates. Kea has a low chance of ever making the NHL and if he defies the odds he will be a fourth line centremen. Paul Zwambag

May 2014 – Status Quo is what you could say about Justin Kea when comparing this season with lasts as the statistical difference from one to the next was very marginal. Kea put up an almost identical line assisting on one more goal than he did in 2013 in ten less games while putting up a slightly better plus/minus rating and just five fewer PIMS. Kea had a very respectable plus-14 rating and hit double digits for the second consecutive year staying true to his billing of being a solid two-way centerman. Not only does he have a strong defensive acumen but he also isn't afraid to stand up for a teammate and drop the mitts as evidenced by his five fighting majors in 2014. He will have to watch the amount of minor penalties he takes as he is too valuable a penalty killer to always be in the box and putting his team at a disadvantage. It's almost certain he will ply his trade another year in the OHL next season with Saginaw as Buffalo will be hoping he can elevate his game to another level and take on a leadership role for the stateside Spirit. Travis Watson

April 2014 – The Buffalo Sabres locked up another one of their homegrown draft picks inking forward Justin Kea of the Saginaw Spirit to his ELC on April 2nd 2014. Kea was a third round draft choice by Buffalo back in 2012 and will head to Rochester to help join the playoff push with the Americans. The hard hitting, defensive-minded Kea can also pack some offensive punch as evidenced by his back-to-back 48+ point seasons. His statistics from this past season were almost identical to last years campaign and they can all be viewed here. Buffalo has a ton of bodies in the system now with many of them ranked ahead of Kea which probably pushes his NHL forecast somewhere between three to five years.
Highlights