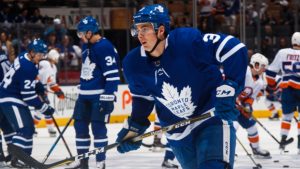 image courtesy of tsn.ca
Fantasy Summary
All-around fringe defenseman with moderate peripheral stats
Observations
Click to Expand

April 2020 – Holl has officially graduated as a full-time NHLer. Hayden Soboleski

December 2019 – Not only has Holl remained an NHL-regular, but his ice time has dramatically risen under new coach Sheldon Keefe. His fantasy outlook gets a slight boost due to this higher aTOI, but he is still a depth option when it comes to fantasy. He brings decent SOG, hits, blocks, and points, but nothing terribly special offensively. Hayden Soboleski

October 2019 – To start the 2019-20 season, Holl has been more of a regular than ever before and fantasy owners in deep leagues are seeing relevant output. He's up to 3 points in 9 contests (two away from his 2018-19 total), and close to a SOG, hit, and block per game. Most importantly, he looks competent on the ice in both ends and looks like real a candidate to remain a 6th-7th d-man if he can keep it up. Just don't expect much more than this. Hayden Soboleski

March 2019 – As injuries piled up for the Leafs, Holl has gotten into 10 games in a 3rd-pairing role. His single point in that time isn't appetizing in fantasy circles, and neither is his minus-eight rating. He does provide hit and block numbers, but its doubtful that they are worth the negative value he has in other categories. Hayden Soboleski

February 2019 – Holl still isn't seeing NHL action, but in an interesting note, the Leafs opted to put Martin Marincin through waivers rather than him upon the acquisition of Jake Muzzin. So the team clearly still believes in his value. Hayden Soboleski

October 2018 – For reasons unknown, the Leafs are giving Marincin opportunities on the right side (rotating with Ozhiganov despite being a lefty) rather than giving Holl a look. This doesn't bode well, especially since both Marincin and Ozhiganov look decent, but injuries are inevitable so he will get a chance sometime this year. He just needs to make the most of it to stay relevant. Hayden Soboleski

October 2018 – Thanks to a solid training camp, Holl has forced the trade of Connor Carrick and won a spot on the NHL roster. Unfortunately, he started the year in the press box, but he will get his chances. He would have to pass through waivers if he gets sent down and the Leafs won't want another loss via the wire, so expect in-and-out duties for now. Hayden Soboleski

July 2018 – Holl jumped into the Leafs' long-term outlook on the back end very suddenly in 2017-18. He didn't dominate the NCAA, he spent some time in the ECHL a few years back which always scares people off, and his numbers never really popped off the page in the AHL. But along the way, he's actually become an excellent defender who makes good use of his long reach and big body. He can break up plays, jam people in the corners, but still possess then wheels to skate the puck out of trouble when needed. He is a perfect style of defenceman for the current professional game. His chances of being an NHLer have gone from slim to very likely, and as such his fantasy stock is quickly rising.

His offensive upside is limited unless he becomes a big-minute player, but his fantasy upside still exists. He likely maxes out at 3rd-pairing minutes which will limit both his offensive and peripheral totals, but he passes well enough to rack up assists, and he will certainly get hits and blocks and put shots on net. Don't expect any PP time. 
Highlights