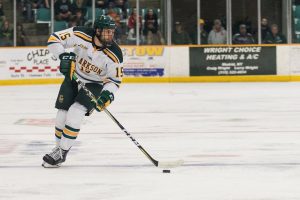 image courtesy of player's Twitter
Fantasy Summary
Unlikely bottom-six centerman who can score goals.
Observations
Click to Expand

April 2021 – Dickinson was traded to Chicago at the Trade Deadline. He was part of the package to acquire Carl Soderberg from the rebuilding Blackhawks, however he is most likely present only to balance out the number of contracts. Hayden Soboleski

August 2020 – Dickinson spent most of 2019-20 campaign in the ECHL, much like the season prior. His ECHL scoring rate remained right at the point-per-game mark, but his AHL scoring rate did see a slight uptick with 6 points in 14 contests. With one more year on his ELC, he needs to hold onto a consistent spot with the Eagles to hold any fantasy value, but even in this case he would project as a 4th-line forward with a relatively limited scoring history. Do not draft. Hayden Soboleski

June 2019 – The good news is that Dickinson maintained his point-per-game pace in the ECHL, including one round in the playoffs. He has 2 more years on his ELC and will be on the bubble of an AHL spot once again. He needs a good camp and a strong start to prove he has any fantasy value as of now. Hayden Soboleski

February 2019 – Dickinson lasted 15 games in the AHL, totaling 4 points before being reassigned to the ECHL. He has managed close to a point-per-game pace in the lower tier league, but he remains a longshot to achieve fantasy hockey relevance. Hayden Soboleski

April 2018 – The Avs have signed undrafted forward Josh Dickinson to an ELC after a successful freshman ECAC campaign at Clarkson University. He managed an impressive 15 goals as a rookie, 26 points total in 40 games. He will report to San Antonio immediately, and expect some AHL development for at least one or two seasons before expecting an NHL push. Hayden Soboleski

Dickinson (who's brother Jason was drafted by Dallas), put up big numbers on the OJHL but never played in the OHL. Now a big man at 6-02 and 190 lbs, he projects in the near-future to be a depth power-forward in the AHL, filling one of many spots opening up next year once Colorado no longer has to share the AHL roster with St. Louis.
Highlights