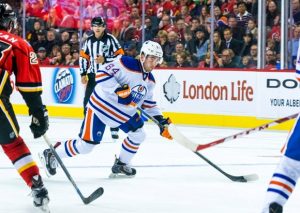 Jose Quiroz/Icon Sportswire
Fantasy Summary
Converted from defense to the wing in the AHL and continuing to gain offensive consistency.
Observations
Click to Expand

July 2018 – The St. Louis Blues have signed LaLeggia to a two-year, two-way contract.  Jokke Nevalainen

June 2018 – With his contract set to expire on July first, it's unclear whether or not the Oilers till opt to resign the defenseman turned winger. With the Oilers likely having some of their top prospects move to the AHL next season, they may decide to let go of LaLeggia in order to give more offensive opportunities to their younger prospects. In 68 games with the Bakersfield Condors last season, LaLeggia recorded a respectable 15 goals and 43 points. He has performed well for the Condors and has found success after moving to the forward position but he may not have done enough to warrant an extension. Jameson Ewasiuk

May 2017 – Joey LaLeggia has been a defenseman his whole pro career until recently. LaLeggia has been on the top forward line for a few months and is producing. He managed to put up 20 goals and 18 assists in the 67 games he played this season. LaLeggia helped the Condors get back into a playoff race but in the end the Condors ultimately just missed the playoffs. Spencer Pomoty

March 2016 – In his first year as a pro Laleggia had a slow start to the season but has continued to develop and has 23 points in 46 games to date in the AHL. With the NHL quickly transitioning towards favouring defencemen who can skate, carry the puck and transition to offence and away from big physical stay-at-home brutes, Laleggia is seeing his stock continue to rise. It may be time to put him on your watch list and continue to monitor his development. Peter Harling

April 2015 – After being praised universally for his Hobey Baker caliber season, LaLeggia signed an entry-level contract with the Oilers on March 31. The news came after LaLeggia and the Denver Pioneers were ousted by Providence in the men's NCAA hockey tournament. LaLeggia scored the game tying goal before being slapped with a major penalty for a head check, going out with a bang would be an understatement. LaLeggia lead all NCAA defensemen in goals this season and took massive strides in both his offensive and defensive development. He is reporting to Oklahoma City where he will try and make an impact for the Barons in the Calder Cup playoffs. Tyler Thomson

March 2015 – LaLeggia's senior year with Denver has been extraordinary, totalling 13 goals and 38 points in 35 games. The extreme spring in production has not gone unnoticed either. LaLeggia was named one of the ten finalists for the Hobey Baker award. The Oiler's have to be licking their chops at the extreme maturity shown by LaLeggia this season. He was a force in the NCHC quarter finals against Minessota-Duluth, notching two goals and an assists in a two game sweep. LaLeggia plays an aggressive offensive game but never suffers defensively. A comparable upside would be a more responsible Justin Schultz. LaLeggia and the Pioneers fell to the Miami (Ohio) Red Hawks in the NCHC semi final but bounced back to win third place. LaLeggia will easily find himself with the Oklahoma City Barons next season. Tyler Thomson

June 2014 – LaLeggia's offense was down in 2013-14 in his junior year with U.Denver. Just like it was down in his sophomore year. His impressive rookie campaign was due to his being able to pass pucks to Drew Shore and Jason Zucker. With those two near-NHLers now long gone, LaLeggia has lesser talent to play with. He has one more year of college before what will likely be a season in the AHL. In terms of quarterbacking Oiler power plays, he is behind Justin Schultz and Darnell Nurse on the depth chart, so his fantasy value is very much a long-term thing. Dobber

March 2013 – Joey LaLeggia is on the smaller side, similar in size to John-Michael Liles with higher offensive upside. LaLeggia and Liles play a similar style, fast, great vision, decent defensive skill and explosive offensive ability. LaLeggia is an extremely smooth skater; he is quick to the puck and has excellent speed through the neutral zone, especially carrying the puck up the middle of the ice. LaLeggia in an integral power play piece, controlling play and contributing heavily in power play minutes and points; he is currently tied for team lead in power play points with 14 and leads all DU players with six power play goals. LaLeggia has incredible hockey sense and makes very quick smart decisions. His passing ability is well above average and he sees the ice as if no one else is on it. As a freshman with the DU Pioneers in 2012, LaLeggia was selected as WCHA rookie of the year and finished with 38 points and a plus 13 in 43 games. Although he has come back down to earth a little bit, especially in the plus minus category, he is still solid defensively and manages to contribute at a steady offensive pace.
Highlights