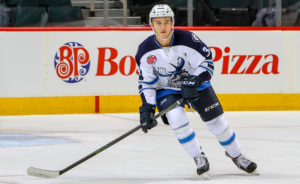 Moosehockey.com
Fantasy Summary
PIM specialist with some offensive capability
Observations
Click to Expand

March 2020 – Lipon continues to be a mainstay with the Moose and has played in over 450 career AHL games. His chances of competing at the NHL level seem distant at this stage of his career. Jamie Zadow

November 2017 – Lipon has been funneled down the Jets prospect chart, but he is off to a nice start with the Moose this season — three goals and nine points in 18 games. Lipon has not scored more than 40 points in his AHL career since he broke into professional hockey back in 2013, but perhaps this start could get him there? – Jamie Zadow

July 2017 – The 24-year-old signed a one-year, two-way contract extension with the Jets this off-season. Lipon finished with 12 goals and 30 points in 71 games, while racking up 129 PIMs last year. He is expected to start the season with the Manitoba Moose in the AHL. Jamie Zadow

October 2016 – Lipon was among the players cut by the Winnipeg Jets and assigned to their AHL farm team the Manitoba Moose. – David Dickenson

September 2016 – Lipon was a late bloomer in junior and has proved to be the same as a pro. He's getting closer to earning a spot in the NHL and could break onto the Jets fourth line this season. His aggressive play on the forecheck and ability as a top-notch agitator would serve him well on the fourth line, but let's not forget he does have some offensive upside in small doses. – David Dickenson

June, 2014 – Lipon has had an underwhelming playoffs offensively, with only one assist and four penalty minutes over 14 games. He has been in and out of the lineup while the Icecaps have made it to the AHL Calder Cup finals and will face off against the Texas Stars. Next season, Lipon will look to improve on his consistency throughout the year, hoping to find that next offensive gear.

April, 2014 – Lipon concluded a strong performance in the AHL, with nine goals and 33 assists (42 points) in 72 games along with 136 penalty minutes. His nine goals are a bit of a worrying stat, considering he tallied 36 and 19 in his previous two seasons with the Blazers. He will look to help out the Icecaps with his grit and speed in their playoff run.

July, 2013 – JC Lipon is a hard-working center who was passed over in the draft twice. His patience and work ethic over the last four seasons with the Kamloops Blazers has helped him grow into a well-balanced player. He even earned a spot on the Canada World Junior team, being one of the few undrafted players to play for Canada in the tournament. Lipon is a power forward type, although on the smallish side. His 89 points in 61 games last year was quite impressive, as he chimed in on 42% of Kamloops' offence. His strongest assets are his ability to drive the net and his passing.
Highlights