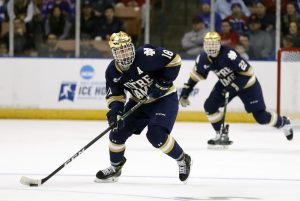 Fantasy Summary
Evans has a pretty big distance between his ceiling and floor. At best, he could be a top-six forward; 40+ points and an all-around contributor. At worst, (aside from not making the NHL) he will be a fourth line center who can chip in a bit offensively (20-30 point range) by working hard down low.
Observations
Click to Expand

September 2021 – A solid rookie season allowed Evans to emerge as a strong fourth-line center who is responsible defensively and can chip with a bit of offense. In the playoffs, Evans continued his upwards trajectory in the playoffs playing more minutes than he is used to going from 11:50 in the regular season to 15:32 a game during the playoffs. This was only through the span of ten games as in game one of the second round Evans was concussed after taking a hit to the head from Jets Forward Mark Scheifele. Evans returned in the finals for three games in a losing cause. Evans will be a staple in the Canadiens bottom six this upcoming season and will be the club's front runner for the third line center spot heading into training camp. Pablo Ruiz

August 2020 – Evans managed to get into 6 of Montreal's 10 postseason games this season despite playing in only 13 regular season games.