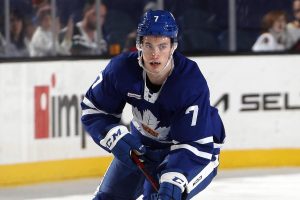 theahl.com
Fantasy Summary
Puck moving blueliner with solid offensive instincts that help make up for an imperfect skating stride.
Observations
Click to Expand

August 2023 – Král has departed the Maple Leafs organization as a free agent and has signed with the Pelicans in Liiga. The 23-year-old will head overseas with the hopes of finding a new opportunity in professional hockey. Curtis Rines

November 2022 – Král's strong first season with the Marlies earned him some praise within the Leafs organization, and when injuries arose early in the season, it was he who was called upon to step in and play his first NHL games. He got into a pair of games for the Leafs to close out October and didn't look out of place, albeit in sheltered minutes. Král has since been returned to the Marlies, but he is among the first wave of Dubas draft picks who are now knocking on the door as potential depth pieces for the Leafs in the future. Nick Richard

May 2022 – Král had a solid first full season in the AHL with the Marlies, tallying three goals and 18 assists while averaging just under 19 minutes of ice time over 58 contests. There was steady improvement in his defensive game throughout the season but he will need to continue to round out those skills in order to become a viable NHL option. Král did join the Leafs as a black ace during their brief playoff run and he should get into a handful of preseason games next fall before returning to the Marlies where he will look to build upon his rookie campaign. Nick Richard

April 2021 – Kral's loan has been completed and he has returned to the AHL Marlies after recording 6 goals and 21 points in 48 regular season contests in the top Czech league. He also managed 6 points in 9 post-season games, tied for the most on his squad. He proved capable of handling larger minutes in a pro league, albeit at a lower level than he can expect back in Toronto. He ahs yet to suit up for the Marlies but his usage on a crowded blueline will be highly indicative of what type of defender the teams expects him to be. He has shown himself to be mobile and occasionally physical, but is not overly gifted in either regard compared to higher pedigree prospects. Hayden Soboleski

January 2021 – Kral is not attending Maple Leafs training camp and will remain on loan in Europe for the beginning of the NHL season. He was a likely Marlies candidate this season but at this point it makes sense for him to remain in the Czech men's leagues where he is seeing meaningful minutes and will be better prepared for the 2021-22 AHL season. Hayden Soboleski

November 2020 – Kral has been called up from the 2nd Czech Division to the first (partially due to strong play, partially due to the 2nd Division pausing due to Covid). This is obviously a positive development and he's seeing around 19 minutes aTOI in a very condensed schedule which isn't bad at all for moving from the WHL to a pro league. He will continue to work on his defensive movement and shutdown positioning until the time comes to push for a Marlies roster spot. Hayden Soboleski

August 2020 – Kral has reportedly been loaned to HC Prerov of the Czech league (Tier 2) to get some playing time in prior to the opening of AHL camps. Although we won't put too much stock in a short stint with a new team, it will be interesting to see what role he fills on a team that may carry-over a few defensemen already capable of putting up points. Whether he leans into a defense-first style or tries to claim some powerplay time, it will be good preparation for training camp where he will be fighting for a highly-contested spot on the Marlies. Hayden Soboleski

April 2020 – The Maple Leafs have signed Kral to a three-year ELC. The WHL defenseman reached career-highs in all major categories (except his PIMs, which is good in reality, bad in fantasy). He remains a solid all-around option that can positively contribute however he is asked, but is not elite in any particular way. He is mobile enough and smart enough to make good zone exits in multiple ways, but he won't necessarily crack the AHL right away. Expect a mix of AHL and ECHL time in 2020-21, unless a situation arises in Europe for him to see bigger minutes than he would on the Growlers or Marlies.  Still years from making an NHL push. Hayden Soboleski

November 2019 – Now 20 years old and still with Spokane of the WHL, Kral has upped his SOG and scoring rate for the 3rd consecutive season. His 20 points in 17 games is good for second on the squad, and second among all defensemen in the league. The increase is partially due to his increased time spent on the powerplay, but also due to his overall solid game which is allowing him to play big minutes on a semi-competitive team. The organization is heavy on d-men so it will be interesting to see where the team puts him as he turns pro after this campaign. Hayden Soboleski

January 2019 – Kral managed only 1 point during the WJC tournament, but the offensive leaders up front for the Czechs didn't provide much opportunity for scoring. Still, he received legitimate minutes, and made strong first-passes and zone exits on a regular basis. He remains a prospect to watch as he develops into a solid all-around option. Hayden Soboleski

November 2018 – In his second WHL season since transferring from the Czech Republic, Kral has maintained a similar point pace with 5 points in 8 games. This is very reassuring to Leafs fans because Kral missed significant time with an upper-body injury sustained in training camp. He is very likely to return to Team Czech Republic for the upcoming WJC. Returning from injury is step 1, now let's see him take a step forward in his d+1 campaign. Hayden Soboleski

The Maple Leafs selected Kral with their 5th round pick in the 2018 Entry Draft. He is a strong skater and led WHL rookie d-men in scoring, but is still a work in progress when it comes to defensive aptitude. At 149th overall, Toronto got good value relative to several draft rankings projecting him in the 90-110 range.
Highlights