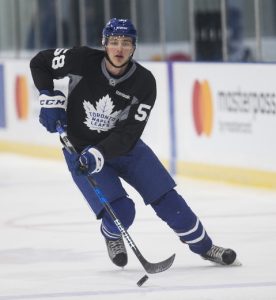 image courtesy of Toronto Sun
Fantasy Summary
Big d-man who brings PIMs and modest points
Observations
Click to Expand

January 2023 – Gordeev is a former draft pick of the Toronto Maple Leafs who got signed by the Minnesota Wild after he didn't end up signing with the Maple Leafs organization. Gordeev signed a three-year entry-level deal with the Wild back in 2019 and followed that up with one year in the OHL, one year in the AHL and one year in the ECHL. He was unable to produce at a high enough level in any of the leagues and following the expiration of his contract, he signed a contract with the Providence Bruins of the Boston Bruins organization. He now plays for the Maine Mariners of the ECHL where he has put up 14 points in 28 games. It appears unlikely that Gordeev will end up playing in the NHL, however at only 23 years of age, there is still the possibility that Gordeev can carve out a successful professional career in North America. Nathan Leblanc

September 2019 – Fedor Gordeev has been returned to Guelph of the OHL for the 2019-20 season. Sam Happi

June 2019 – The Maple Leafs have traded Gordeev to the Wild. They did not plan on signing the former 5th-round-pick. Hayden Soboleski

January 2019 – Gordeev has been traded to the Guelph Storm who have acquired a lot of talent in the last few weeks. After two and a half season in Flint, this will be Gordeev's first shot in a while to play on a team full of weapons, and he could see a points boost as a result if he can make the transition. Hayden Soboleski

Gordeev disappointed in his D+1 season, but the Flint OHL franchise has been a mess, so his minus-33 rating requires a grain of salt, and expecting an offensive breakout was misguided. Still, he has taken a step forward with 19 points in 32 games prior to the trade, while maintaining his pace of over 100 PIMs. Still a long ways from pushing the envelope in training camp, but could be a future multi-category d-man worth owning.
Highlights