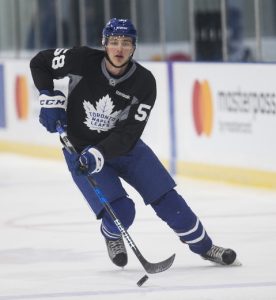 image courtesy of Toronto Sun
Fantasy Summary
Big d-man who brings PIMs and modest points
Observations
Click to Expand

September 2019 – Fedor Gordeev has been returned to Guelph of the OHL for the 2019-20 season. Sam Happi

June 2019 – The Maple Leafs have traded Gordeev to the Wild. They did not plan on signing the former 5th-round-pick. Hayden Soboleski

January 2019 – Gordeev has been traded to the Guelph Storm who have acquired a lot of talent in the last few weeks. After two and a half season in Flint, this will be Gordeev's first shot in a while to play on a team full of weapons, and he could see a points boost as a result if he can make the transition. Hayden Soboleski

Gordeev disappointed in his D+1 season, but the Flint OHL franchise has been a mess, so his minus-33 rating requires a grain of salt, and expecting an offensive breakout was misguided. Still, he has taken a step forward with 19 points in 32 games prior to the trade, while maintaining his pace of over 100 PIMs. Still a long ways from pushing the envelope in training camp, but could be a future multi-category d-man worth owning.