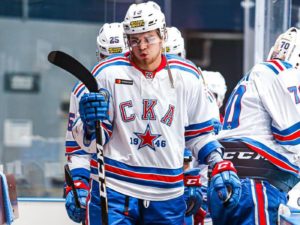 SKA St. Petersburgh
Fantasy Summary
Semykin's strong defensive characteristic's and track record project him to be a longer-term strong transition and shut-down defenseman with relatively low offensive upside.
Observations
Click to Expand

May 2023 – Semykin's tenure in North America hasn't gone exactly as planned, and it might not be long before we see him depart in favor of returning to Russia. His three-year entry level contract expires this summer and with Semykin having spent the majority of that time in Orlando with the Solar Bears of the ECHL, it's reasonable to assume the Lightning have little interest in signing him to a contract extension. Semykin struggled to find a spot in the VHL prior to his jump to North America and it appears the same issue arose with finding a spot in the AHL. Wade Messier

June 2020 – Dmitri Semykin has inked his entry-level contract with the Lightning and will be crossing the pond to play pro hockey in North America for the 2020-2021 season. Semykin is a stocky, 6'2″ defenseman who is not afraid to engage physically and he also showed more offensive acumen during the 2019-20 season than he has in year past. In 44 games for SKA's MHL affiliate, Semykin posted nine goals and 24 points, leading his team in scoring pace among defensemen. Semykin still projects as a longer-term project, but there is reasonable optimism that the Russian blueliner could develop into a depth NHL option. Brandon Holmes

June 2018 – With the 90th overall pick, Al Murray and the Lightning make an under-the-radar selection, returning the MHL and selecting Dmitri Semykin. If you'll remember, the Lightning selected Alex Volkov last Summer in the second round after a quiet season in the MHL, and thus far has turned out to be an excellent selection. Semykin, however is a defenseman who's represented Russia briefly in international competition. NHL Central Scouting had him ranked 25th among European skaters while McKeens had him all the way down at 215th. He's noted to make a strong first-pass, as well as defend his own zone quite well, especially on the penalty kill partially thanks to the large shadow he casts. Unfortunately the Lightning do not have Semykin listed on their development camp roster so we may have to wait a while to get more information on this third-round selection.
| Attributes | |
| --- | --- |
| Fantasy Upside | 2.5 |
| NHL Certainty | 1.5 |
| Country | RUS |
| Position | D |
| Roster Type | Free Agent, Minors |
| Shoot/Glove | Left |
| Date of Birth | February 24, 2000 |
| Height | 6'2" |
| Weight | 214 lbs |
| Drafted | 2018 Round 3; Overall: 90 |
| | |
Highlights