Team: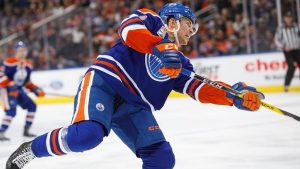 Photo courtesy of NHL.com
Fantasy Summary
Two-way defender that can bring a reliable presence to the ice but is struggling to take the next step.
Observations
Click to Expand

December 2019 – Simpson's eight points (5G + 3A) in 27 games are actually a decent look considering his lower previous totals. Playing in his second season with the Monsters, the 26-year-old is skating in a top-4 role while manning the clubs second power-play unit. However, even with this career offensive pace, the Jackets d-core is only growing more crowded. With that in mind, his chances of snagging a job with the Jacket's grow further by the day. Dave Hall

June 2019 – Simpson tallied 17 points in 73 games for Cleveland in 2018-19. It was his first campaign with the club, but the 26-year-old has played in over 300 AHL games at this point. A logjam is beginning to develop on the Blue Jackets defense core, so much so that Simpson is unlikely to receive a call-up this season. With only three NHL games played over five years, the Alberta native seems destined to be an AHL mainstay. Frank Pellegrini

January 2019 – Simpson was sent down to the Cleveland Monsters in September. With only five assists through 42 games, he is on pace to record his lowest point total in his pro career. The two-way defender appeared in three games for the Oilers in 2017 but has yet to see NHL action since then. Given the depth of the Blue Jackets' defense, he will likely remain in the AHL for this entire campaign. Given his lack of offensive output thus far and his lack of NHL opportunity, Simpson has no fantasy value and his contract expires in 2020. Frank Pellegrini

July 2018 – The Columbus Blue Jackets have signed Simpson to a one-year, two-way contract.  Jokke Nevalainen

June 2017 – On July 2017 the Oilers signed Simpson to a one year contract. Last season the young defender played 61 games in the AHL where he recorded four goals and tied for the Condors' lead in defensemen points with 18. His production last season was pretty consistent with what we've seen from him throughout his AHL career. He can contribute at both ends of the ice but hasn't appeared to have developed any one aspect of his game enough to become a regular in the NHL. At 25-years-old and set to become a free agent on July 1st, it's unclear whether the rearguard did enough last season to warrant another contract. If he does play in the NHL in the future his role will likely be that of a number six or seven defenseman. Jameson Ewasiuk

November 2016 – The former 4th-round-pick of the Edmonton Oilers has struggled to find a way to the NHL. For the second straight season he started the year on the Oilers IR before getting sent down to Bakersfield. Coming off of a season that saw him net 20-points, good enough for fourth on his team in defenseman scoring, so far this year he has struggled early with a lone goal in seven games. This season will be crucial for the 23-year-old left handed defender with his contract coming to a close, it will be interesting to see if he is able to reach the NHL level some day. Brayden Sully

February 2015 – In Simpson's first full professional season with Oklahoma City he has transitioned quite well. While his numbers (two goals, nine points in 40 games) aren't extraordinary, his intelligent net-front presence is impressive. Simpson has routinely been on the third pairing but has found himself in the line-up for all but five games. He has seemingly replaced both Martin Gernat and David Musil on the Oilers depth chart as the two longer-served prospects have been healthy scratches multiple times this season. Simpson could challenge for a job as early as next season but it remains more realistic that he his at least two years from developing into an NHL-ready defenceman. Tyler Thomson

March 2013 – A very smart hockey player who has amazing instincts on the ice and plays with a reserved confidence in his game. Coming from great bloodlines (his father was Stanley Cup winner Craig Simpson), Dillon possesses an innate ability to be in the right place at the right time. Though not overly physical for a defenseman, he does enough to not be considered soft. Has a hidden offensive upside that should show up with more playing time and as he gains more confidence and skills. Needs to work on his skating, especially his first stride, and consistency has been an issue at times but has the tools to be successful just need the proper toolbox to carry it all.
Highlights