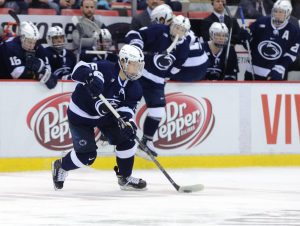 image courtesy of The Daily Collegian
Fantasy Summary
Offensive-first winger who isn't putting up points
Observations
Click to Expand

August 2020 – The Avalanche's window to sign Smirnov to an ELC has officially closed. There is an outside chance that he receives an AHL deal, but whether he receives one or not he remains at near-zero fantasy value. Hayden Soboleski

May 2020 – Smirnov's point total has decreased every season since freshman year. Now a senior, he has been unable to be more than an average supporting cast member. He will likely have to settle for an AHL-only deal should he turn pro after college, and his fantasy stock has plummeted. Do not draft. Hayden Soboleski

February 2019 – Now in his third season at Penn State, Smirnov's production has taken another hit. Two straight years of decline is never a good sign, especially when its the goal-scoring column that's seen the biggest decline. He's seeing less time on the powerplay, but he has to produce at even strength to be considered a legit prospect. Fantasy stock dropping. Hayden Soboleski

May 2018 – Smirnov's production dipped at the end of his sophomore year at Penn State, finishing with a respectable 27 points in 30 games played (he missed extended time with an undisclosed illness). This is disappointing considering his accomplishments as a freshman (named to All-Rookie Team and honorable mention for the All-Star team), but it shouldn't be too worrying for a prospect with lots of time and room to grow. He is very likely remaining in the NCAA for another campaign in 2018-19. Hayden Soboleski

February 2018 – Smirnov is having another noteworthy NCAA season, already nearing last year's goal total (19, currently at 13) despite being only halfway through the campaign. He's earned NCAA player-of-the-week honors and sits second on the team in points-per-game at 1.05. Despite improvements, expect the sophomore to return to school for a junior season after this one. Hayden Soboleski Smirnov was a 6th-round pick in 2017, at the time known for his highlight-reel plays but very small stature. He's a bit of a longshot, but has scoring upside and great offensive creativity. Projects to provide points and SOG, but not many peripheral stats.
Highlights