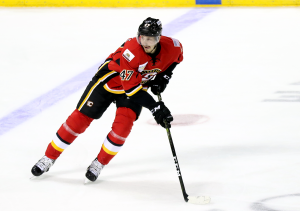 stocktonheat.com
Fantasy Summary
Playmaking forward with enough skill to have NHL upside.
Observations
Click to Expand

June 2018 – Flames did not tender a qualifying offer and he is now an unrestricted free agent. Dobber

Dec 2017 – Pribyl has been out with an ACL tear that needed surgery since September. This is tough luck for a player who was playing well. It's tough to say for sure where he would slot, but I think even healthy he'd probably be behind a few guys on the depth chart. He might get another shot in the AHL somewhere, but I bet Calgary is sad they couldn't get an extended look at his potential. – Joel Henderson

Feb 2017 – Daniel is no stranger to the IR so far for Stockton as he battled a lower-body injury around Christmas time. Lately he's been given offensive minutes and PP time, but he can't seem to turn the opportunities into jaw dropping numbers. His skill level is evident though, stick handling through the neutral zone and using quick passes to create shots for teammates. The puck can be on his stick and off it quite quickly. It would be a bit surprising to see him in a Calgary jersey this season, but if he stays healthy, he is certainly a depth option they will consider in 2017/18. – Joel Henderson

Oct 2016 – You wouldn't know that Pribyl had missed time due to injury. While he has not hit the scoresheet after two games, he's been creating chances and causing turmoil in the offensive end. It's just a matter of time. Skating with Klimchuk and Poirier on his wings will be such a creative line moving forward, and will only benefit each other. – Joel Henderson

June 2016 – Daniel Pribyl has improved on the scoresheet each year since joining HC Sparta Praha for a few games during the 2010/11 season. Pribyl was originally selected by Montreal in the 6th round of the 2011 draft but they elected not to sign him with speculation having it due to his skating ability not being up to NHL standards. He was re-entered into the 2013 draft but became a UFA after not being selected. Last season was his best, putting together 45 points in 45 games and adding 11 points in nine playoff games for HC Sparta Praha before going down with injury. Calgary still signed Pribyl despite him having ACL surgery since he fills the role of a big bodied, right-handed shot who can potentially play RW at the NHL level.

Pribyl is a pass first forward who has developed at C, but has seen about 20 games recently playing RW. He uses his hockey IQ to read the play and create space for himself playing off his linemates well. He has ample offensive creativity by using his long reach and soft hands to deke in tight scoring areas which allow him to force goaltenders side to side. He has been known to use toe drags, puck protection, and quick deceptive shot releases to his advantage. Described as a hard worker, Pribyl doesn't first look for opportunities to win physical puck battles along the board or in transition, but leans towards using his reach and ability to pick-pocket opponents, creating turnovers instead of forcing them off the puck by his positioning. As mentioned above, his skating was speculated as the biggest issue in 2013. He has an average first three strides and works on maintaining speed once it's created rather than starts and stops. If the offense has time to set up, a few extra strides lets Pribyl use his long stride to move with speed through the neutral zone effectively. Expect to see more high speed gliding and cycling, rather than quick edgework or nimble starts and stops.

Pribyl fills an obvious need for Calgary and immediately climbs the prospect rankings as one of the highest skilled RW's in the system. His past has not included many penalty minutes, fights, or high hit totals so Pribyl will have to crack the Top-6 for the Flames to truly be an impact fantasy player. There certainly is reason to take this risk due to the lack of skill players with the ability to play with Calgary's stars. Pribyl will be coming back from injury but over his two-year contract, he should get a chance as soon as next season. – Joel Henderson

March 2013 – Still a long-term project, but he's taken the next step and become a regular in the Czech League, contributing about a point every two games…Needs to take that next step, but it could happen – still young. – Dobber

July 2012 – Daniel Pribyl is an offensive, goal-scoring center with good size. Prior to being drafted by Montreal in 2011, Pribyl dominated the Czech junior leagues, scoring 49 goals and adding 35 assists in 82 games in the Czech U-18 league along with scoring 32 goals and adding 34 assists in 53 games in the Czech U-20 league. While he has only scored two goals in 20 games with Sparta Prague of the Czech Extraliga, Pribyl's offense has carried over against men in the second division, as he scored nine goals in 21 games this past season while on loan with Berounsti Medvedi. Pribyl will need to have a good season with Sparta Prague in order to get on the Canadiens' radar and earn an entry level contract.
| Attributes | |
| --- | --- |
| Fantasy Upside | 3.5 |
| NHL Certainty | 1.5 |
| Country | CZE |
| Position | C |
| Roster Type | Free Agent |
| Shoot/Glove | Right |
| Date of Birth | December 18, 1992 |
| Height | 6'3" |
| Weight | 220 lbs |
| Drafted | 2011 Round 6; Overall: 168 |
| | |
Highlights