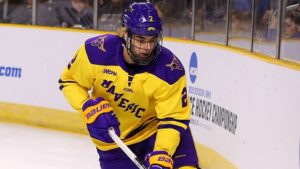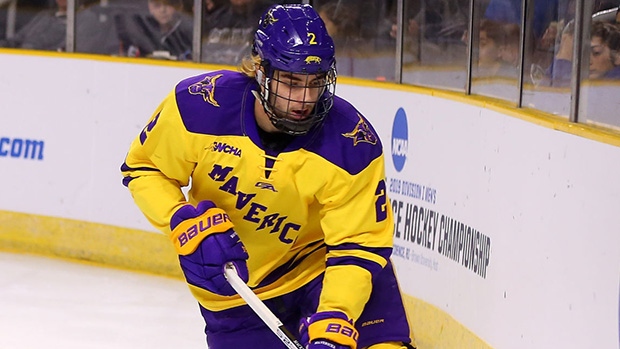 Fantasy Summary
After tearing it up for Minnesota State, the offensive defenseman has had trouble cracking an NHL roster spot.
Observations
Click to Expand

July 2023- An unrestricted free agent, Mackey signed a one-year, two-way contract with the New York Rangers. After joining the Coyotes, Mackey played solid for them, recording one goal and four points in 20 games. After the season, he suited up for Team USA at the World Championships. Mackey most likely will provide the Rangers with depth and probably spends a good portion of the campaign with Hartford. Keith Duggan

March 2023- Mackey has been dealt to the Arizona Coyotes along with Brett Ritchie for Troy Stecher and Nick Ritchie. Mackey has spent the season so far with Calgary, appearing in only 10 games though. He has two goals and three points. Mackey has spent the last 13 contests as a healthy scratch, so a change of scenery could very well benefit him. Another former Flame, Juuso Valimaki, who also had trouble cracking the Calgary lineup, has been solid for Arizona. If Mackey struggles though, his contract expires at the end of this campaign, so the Coyotes could easily just move on. Keith Duggan

April 2022 – The Flames have recalled defenceman Connor Mackey from the AHL's Stockton Heat due to Kylington being day to day. Mackey, 25, has five goals and 36 points in 53 games with the Heat. Chris Fekete

Jan 2021 – Comments from GM Treliving are all praise for Connor. Seems like he will be the team's seventh D to begin the season. His versatility will be a good asset moving forward. The team seems to really like what they've seen from their top-six so Mackey will have to wait for an opportunity to present itself for him to grab everyday minutes. – Joel Henderson

Dec 2020 – Connor Mackey is a smooth-skating defenseman with a powerful stride. He's known for his adjustment to pressure, high hockey IQ in situational reads and anticipation to play development and his ability to play with different defender styles. He is way more of a playmaker and transitional defenseman and he has shown the ability to run a PP. With Calgary, it looks like he could switch to the right side and fill a need for depth the Flames have been needing this offseason. He has a potential to start off the season at the 6th or 7th defender and move his way higher with steady play. He is physical and defends the rush well. Flames land the high-profile free agent from Minnesota State University and hope he can provide multi-cat production at the NHL level for fans.
Highlights