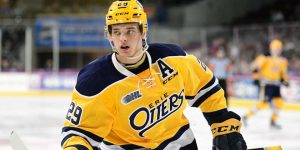 courtesy of Sportsnet.ca
Fantasy Summary
An undersized pivot with tremendous skating ability and an underrated shot.
Observations
Click to Expand

June 2023 – Despite the strong year, the Canucks have not offered an Entry-Level deal to Lockhart. He is now free for the taking for 31 teams to take a flyer on. Dave Hall

May 2023 – After three years as a member of the Erie Otters, Canucks 2021 sixth-rounder found a new home as a member of the Peterborough Petes, where he served as an alternate captain in his final Junior eligible season. The 20-year-old certainly brought the goods, posting a career high 79 points (29G +50A) and was a plus player for the first time in his Junior career (plus-19).  He has also played in integral role in a championship run, and now finds himself in the hunt for a Memorial Cup victory. All of this positivity, and it could be for not – at least for the Canucks' fan base. The Canucks have until this summer to officially sign their former pick, and early rumours indicate that they may not be interested. Should they pass, Lockhart will be re-entered into the 2023 Draft. Stay tuned. Dave Hall

March 2022 – Despite losing a full season (2020-21), courtesy of the OHL shutdown, Lockhart has not missed a beat this year. The undersized pivot currently sits second among Erie Otters' goalscorers (19), contributing points at a 0.84 pace. He plays the game with decent pace and carries a low center of gravity. He can contribute on the score sheet in a variety of fashions, but his shot may just be his go-to catalyst – he has a ferocious snapshot. As expected from a late round-round pick, who missed time to boot, there is some tidying up to do in order to provide the entire package. Yet, overall, looks to provide strong depth down the middle as a bottom-six hopeful. Dave Hall

September 2021 – Lockhart has been drafted by the Vancouver Canucks in the sixth round, 178th overall.
Highlights