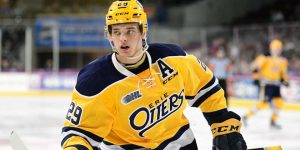 courtesy of Sportsnet.ca
Fantasy Summary
An undersized pivot with tremendous skating ability and an underrated shot.
Observations
Click to Expand

March 2022 – Despite losing a full season (2020-21), courtesy of the OHL shutdown, Lockhart has not missed a beat this year. The undersized pivot currently sits second among Erie Otters' goalscorers (19), contributing points at a 0.84 pace. He plays the game with decent pace and carries a low center of gravity. He can contribute on the score sheet in a variety of fashions, but his shot may just be his go-to catalyst – he has a ferocious snapshot. As expected from a late round-round pick, who missed time to boot, there is some tidying up to do in order to provide the entire package. Yet, overall, looks to provide strong depth down the middle as a bottom-six hopeful. Dave Hall

September 2021 – Lockhart has been drafted by the Vancouver Canucks in the sixth round, 178th overall.